Project managers are versatile, multi-talented professionals who play an essential role in the success of a business. Among other things, project managers oversee projects from start to finish, ensuring that the entire process runs smoothly while working closely with their team, communicating with clients, resolving conflicts, and staying within set budgets.

Career prospects for project managers are expanding exponentially -- according to some estimates, by 2027, around 87.7 million workers will be employed in project management-related jobs. In some respects, there's never been a better time to become a project manager.

However, like many other fields, project management is quite competitive, and if you want to land a position as a project manager, you'll need a strong resume and a diverse skill set to show potential employers that you're the right fit for the job.

So, what should a project manager resume look like in 2021? First, let's take a look at some templates of successful resumes. Next, we'll discuss some of the essential skills for project managers as well as tips for creating a knockout resume. Finally, we'll cover some of the best action verbs to use in your resume bullet points.
Project Manager Resume Templates
Project Manager Resume Sample
When applying for a project manager role, you need to demonstrate that you have the right skills for the job. Your work history and skills section should show evidence of your abilities in areas such as time management, planning, and communication. If you have experience with specific project management software or methodologies, make sure to mention those in your resume as well.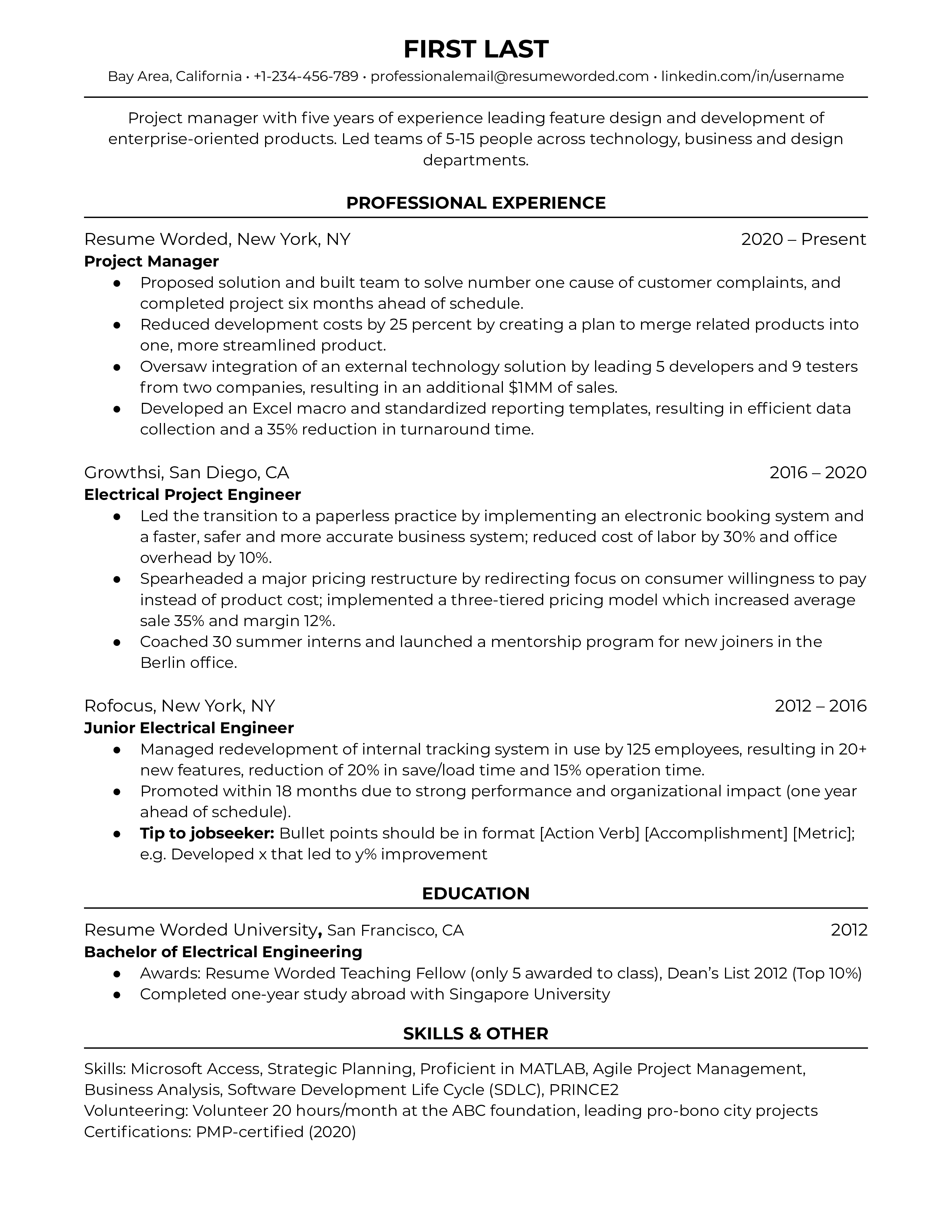 Recruiter Insight: Why this resume works in 2021
Entry Level Project Manager Resume Sample
At first, it might seem intimidating to apply for project manager jobs with little to no prior experience in this line of work. But if you have a strong academic history and the skills to succeed as a project manager, you can break into this field. Use your resume to highlight projects you worked on in school, extracurricular activities, and any other experiences where you had to use skills such as problem solving and organization.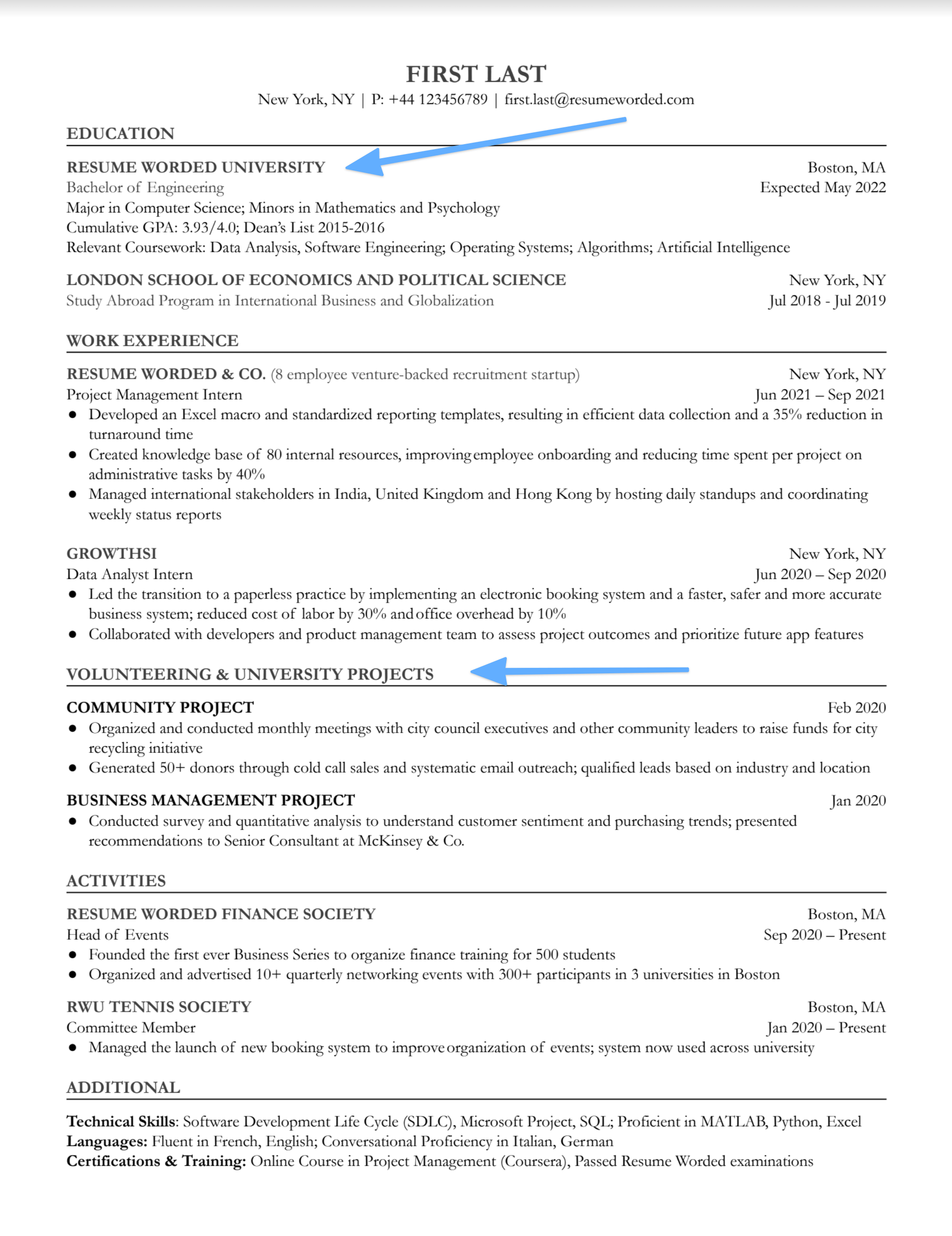 Recruiter Insight: Why this resume works in 2021
Senior Project Manager Resume Sample
As a senior project manager, you won't only be managing projects; you'll likely also be managing other members of your team. To get this kind of job, you'll need to show that you have leadership capabilities along with the experience and expertise of a senior-level professional. Your work history should highlight any management or leadership roles you've held in the past, in addition to any previous achievements managing projects.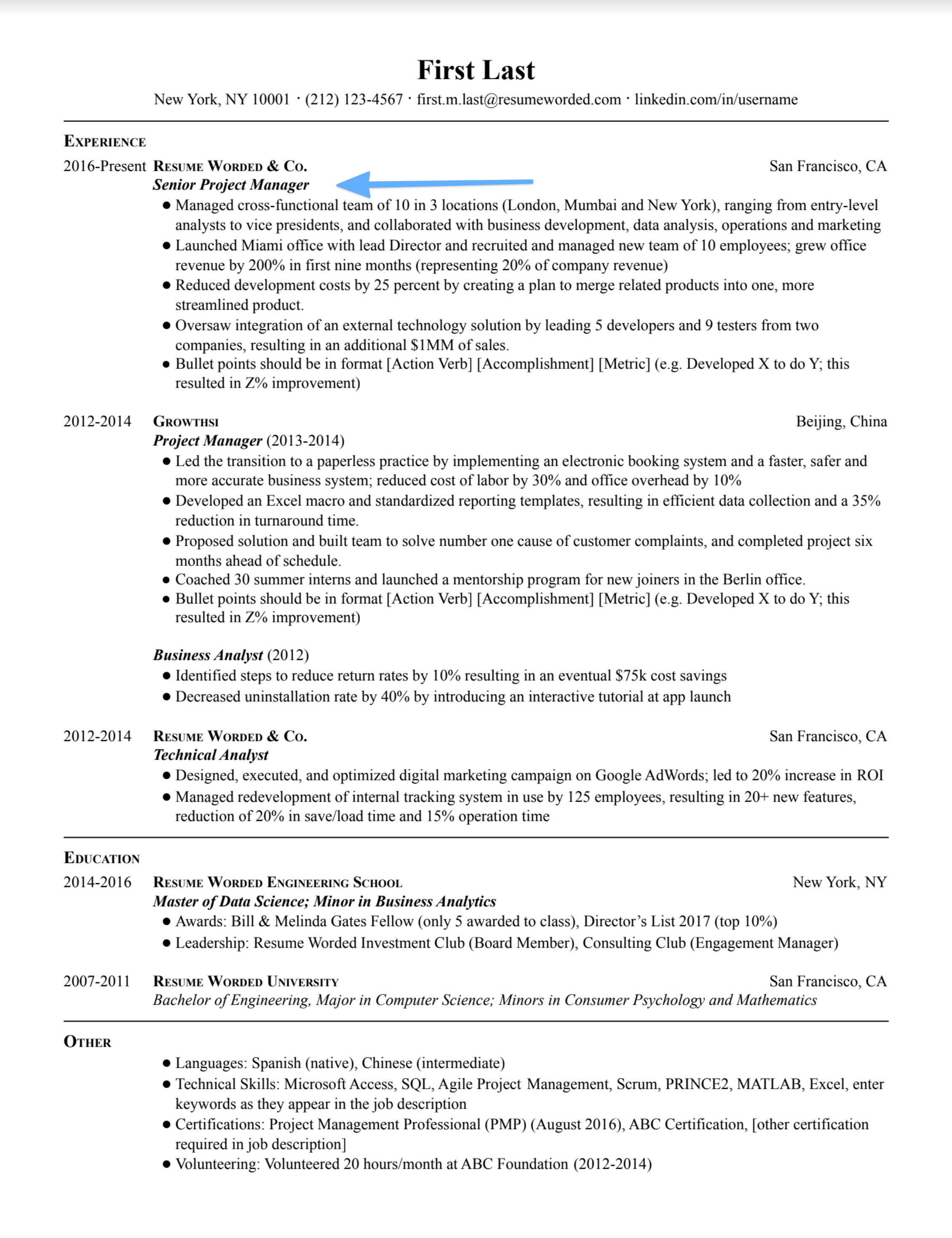 Recruiter Insight: Why this resume works in 2021
Technical Project Manager Resume Sample
Technical project management jobs often require you to have a background in IT, engineering, or another tech-related field. If you're pursuing one of these positions, you'll want to use your resume to highlight your technical expertise as well as your project management experience. This resume template will show you how to do just that.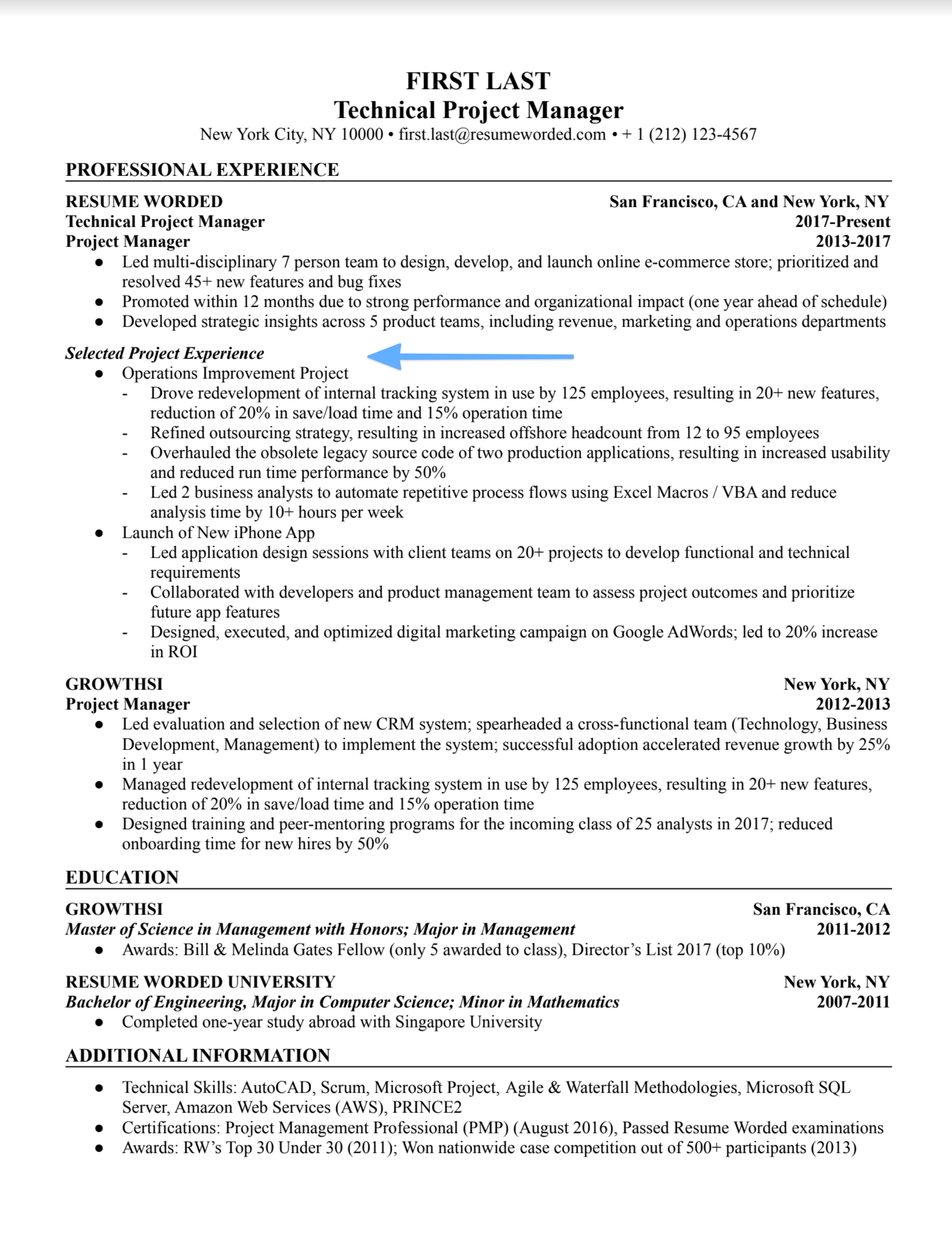 Recruiter Insight: Why this resume works in 2021
Marketing Project Manager Resume Sample
Marketing project managers collaborate closely with the marketing department of a business. If you're seeking a job as a marketing project manager, use a resume similar to this template to highlight your skills and experience in fields such as marketing, journalism, or communication.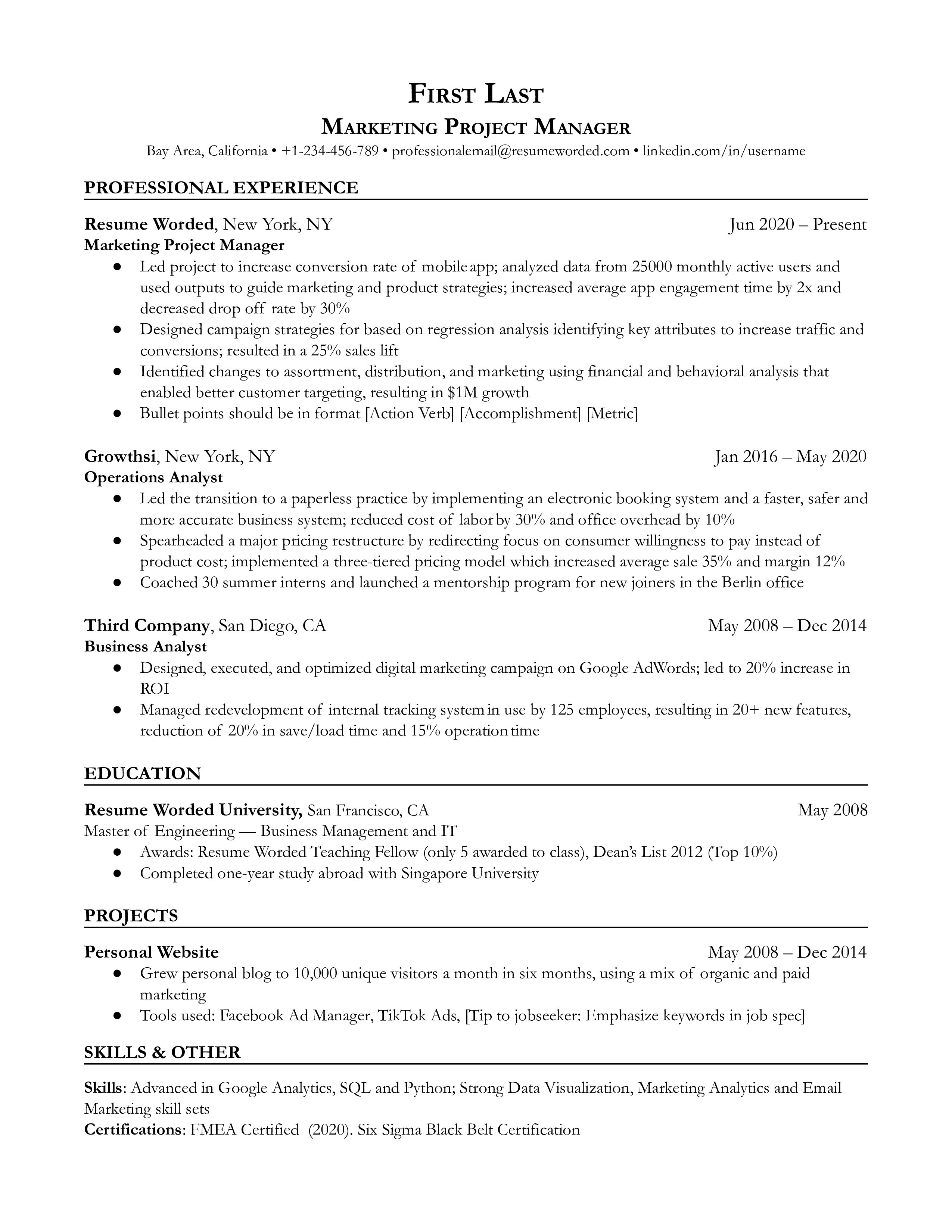 Recruiter Insight: Why this resume works in 2021
Construction Project Manager Resume Sample
Construction project managers are project managers that are specifically focused on the construction projects. This includes consulting with architects, managing stakeholders and deadlines, and overseeing day-to-day work at sites. Remember to focus on your construction or real estate experience when applying for construction project management jobs.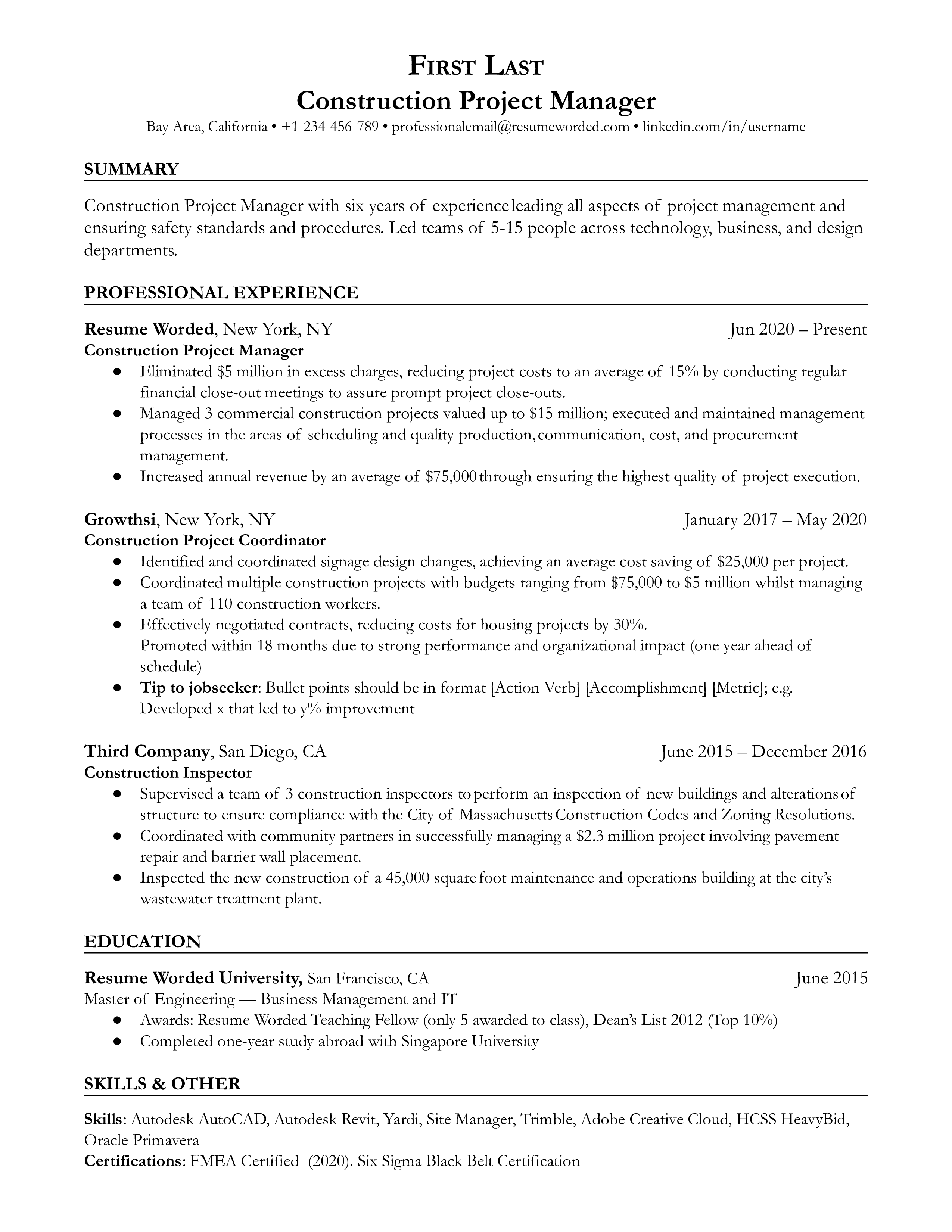 Recruiter Insight: Why this resume works in 2021
Skills For Project Manager Resumes
To craft an outstanding project manager resume, you'll want to show that you have the most crucial skills for the job. Recruiters will want to see that you are adept at managing, leading, planning, and strategizing -- use your skills section and bullet points within your work history to illustrate your abilities in these areas.

In addition to highlighting essential project management skills, you should also re-read the job posting to look for specific skills that your potential employer is seeking. If they mention any skills, be sure to mention those (and include supporting examples) within your resume.

Finally, many companies use applicant tracking systems (ATS) or other technology to sort through and analyze the high volume of resumes they receive. You can optimize your resume to get past the automated filtering process and give yourself a better chance of getting noticed. We'll go into ATS in more detail below.
Copy Protection
Software Development Life Cycle (SDLC)
Agile Methodologies
Project Planning
Integration
Project Management
Software Project Management
Business Analysis
Team Leadership
Business Process Improvement
Program Management
Microsoft Project
Agile Project Management
Agile & Waterfall Methodologies
Requirements Analysis
Enterprise Software
Scrum
Change Management
Vendor Management
Project Coordination
Project Manager Resume Tips
The best project managers have the ability to wear numerous hats. They are usually team players who are exceptionally organized, highly strategic, adaptable, and great at communicating with a variety of people. When you're applying for a project management role, use your resume to show that you have the right skill set and personality for the job.

With that in mind, here are some tips for creating a project manager resume that will help you stand out from the crowd.
Action Verbs For Project Manager Resumes
The best project manager resumes discuss specific accomplishments using strong action verbs. Strong verbs convey your role in your achievements; in any resume bullet point, we recommend pairing an action verb with the quantifiable result you achieved to show the impact of what you did.

Project managers may have a diverse set of skills to draw upon, and there are a huge number of verbs you could choose to describe what you're good at. We have an entire article devoted to action verbs to use in resumes -- in particular, project managers may want to pursue the ones in the accomplishment-driven, communication, management-related, leadership, and problem-solving sections.
Moderated
Facilitated
Directed
Developed
Overhauled
Validated
Overcame
Accelerated
Achieved
Improved
Increased
Spearheaded
For a full list of effective resume action verbs, visit Resume Action Verbs.
Resume Bullet Points From Project Manager Resumes
You should use bullet points to describe your achievements in your Project Manager resume. Here are sample bullet points to help you get started:
Implemented a system upgrade for an American bank just 8 weeks before deadline; resulted in securing additional business worth $5 MM
Developed an Excel macro and standardized reporting templates, resulting in efficient data collection and a 35% reduction in turnaround time
Managed a 10-member cross-functional (engineering, product, sales, support) team and coordinated with five business partners towards the successful launch of an e-commerce website
Enforced Kanban principles as a scrum master that reduced cycle time by 25% and increased the team's throughput in less than 9 weeks.
Reduced new user acquisition costs by 20% through implementing social sharing features and streamlining user adoption; shortened development cycles by 25% and increased release date accuracy by 20%
For more sample bullet points and details on how to write effective bullet points, see our articles on resume bullet points, how to quantify your resume and resume accomplishments.