With no shortage of new products entering the market in any given year, product managers are in high demand for a growing variety of industries who are targeting a wide range of consumers. Younger generations are rapidly gaining buying power, requiring companies to have the ability to rapidly adapt to new audiences with fresh, well-marketed products.

Product managers are responsible for overseeing the lifecycle of products, including successfully identifying both the product's assets and the consumers who would be most interested in buying it. This makes creativity high on the list of traits that companies are looking for, as well as having the technical skills to understand and incorporate data and create meaningful graphical renderings to convey the product's worth internally and externally.

Along with being able to assess a product's value to consumers and to companies, product managers need to have excellent people skills due to the different types of personalities they'll be managing and working with. The fusion of creativity, communication skills, and organizational ability is ideal for those interested in being a first-rate product manager.

From 2017 to 2020, the number of openings for product managers more than doubled. With an average salary of $110,916 and a high rate of job satisfaction, it's clear that competition in the field is fierce.

Having the ability to skillfully determine the value proposition of products and coordinate your team members isn't enough to secure a product manager job - you'll also need to have a resume that clearly communicates your prowess. This guide will cover best practices on what your product manager resume should focus on, section by section, including what should be emphasized to make your pitch truly pop.
Product Owner Resume Templates
Product Owner Resume Sample
As a product owner, you'll be responsible for assigning and prioritizing tasks and evaluating the work of your team. You'll need good knowledge of the industry, an understanding of what customers are looking for, and the ability to see a product through the entire development cycle. Your resume needs to show your experience in the field as well as a balance of hard and soft skills.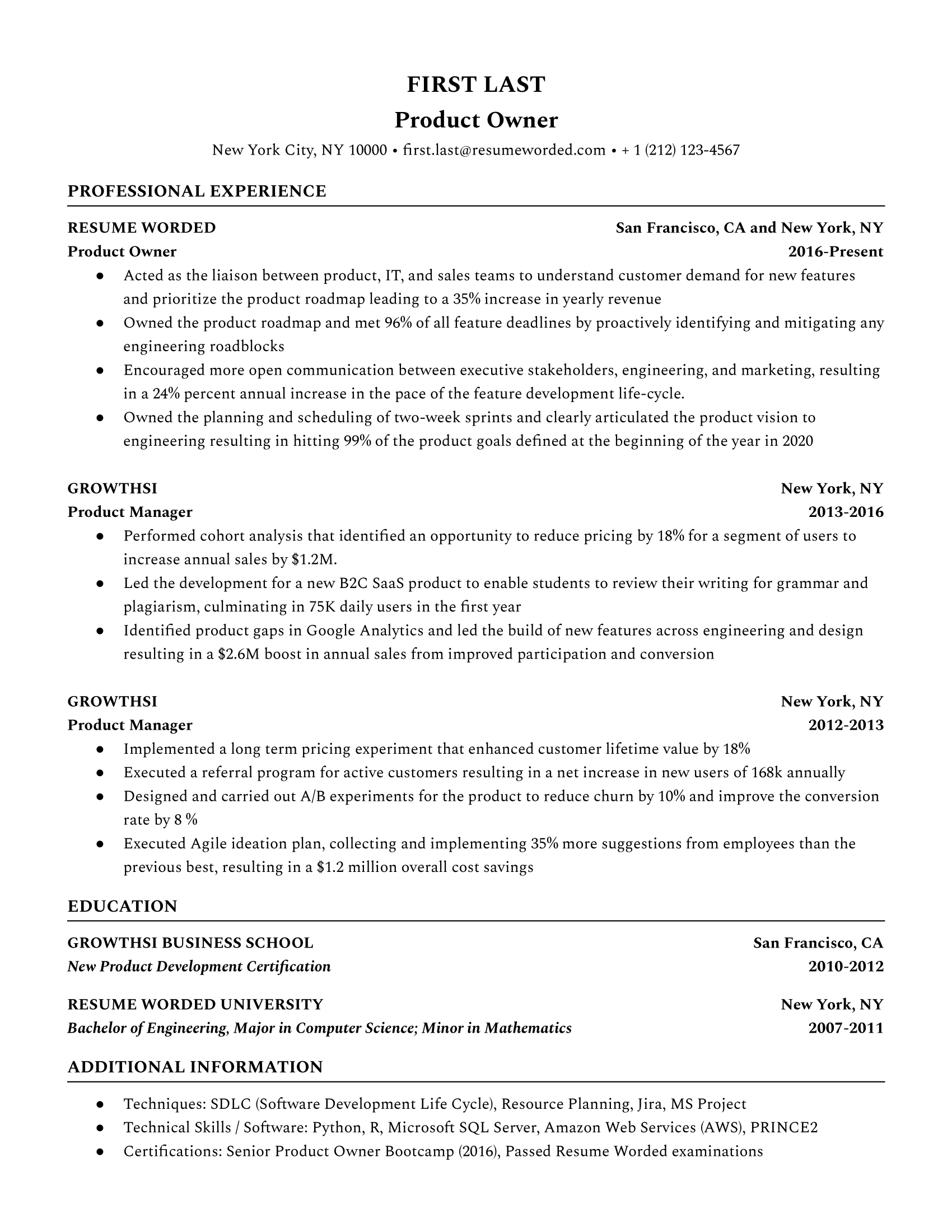 Recruiter Insight: Why this resume works in 2021
Senior Product Owner Resume Sample
With enough experience in the field, you may find yourself rising to the ranks of senior product owner. As a senior product owner, you'll be expected to bring high-level expertise and years of experience, taking a leading role in implementing new tools and practices. Senior product owners are actively involved in building customer relationships and will need a strong business acumen as well as soft skills like leadership and communication.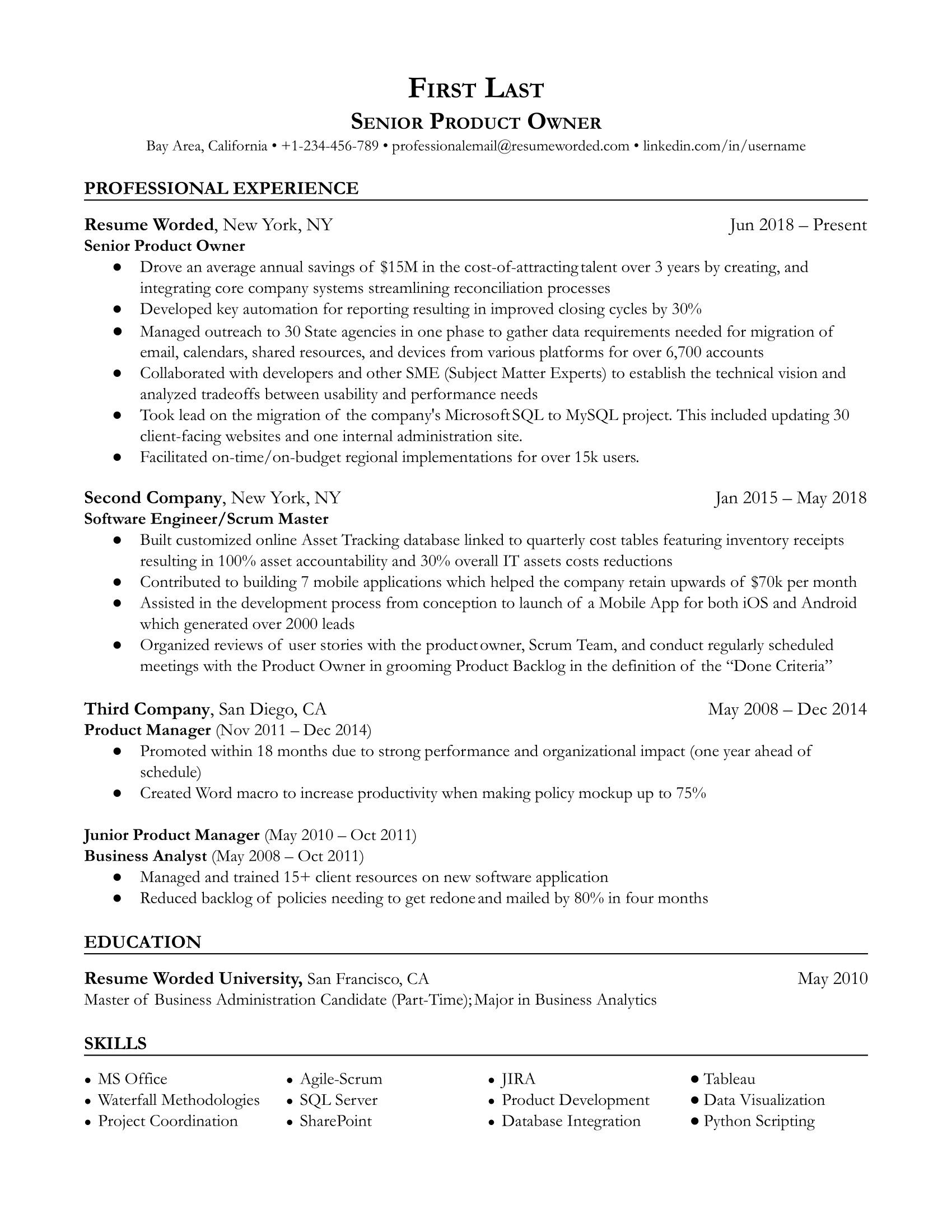 Recruiter Insight: Why this resume works in 2021
Agile Product Owner Resume Sample
Agile Product Owners work within specific agile principles that value change and collaboration over technical processes and tools. As such, your resume needs to demonstrate a firm understanding of agile systems, including the scrum product development framework, as well as more general technical skills like data analysis, software, and programming skills. As a project owner, you'll also need solid soft skills, including attention to detail, problem solving, and strong organization skills.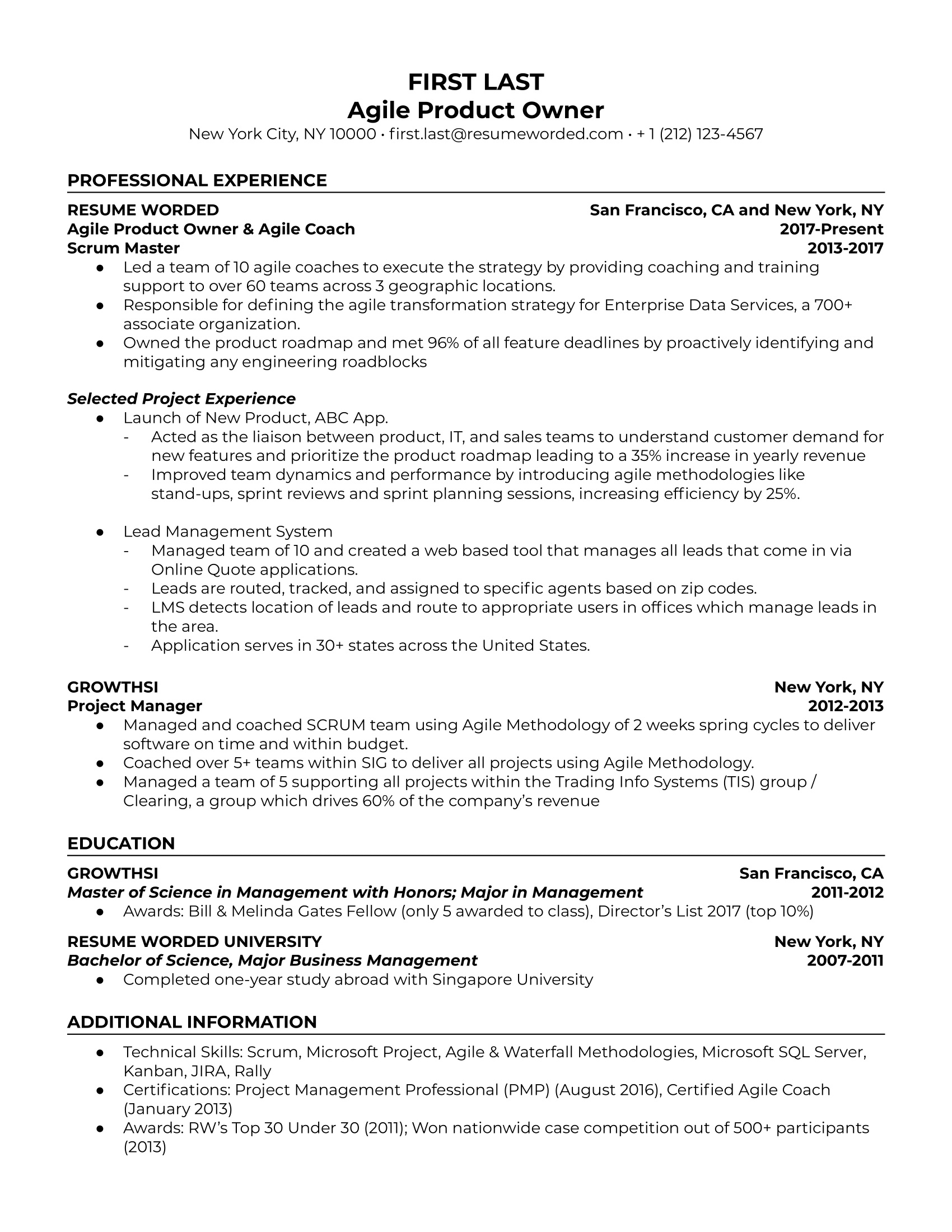 Recruiter Insight: Why this resume works in 2021
Skills For Product Owner Resumes
Including skills on your resume is important for any position, but especially for roles like product owner that require specific technical skills. Not only does including specific keywords help your resume make it past ATS, it will also make it more likely to stand out on a hiring manager's desk.

You can list skills on your resume in one of two ways. The first is in a dedicated skills section. This is perfect for hard skills like programming languages, software programs, and product management frameworks. If you want to emphasize soft skills, like teamwork and communication, you should include these instead in your bullet point accomplishments, with metrics to back them up. To find out exactly what keywords your product owner resume needs, read the job description carefully and check out our list of skills and keywords.
Agile Methodologies
Scrum
Product Management
Agile Project Management
Jira
User Stories
Software Development Life Cycle (SDLC)
Business Analysis
Requirements Analysis
Requirements Gathering
Scaled Agile Framework
Agile & Waterfall Methodologies
Software Project Management
Product Development
Business Requirements
User Experience (UX)
Software Development
User Acceptance Testing
SQL
Confluence
Action Verbs For Product Owner Resumes
Hiring managers don't care about the job duties you've performed — they want to know what you actually accomplished. The best way to show this is by starting each bullet point with a strong action verb. Product owners need both hard and soft skills, so try verbs like Developed or Built to show off your technical skills, while verbs like Collaborated and Managed to highlight soft skills like leadership and communication.

When choosing your action verbs, stick to accomplishments that are most relevant to the job you're likely to be doing. This means choosing verbs that emphasize your ability to see a product through from start to finish, focusing more on high-level functions than responsibilities that are only relevant to one part of product creation. Following up your action verbs with specific metrics is a great way of illustrating your achievements to a recruiter, especially when it comes to soft skills.
Led
Owned
Managed
Coached
Developed
Collaborated
Drove
Built
Facilitated
Promoted
Encouraged
Identified
Implemented
Designed
Executed
Streamlined
For a full list of effective resume action verbs, visit Resume Action Verbs.
Resume Bullet Points From Product Owner Resumes
You should use bullet points to describe your achievements in your Product Owner resume. Here are sample bullet points to help you get started:
Led five developers to establish client's ERP system; identified $1.5MM in cost savings, and secured $1MM+ in additional work for Accenture
Developed go-to-market strategy for ~$100 million B2B market segment; led cross-functional team of 15+ internal stakeholders to prepare new product offering
Streamlined the implementation process and reduced the average product delivery time from 10 days to 4 days by redefining responsibilities and improving accountability of employees
Managed a cross-functional team of 10 in 3 locations (London, Mumbai and New York), ranging from entry-level to Ph.D. analysts, and closely collaborated with business development, data analysis, operations and marketing teams
Led multi-disciplinary 7 person team to design, develop, and launch online e-commerce store; prioritized and resolved 45+ new features and bug fixes
For more sample bullet points and details on how to write effective bullet points, see our articles on resume bullet points, how to quantify your resume and resume accomplishments.