Whether you have a long track record of supervising employees or you're applying for your very first supervisory position, your resume needs to have evidence of your ability to lead, train, and manage other people. In this guide, we'll walk you through exactly how to write a resume for a supervisory position, including:
What supervisory skills to include on your resume
How to show (not tell) your ability to supervise others
Common pitfalls to avoid
Sample bullet points you can use when writing your supervisory resume
Ready? Let's get started!
How to write a resume for a supervisory position
Check the job posting. How many people will you be supervising? What specific duties are listed?
Upload the job description to Targeted Resume to identify essential supervisory skills and keywords you should include in your resume — a must for getting past Applicant Tracking Systems (ATS).
Brainstorm times when you were in a supervisory role or demonstrated relevant transferable skills like leadership and collaboration.
Turn your responsibilities into accomplishments by starting with an action verb to emphasize what you actually did.
Include metrics to quantify your impact on the company.
Run your resume through a free resume scanner to see how well your resume addresses supervisory skills and get feedback on any final touches you can add.
Let's take a look at what a supervisory resume should look like in action.
How to describe supervisory experience in a resume
Hiring managers will evaluate your ability to supervise others through your soft skills and experience. Both of these belong in one place on your resume — your work experience section.
How To:
List your company name, job title, dates, and location. Underneath, brainstorm 3-6 bullet point accomplishments. Ideally, these should match duties listed in the job description, so if you're applying for a role where you'll be managing a team, onboarding new employees, monitoring output, and ensuring compliance, include one bullet point for each of these supervisory skills.
Example:
Example 2: Here are more examples of bullet points that highlight your supervisory skills.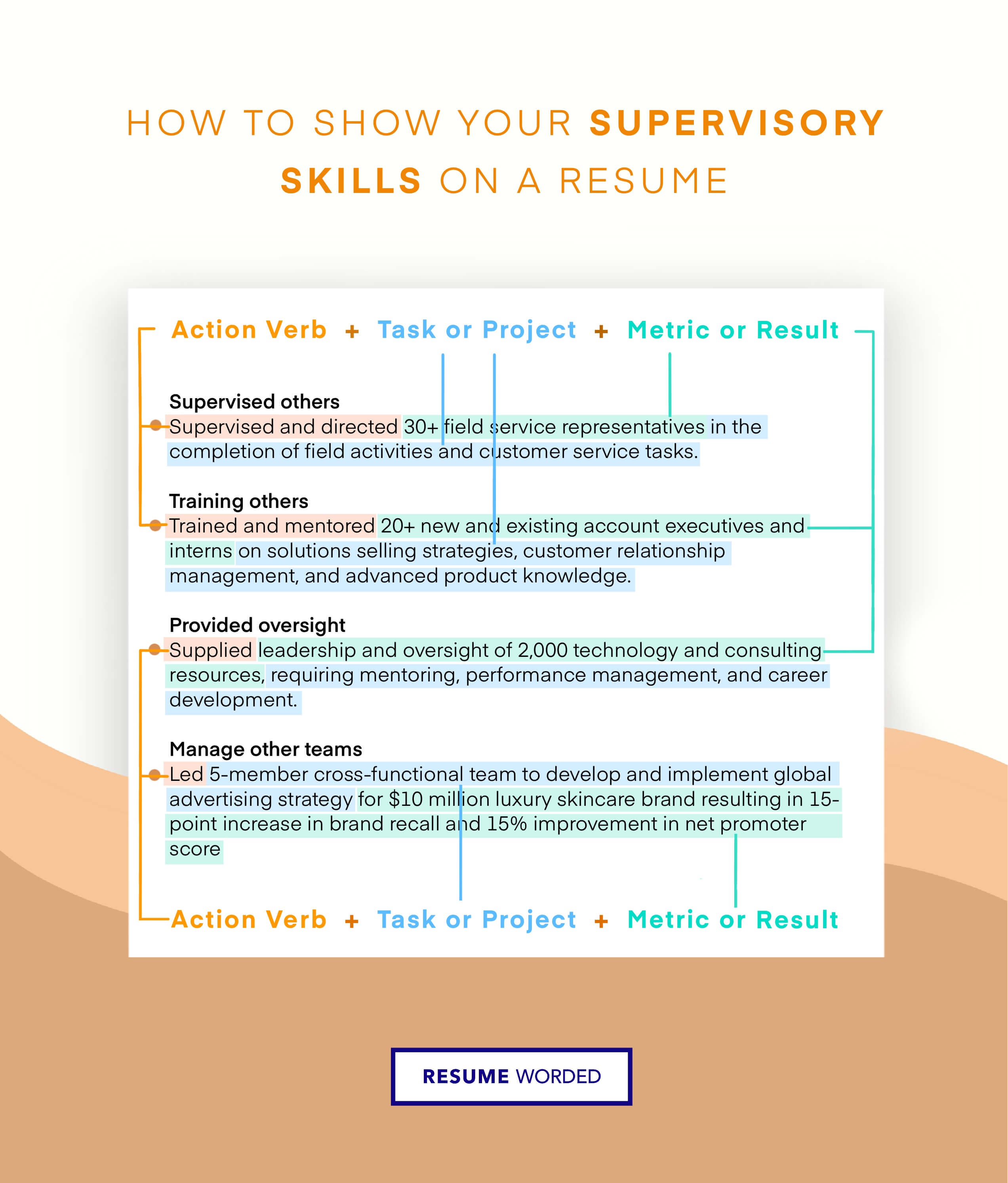 More Tips:
Applying for a role that involves a lot of training as well as day to day supervision? Check out our guide on how to say you trained someone on a resume.
Find out if your resume shows supervisory skills
The most effective way to show recruiters your supervisory skills, like other soft skills, is through your work experience and accomplishments. You should focus on accomplishments that show how you've used these skills in your previous roles, as well as the results or benefits. To find out if your resume is effective, upload it to the tool below.
Synonyms for supervise on a resume
The best way to show soft skills on a resume is through your accomplishments — and the best way to start your accomplishments is with a strong action verb. If you feel like your resume is getting a little repetitive, try these synonyms for supervised:
Coached
Advised
Trained
Taught
Counseled
Led
Guided
Assessed
Instructed
Directed
Instructed
Do's and don'ts for a supervisory resume
While writing your resume, here are a few tips to keep in mind:
Don't: Use passive verbs
Hiring managers want to know what you did, not what other people did. That means staying away from passive verbs like "Oversaw," which doesn't say anything about your own contributions.
Do: Highlight transferable skills
If you're applying for your first supervisory position, don't pretend you've supervised others when you haven't, but do emphasize other transferable skills. If you've ever trained someone or taken on extra responsibilities — even temporarily — make that an accomplishment.
Don't: Confuse soft skills and hard skills
Don't explicitly list soft skills on your resume — including in your skills section, cover letter, and resume summary. If you're a "strong leader" or have "excellent communication skills," you need to show that through your accomplishments, not just expect recruiters to take your word for it.
If you're not sure which of your skills you can explicitly list on your resume, use the tool below to get a list of hard skills relevant to the job you're applying for.
Do: Use the exact job title in your resume
If you're applying for a supervisory position and have held a similar role in the past, highlight that upfront by making sure your job title clearly reflects your actual duties. If you've never held a supervisory role, include a resume title at the top of your resume that mirrors the job you're applying for. Including keywords like "Supervisor" or "Manager" can be essential for bypassing ATS.
Resume bullet points that show supervisory skills
Ready to start putting together your supervisory resume? Here are some sample bullet points you can use as a jumping off point:
If you're a mid-level job seeker
Managed 12 direct reports in 3 functional departments: materials management, warehousing/transportation, and customer service; responsible for the execution and management of $45M in rental assets, $40M in inventory, and $90M spend.
If you already have experience in a supervisory position, you're in an ideal situation to highlight those skills in your resume. Be direct about how many people you supervised, in what capacity, and what that work entailed.
If you have some supervisory experience
Assisted in the recruiting, coaching, training, evaluation, and development, as well as preparation and delegation of work schedules and workflow of over 30 medical staff.
You don't need to have been in a full-time leadership role to show supervisory skills on your resume. Pick accomplishments that show times when you trained others, evaluated performance, or delegated work — all essential parts of any supervisory position.
If you're in a client-facing role
Managed an average of 400 clinic referrals per month, providing case and disease management services to high-risk families such as children and adolescents diagnosed with autism and bipolar disorder.
While managing a case load or looking after customers isn't the exact same thing as supervising employees, these roles involve similar skill sets and deserve a place on your supervisory resume. Prioritize accomplishments that show interpersonal skills or situations where you were in a position of authority over others.
If you're seeking a high-level supervisory position
Directed a 150+ person network, comprising project management, development and business analyst resources in the end-to-end execution of project deliverables.
At the highest level, supervisory positions are less about managing individual employees and more about overseeing entire departments or networks. Use metrics to show that you have supervisory experience on a large scale.
If you're applying for an entry-level supervisory role
Organized and conducted monthly meetings with city council executives and other community leaders to raise funds for a city recycling initiative.
If you're new to the workforce and don't have a lot of job-related accomplishments to show, you can include examples of supervisory positions from your education, extracurricular activities, or personal projects.
If you have no supervisory experience
Collaborated with developers and product management team to assess project outcomes and prioritize future app features.
If you're struggling to come up with any accomplishments that show you in a supervisory position, try highlighting transferable skills like communication, collaboration, and working across different teams.