Conflict is inevitable. In some jobs, it can even be commonplace. That makes conflict management an essential part of any skill set — but one that, like other soft skills, can be difficult to explain.
In this guide, we'll walk you through a step by step checklist for putting conflict resolution skills on your resume, including essential tips, resume examples, and sample bullet points you can use or adapt for your own resume.
Ready? Let's dive in!
How to list conflict resolution skills on a resume
Scan the job description to get a feel for the types of conflict you're likely to face in the new role. A job working with at-risk youth is going to require very different conflict management skills from one where two board members keep setting conflicting goals, for example.
Make a list of all of the times you've faced a similar type of conflict. Ideally, this should be from your work experience, but you can also draw from volunteer work and extracurricular activities if necessary.
Now, think about how you solved those problems. What skills did you use? What was the outcome?
Transform that answer into a resume-ready bullet point by starting with an action verb that describes what you did and ending with metrics that illustrate how well it worked.
Get feedback on your bullet points from an AI-powered resume scanner that can check for essential keywords and suggest additional tweaks to help you land an interview.
Conflict management resume example
Before we dive any deeper, let's take a look at what conflict resolution skills should look like on your resume:
As you can see, the best place for conflict resolution skills is in your resume bullet points. Putting them here allows you to show real examples of your conflict resolution skills in the section that recruiters care about the most.
Here's an example of how to list conflict resolution skills in your resume work experience section:
RW Center, New York, NY, Jan 2017 – May 2020
Social Work Assistant
Facilitated short individual and group sessions to communicate juvenile concerns and promote a safe environment.
Supported 50+ juveniles and families in understanding and adapting to the juvenile's obligation to the center.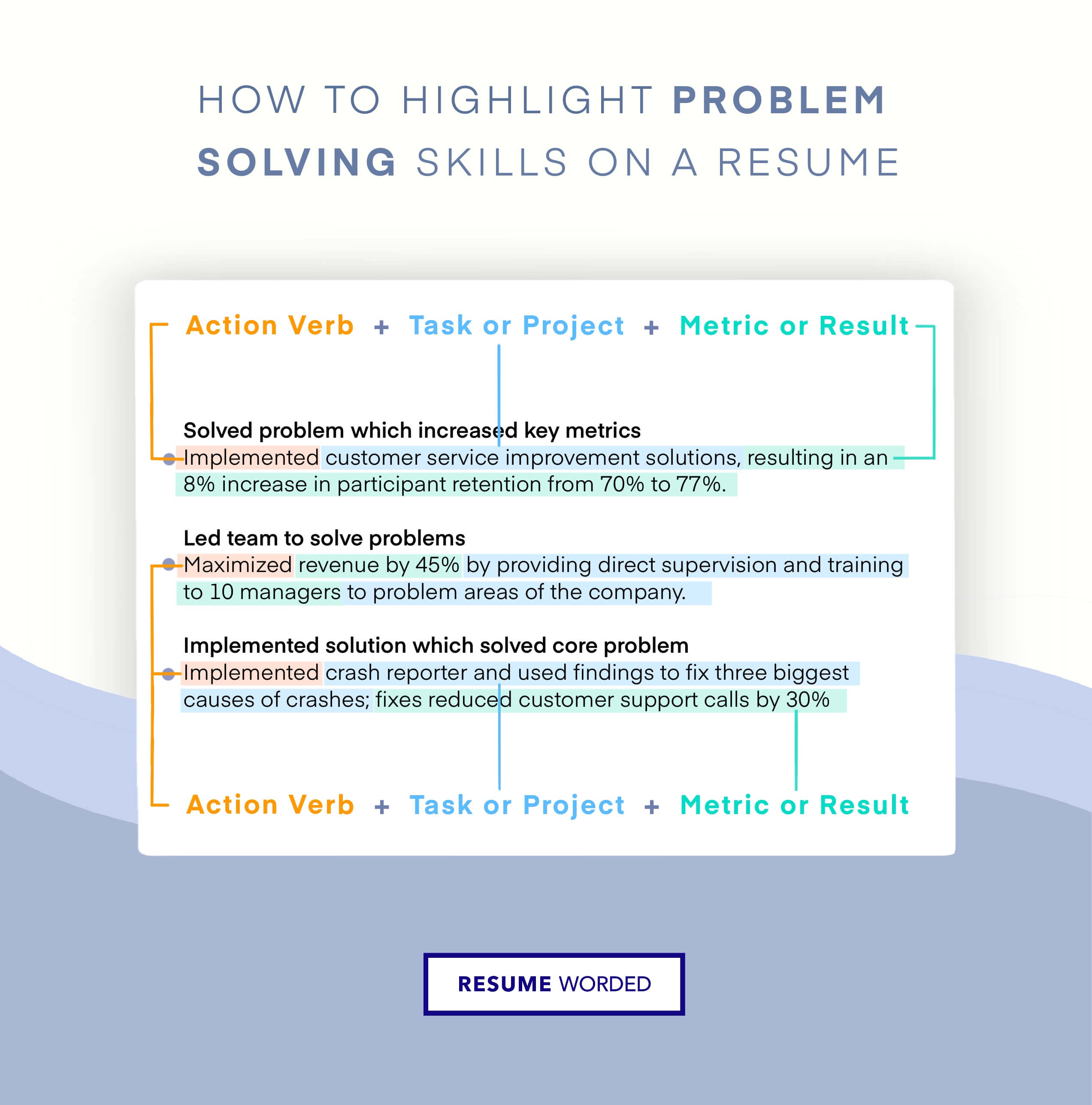 Do's and don'ts for addressing conflict resolution on a resume
DON'T: Focus on the conflict. It's never a good idea to focus on anything negative on your resume, so don't go into too much detail about conflicts you've had at work.
DO: Focus on how it was resolved. Hiring managers want solutions — not problems. Concentrate on the highlighting transferable skills that you used to resolve conflicts and would be bringing to the role.
DON'T: Explicitly state that you have conflict resolution skills. Conflict resolution is a soft skill, which means that putting it in your skills section or resume summary is going to look strangely out of touch.
DO: Show, don't tell. This is the number one rule for including soft skills on a resume. Include examples of how you've demonstrated conflict resolution at work and let recruiters draw their own conclusions.
Find out if your resume shows conflict resolution skills
If you're wondering if you've shown conflict resolution skills the right way, upload your resume tool below — it'll tell if your resume highlights your conflict resolution skills and other soft skills. It'll also identify any mistakes and give you suggestions for improvements.
How to say "diffuse conflict" on a resume
So, if you can't just say "excellent at resolving conflict," how can you put conflict management on a resume? The key is to focus on specific conflict resolution skills and how you've demonstrated them.
Here are some essential conflict resolution skills for your resume:
Meeting tight deadlines
Leading a team to success in difficult situations
Dealing with a wide mix of stakeholders
Resolving interpersonal conflict
Mentoring others in how to navigate conflict
Mediation and negotiation
Achieving success despite adversity
Once you've chosen a few conflict management skills that best fit your skill set and the needs of the job you're applying to, it's time to show them in action. Keep scrolling for examples of how to list different types of conflict resolution skills on a resume.
More conflict resolution bullet point examples
It can be tricky to list soft skills like conflict management on a resume, which is why we've compiled these sample bullet points to get you started. Feel free to mix and match these to best fit your own skill set!
Attended emergency intervention and de-escalating processes training, resulting in a 76% increase in response time.
If conflict resolution is an essential part of the role you're applying for, be as explicit and upfront as you can. De-escalation, intervention, and quick response times can make or break emergency situations, so any background or training in these areas should 100% go on your resume.
Helped in sustaining participating caseload at 100% by scheduling walk-ins, appointment calls creation and reminders, rescheduling missed appointments and following up with inactive clients.
Sometimes conflict resolution isn't about addressing problems as they occur, but about being proactive in preventing them. Include resume bullets like this that demonstrate how you've avoided conflict and kept things running smoothly.
Managed and handled 120+ staff, reduced employee complaints and compliance calls by 65%.
Conflict management often relies on other soft skills like communication and interpersonal skills. You don't need to explicitly list these skills to prove that you have them — instead, use bullet points that pinpoint results.
Closed a $92K sale by prospecting in a tough industry against 85 competitors who offered lower-priced services; successfully exceeded growth expectations and got a pay rise.
While you shouldn't dwell too much on problems you've faced in previous roles, you can use your resume bullet points to give a quick overview of the challenges you faced, what you did to address them, and the overall benefit to the company.