Applying for senior roles? One key thing recruiters want to see is that you've held Profit & Loss (P&L) responsibility.
P&L responsibility on a resume means that you:
Can manage or influence the company's bottom line
Ensure positive ROI
Seek out new ideas for revenue generation
Implement effective cost-cutting procedures
Monitor expenses and resource allocation
Give final approval for new projects and initiatives
Cement business partnerships
Have control over hiring and budgets
Demonstrate strong leadership skills
Are willing to reflect on mistakes and course correct when necessary
Take personal responsibility for end results
In this guide, we'll cover essential P&L management skills and how to effectively write a resume for more senior positions.
How to list P&L management on a resume
Always focus on outcomes. The point isn't what responsibilities you were tasked with, it's what you did with them.
List job titles that demonstrate leadership and seniority.
Include bullet points with examples of accomplishments related to P&L management, including clear metrics or results.
List specific P&L management skills and other hard skills in your skills section.
Customize your resume to each specific job you apply for — this is always important, but especially so at higher levels.
Get a second opinion before you apply. Run your resume through an ATS resume scanner like Targeted Resume to identify essential keywords and specific P&L management skills from the job posting.
P&L resume examples
Let's dive right in with an example of an executive resume that includes P&L responsibility.
You can download this P&L management resume (and more) from our ATS resume templates page.
P&L responsibility resume tips
What jobs require evidence of P&L responsibility?
P&L responsibility typically (but not exclusively) falls to senior financial positions. Job titles where recruiters will be expecting to see P&L responsibility on your resume commonly include:
Chief Financial Officer (CFO)
Chief Executive Officer (CEO)
Chief Strategy Officer
Head of Finance
Product Manager
Account Manager
Business Unit Manager
Head Office Manager
This isn't an exhaustive list, but if you're applying for a job similar to those above, you should be prepared to demonstrate P&L management skills.
How to quantify P&L responsibility
Putting "P&L responsibility" on your resume may be enough to get past automated resume scanners, but it isn't quite enough to impress an actual hiring manager. When evaluating P&L responsibility on your resume, recruiters want to see:
The scope of your P&L responsibility
Specific accomplishments relating to P&L management
Concrete metrics describing the outcomes of your actions
The key to doing all of this is to quantify your P&L responsibility. Here's how!
To show the scope of your P&L responsibility:
P&L management of $100M budget over 5 years.
To highlight specific accomplishments:
Led international expansion of Company X, establishing 6 offices on time and under budget.
To include end results:
Acquired, built, and sold Company X, generating 700% ROI.
To truly impress a recruiter, try putting it all together:
Resume Worded, New York, NY, 2018 - Present
Chief Strategy Officer
Planned and implemented a 7-year strategic plan, fueling annual revenue growth from $20M to $80M
in enterprise value with full $100M P&L responsibility.
Delivered product solutions to institutional and corporate clients; grew customer base by +25% in Europe.
Delivered $15M in new annual recurring EBIT via a high-impact, solution-driven sales strategy.
A good way to check if your resume highlights your p&l experience and accomplishments is to upload it to the tool below — it'll scan it and let you know if your resume highlights relevant accomplishments and skills.
When to include (or not include) P&L responsibility on a resume
Not sure if P&L responsibility is an essential part of the job you're applying for? Here's a quick guide on how to tell:
Always include P&L responsibility on your resume if you're applying for a senior leadership position (including C-suite roles) or one that explicitly involves P&L management, including those on the list above.
You can safely leave P&L responsibility off your resume if you're stepping back from a senior role to a more junior one or if P&L management doesn't fall under the purview of your new job.
Never list P&L responsibility on your resume if you just don't have the experience. Lying (or even exaggerating) on your resume will have serious consequences — instead, find other ways to demonstrate your readiness to move up to a more senior role.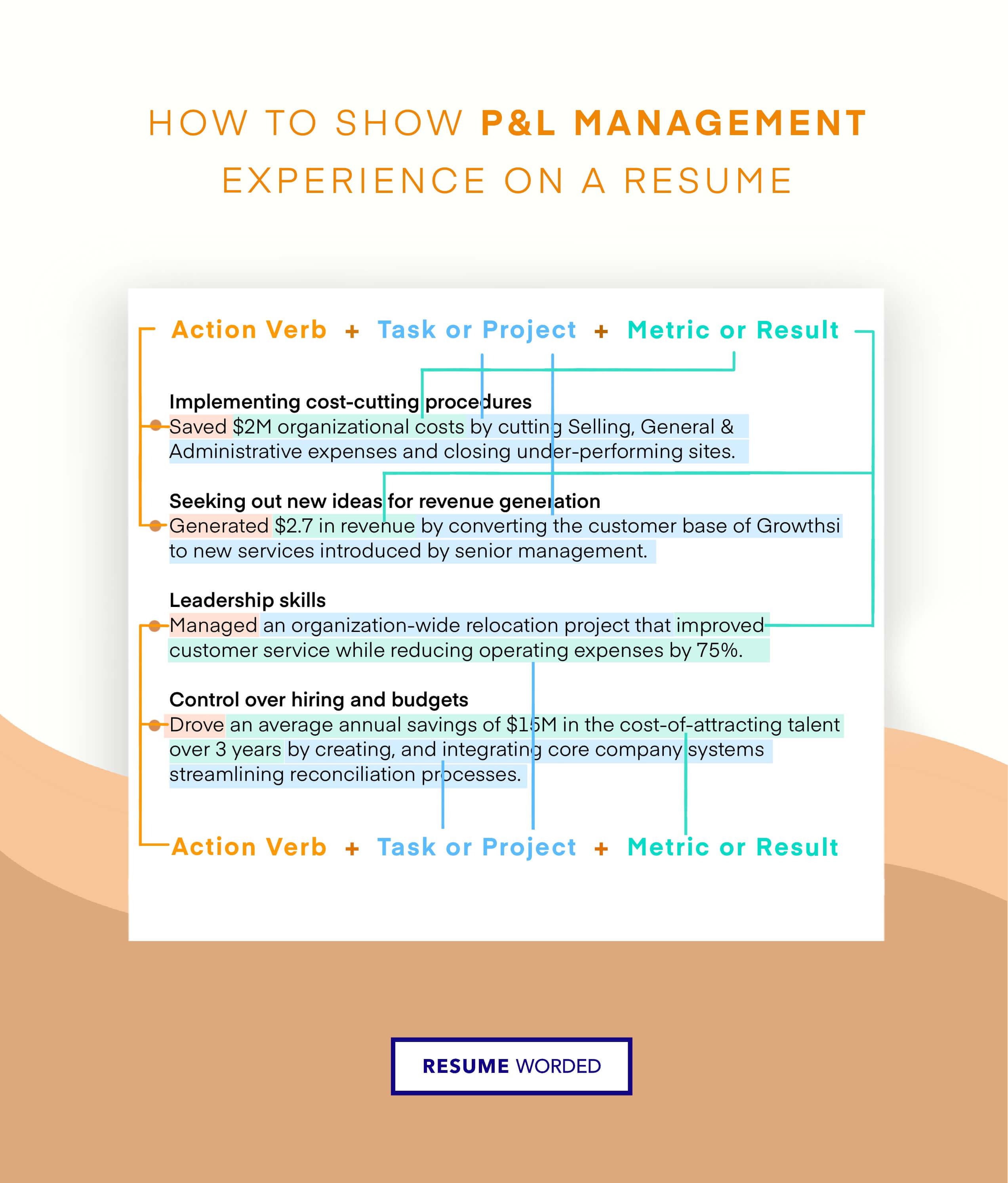 Essential P&L management resume skills
You can also use the skills section of your resume to highlight technical skills related to P&L responsibility. These skills might include:
Financial analysis
Business planning
Mergers & Acquisitions (M&A)
Accounting
Forecasting
Change management
Financial reporting
Corporate finance
Cash management
Investment banking
Business Intelligence
Supply chain management
Business Process Improvement (BPI)
Management Information Systems (MIS)
For more suggestions, check out our article on essential skills for executive resumes.
P&L management resume sample bullet points
P&L responsibility for finance positions
If you're applying for a position as a CFO or Head of Finance, highlight accomplishments that show your ability to make impactful, high-level financial decisions.
For example:
Integrated and resolved audit findings that produced over $150k in positive error reductions.
Benchmarked facility cost structures and sales metrics to identify profitability and improvement; cost savings identified and executed in excess of $1.5M.
Developed a contingency plan during tough economic conditions to save $540K per year.
P&L responsibility for other C-suite roles
Executive positions like CEO or Chief Strategy Officer also involve P&L responsibility. In these cases, you should focus on P&L management in the context of making strategic business decisions.
For example:
Saved $2M organizational costs by cutting Selling, General & Administrative expenses and closing under-performing sites.
Reduced $10M of receivables exposure by developing initiative to shift dynamics between company and clients.
P&L responsibility for product managers
Product Managers and other technical positions are often focused on getting things done — but they also require understanding of P&L. Here, you can showcase P&L responsibility by emphasizing accomplishments where you streamlined processes or analyzed ways of cutting costs without negatively affecting the company's output.
For example:
Drove an average annual savings of $15M in the cost-of-attracting talent over 3 years by creating, and integrating core company systems streamlining reconciliation processes.
Built customized online Asset Tracking database linked to quarterly cost tables featuring inventory receipts resulting in 100% asset accountability and 30% overall IT assets costs reductions.
P&L responsibility for managerial positions
Managerial roles involve close day-to-day involvement with the main factors driving profit & loss. Here, you're looking for accomplishments that show both your ability to make big-picture decisions and an understanding of the practical impact on a company.
For example:
Managed an organization-wide relocation project that improved customer service while reducing operating expenses by 75%.
Succeeded in managing an annual training budget of $10M for 175 instructors and facilitated work-outs designed to meet the needs of RW clients.
Generated $2.7 in revenue by converting the customer base of Growthsi to new services introduced by senior management.