This is part 4 of our how to write an executive and senior-level resume guide. Navigate through different parts of the guide:
•  Part 1: Overview, templates and key tips
•  Part 2: Executive resume summary
•  Part 3: Work experience and bullet points on executive resumes
•  Part 4: Skills section on executive resumes [you are here!]
•  Education, optional sections, and additional executive resume tips
On a senior level resume, your skills section should focus on high-level management and leadership skills. This might mean leaving out older or less-relevant skills — a short list of highly relevant skills is more likely to impress recruiters than a longer but less focused selection.
An easy way to find out if your executive skills section shows the right high-level management skills is to upload your resume to the tool below — it'll do a quick scan and tell you if your resume shows enough of these high-level management skills as well as other soft skills such as leadership, problem solving, conflict resolution and communication skills.
A dedicated skills section serves two purposes:
Firstly, it allows recruiters to quickly skim your resume for essential skills. Think of your resume summary and skills section as the bookends of your resume — you want to begin and end by emphasizing your key skills and reinforcing to a recruiter that you have what it takes to succeed in the role.

Secondly — and arguably more importantly — it helps you bypass Applicant Tracking systems (ATS). ATS are automated resume scanners used by most companies, including nearly all Fortune 500 companies. ATS are programmed to scan for specific keywords, including the job title and key skills. If your resume doesn't include those exact keywords, it will be automatically rejected, so getting your skills section right is crucial.
Before we dive in, let's check out an example:

What to title your skills section
You can learn what to title your resume's sections here.
What skills to include
Your skills section should highlight transferable leadership and management skills as well as industry-specific competencies. You should have a good idea of the most important skills for your particular industry, but if in doubt, check the job description for any you may have missed. For your best chance at bypassing ATS, list skills and job titles exactly as they appear in the description.
Here are some of the top skills for director level resumes:
Leadership and management
Strategic Planning
Business Process Improvement
Change Management
Operational Excellence
Managing employees
Finance
Mergers & Acquisitions
Budgeting
Management Information Systems
E-commerce
Technology
Performance Test Management
Business Intelligence (BI)
If you want to find specific skills by job title, use our skills search tool below — you can search for specific job titles, e.g. Chief Financial Officer, and you'll get specific skills to include in your skills section.
What not to include
Soft skills
Never list soft skills in the skills section of your resume. If you want to highlight transferable skills — for executives, this might include leadership, communication, problem solving, and conflict resolution — these need to go in your bullet points instead. Choose accomplishments that illustrate how you've used these skills in the workplace, but never list "leadership" as a stand-alone skill.
Low-level and outdated skills
Skills like inventory management and cash handling may have been essential as you worked your way up the ranks as a sales associate, but that doesn't mean you should still be listing those skills when applying for jobs as a senior sales executive. The same goes for any skill you aren't actively using in a senior role — to keep your skills section concise and impactful, focus on your most relevant skills and leave low-level or outdated skills off your resume entirely.
Examples of skills sections
Let's go through some examples of resume skills sections.
Example 1: Categories
SKILLS
- Leadership and Management: Strategic Planning, Business Process Improvement, Change Management, Operational Excellence, Diversity & Inclusion, Cultural Leadership
- Finance: Mergers & Acquisitions, Budgeting, Management Information Systems, E-commerce, Stakeholder Relations, Contract Negotiation
Example 2: Areas of Expertise
A simpler section, called Areas of Expertise, included at the top of your resume.

Example 3: Skills section for a mid-to-senior level resume
And here's a third example — which highlights specific technical tools you might have experience with.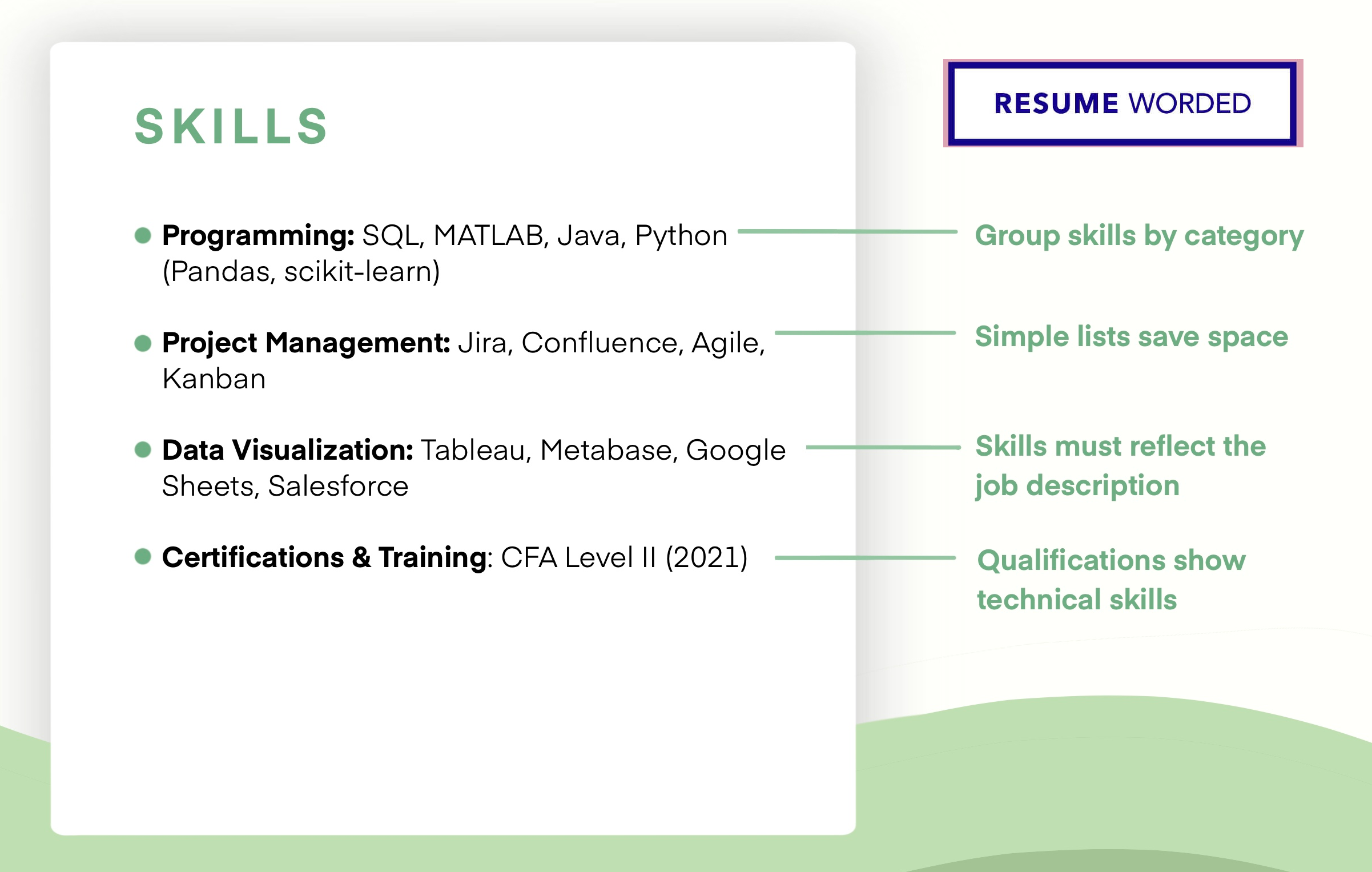 Entire resume example of an executive or senior level resume
If you're unsure how a skills section would fit on an executive resume, let's look at a real example (click to expand the image):