This is the third section of our detailed multi-page executive/senior-level resume guide — you won't need to visit any other resource when writing your senior level resume. You can quickly access the different parts of the guide here:
•  Part 1: Overview, templates and key tips
•  Part 2: Executive resume summary
•  Part 3: Work experience and bullet points on executive resumes [you are here!]
•  Part 4: Skills section on executive resumes
•  Education, optional sections, and additional executive resume tips
Executive tips when writing your resume's work experience
We'll start with the most important tips we've given our past executive resume clients, and then we'll dive into a real example to show you how it's done.
Longer work experience for your most recent role
Forget the standard resume advice of briefly listing 3-6 bullet points per position. As an experienced professional applying for a senior level role, your work experience section should make up the bulk of your 2 page resume — which means that your most recent role alone may take up the better part of a page.
Use categories to split up your bullet points and highlight key managerial skills
Categories are a useful way to separate your recent accomplishments into specific core competencies that are relevant to executive positions. Here are examples of strong executive categories by role:
Finance (e.g. Chief Financial Officer): Mergers & Acquisitions (M&A); Budgeting; Revenue Forecasting
Operations (e.g. Chief Operating Officer): Strategic Planning; Business Expansion & Value Proposition, Supply Chain Management
Marketing (e.g. Chief Marketing Officer): Strategic Marketing; Customer Development; Media Relations/PR; Branding
Technology (e.g. Chief Technology Officer): Technology Architecture & Integration; Cybersecurity; Vendor Management; Cloud Infrastructure
Data & Analytics (e.g. Chief Analytics Officer): Data Analytics & Reporting; Revenue Cycle Forecasting
Human Resources (e.g Chief Human Resources Officer): Talent Acquisition; Onboarding; HRIS Compliance
Use categories to separate your most recent accomplishments into specific core competencies. Around 3-6 in total categories is ideal. Choose keywords for your subheadings that are relevant to your background and experience and pulled from the job description.
Find out if your bullet points are strong enough
You should aim to highlight your managerial skills and experience and show quantifiable accomplishments with your bullet points. I'd recommend uploading your resume to the tool below to check if your executive resume shows enough of the quantifiable metrics, accomplishments and management skills that executive recruiters look for in a resume.
Keep your older experiences short
The more recent the experience, the more space you should dedicate to it. You can include 2-3 bullet points per category for your most recent role, or 10-15 accomplishments total. For older positions, stick to 2-3 bullet points, and for any jobs older than 15+ years, omit the bullet points entirely and just list the company, position, and dates.
Experience that isn't directly relevant to the job you're applying for can be left off your resume altogether. This includes older experience as well as short-term positions or roles that are vastly different from your current career.
Include an introductory paragraph under each job title
Include an introductory paragraph underneath your job title. This should be a short blurb (2-3 lines) describing the position. Aim to give context like the size of the business and your main responsibilities.
Example of a work experience section for an executive
Here's an example of what the work experience section might look like on a operations executive resume (e.g. Chief Operating Office, Director of Business Development, etc):
PROFESSIONAL EXPERIENCE

Resume Worded, New York, NY
Chief Strategy Officer, Jun 2018 – Present
Led business growth and operations for one of the largest e-commerce providers in North America. Operated as an integral member of the 6-person senior leadership team to drive revenue, turn around underperformance, save costs, and improve the safety environment across the organization.

-  Revenue Growth
   -  Planned and implemented a 7-year strategic plan, fueling annual revenue growth from $20M to $80M in enterprise value with full $100M P&L responsibility.
   -  Delivered $15M in new annual recurring EBIT via a high-impact, solution-driven sales strategy.

- Cost Savings
   -  Saved $2M organizational costs by cutting Selling, General & Administrative expenses and closing under-performing sites
   -  Reduced $10M of receivables exposure by developing initiative to shift dynamics between company and clients.

- Technology Strategy
   -  Facilitated launch of 4 best-in-class consumer and industrial technology products.

- Mergers & Acquisitions (M&A)
   -  Developed shared vision and practical strategies to ensure minimal disruption during business acquisition and integration of Company Name into Company Name.
   -  Acquired Company Name for $1.5M, built it, scaled it, and sold it to Company Name at $15M+ valuation, generating 10x ROI.

- Diversity & Inclusion
   -  Liaised with VP of Diversity & Inclusion to implement updated Equal Opportunity Employment practices across all divisions.
   -  Reviewed Diversity & Inclusion policies to ensure international compliance and cultural sensitivity in branches across 5 countries.


Second Company, New York, NY
Director of Business Development (2014 – 2018)
   -  Led 200-person operations team in a multinational company with 20+ bases of operation in 5 countries. Reported to the CEO.
   -  Identified new business opportunities generating $60M+ revenue.
   -  Led product development from proof of concept through product launch for  10+ products.
   -  Researched new markets and emerging market trends; identified potential new consumer base resulting in 50,000 new users.
   -  Presented market research in monthly meetings with the marketing department and C-suite.
   -  Collected information in order to prepare proposals in response to requests for proposals (RFPs).
   -  Maintained relationships with business partners through on-site visits, presentations, internal intranet/newsletter, weekly email blasts, and employee appreciation events.

Operations Manager (2010 – 2014)
   -  Oversaw 100+ employees, ensuring consistency across policies, procedures, and operating standards in assigned territory.
   -  Audited and analyzed revenue targets, operational processes, and expense controls across the region; reduced annual overhead by 15%.
   -  Increased production on all lines of specialty by $8M+ within one year.

Third Company, New York, NY
Vice President of Strategy (2005 – 2006)
Senior Associate (2003 – 2005)
Strategy Manager (2001 – 2003)
Let's see how that looks on an entire resume (you might need to zoom-in!):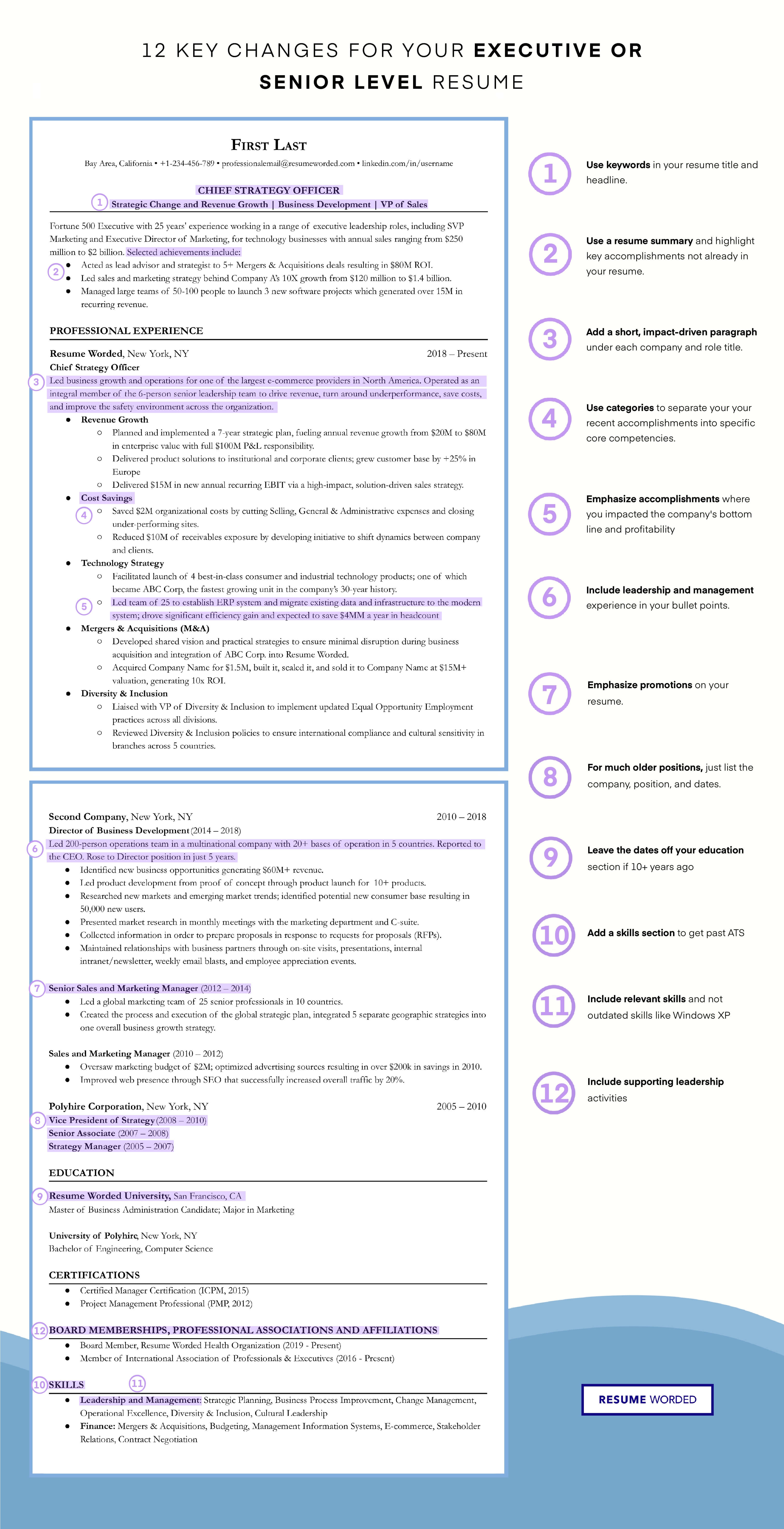 How to craft your bullet points on your executive resume
Your resume bullet points need to be clear, accomplishment-driven, and backed by quantifiable results. This is true of any resume, but it's particularly important when applying for senior management roles. Always follow this simple formula for your bullet points:
[Action verb] + [what you did] + [what the result was]
Let's look at a quick example: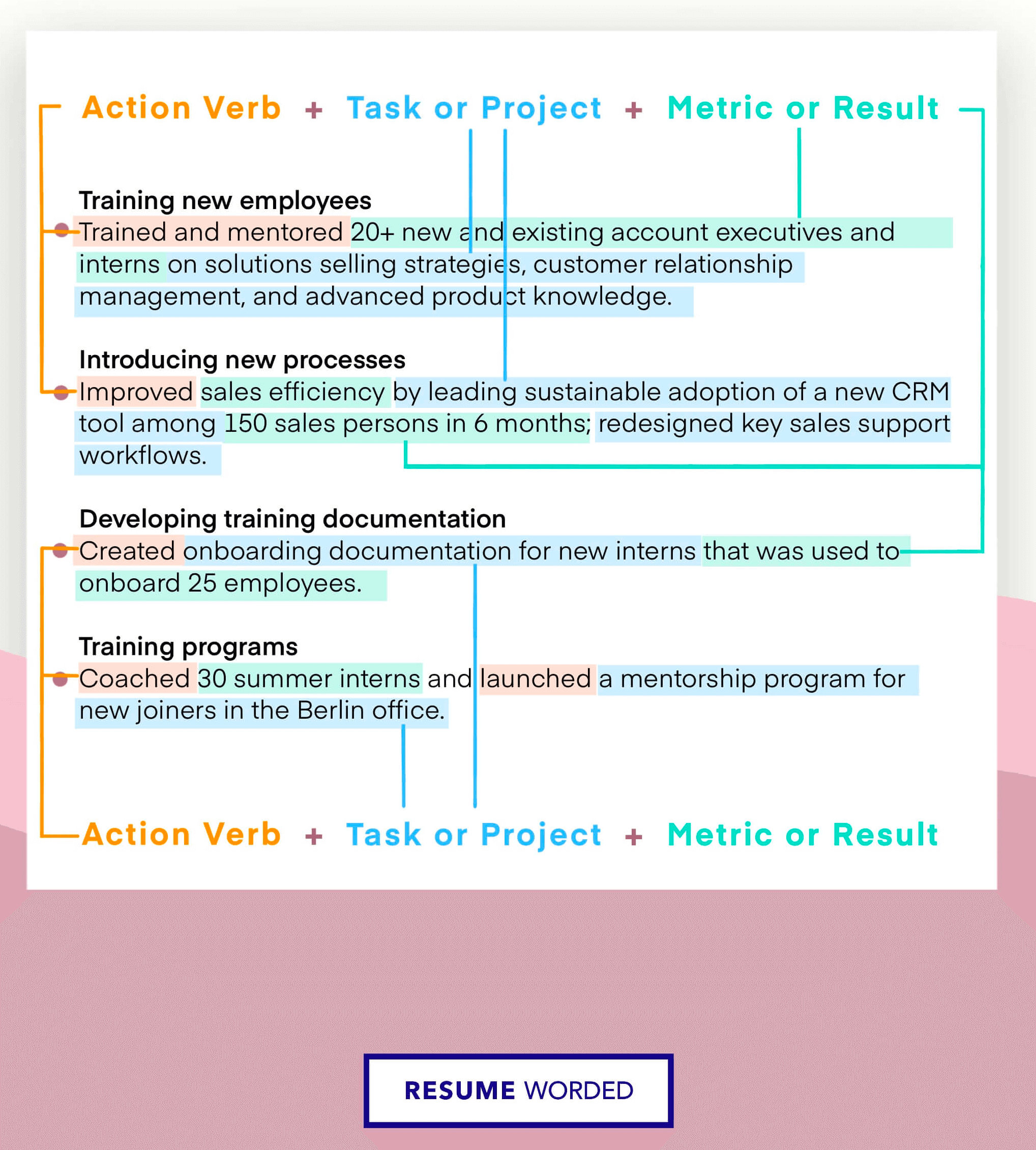 Use action verbs that emphasize leadership experience
Starting every bullet point with a strong action verb keeps the focus where it needs to be — on what you actually did. Choose action verbs that denote leadership and avoid repeating yourself by using appropriate synonyms. Strong action verbs include:
All executive positions: Launched, Drove, Spearheaded, …
Finance (e.g. CFO): Structured, Projected, Analyzed …
Marketing (e.g. CMO): Positioned, Directed, Conceptualized, …
Operations (e.g. COO): Executed, Orchestrated, Coordinated, …
Technology (e.g. CIO): Pioneered, Restructured, Engineered, …
Include metrics that relate to bottom-line results
As an executive, your responsibilities have likely been tied to key company metrics. Recruiters for senior-level roles are looking for candidates who will directly affect the company's bottom line. You need to be able to point to times when you've done exactly that — in other words, increased revenue and reduced costs.
The key here is to be specific, which means using numbers to show the scale of your accomplishments. Consider the following:
"Designed and executed company-wide digital marketing strategy."
This says what you did, but not what you actually accomplished. To have real impact, your bullet points need to show the results of your achievements. In this case, let's add numbers to show revenue generation:
"Designed and executed company-wide digital marketing strategy that drove $500,000 in product sales."
Examples of good metrics will include:
Revenue generation
Cost reduction
Time saving
Project and company size
Overall budget
Below are some sample bullet points that include high-impact metrics.
As you are working on your resume, you might be wondering what skills you need to include in your skills section. An easy way to figure this out is to use the tool below — just search your job title and you'll get a list of skills relevant to the job. For example, search for a job like Chief Strategy Officer, or other executive positions and it'll give you a list of skills to add to your skills section.
Sample bullet points for executive resumes
Operations (e.g. Chief Executive Officer, Chief Operating Officer)
Acquired Company A for $2M, built it, scaled it, and sold it to Company B at $20M+ valuation, generating 10x ROI.

Strengthened regulatory compliance and processes while minimizing risks; zero findings during government audits. Complied with USDOT/FMCSA regulations.

Spearheaded company-wide wellbeing initiatives resulting in 100% buy-in from employees; awarded "Global Healthy Workplace Award" and #2 in "100 Best Places to Work."
Marketing (e.g. Chief Marketing Officer)
Created five-year transformation strategy covering marketing and product initiatives: strategy approved by Board of Directors and achieved 10% growth vs. -5% trend.

Built out a sales force of 350+ contract sales agents across the U.S. and drove sales of $7M in 11 months, positioning the company to secure $27M in Series D funding in Q1 FY2019.
Finance (e.g. Chief Financial Officer)
Established company's initial presence in Asia-Pacific. Led international expansion, establishing multiple offices and financial structuring on time and $1 million under budget.

Realized a $1-million annual corporate tax savings by identifying potential tax-structure improvements.

Directed a process and procedure initiative that reduced DSO from 147 days to 58 days.
Technology (e.g. Chief Information Officer, Chief Technology Officer)
Drove $40M cost reduction through business transformation, restructuring from 10 operations groups to a centralized center with complete reengineered processes enabled by technology.

Developed and implemented a new B to C digital distribution channel; created a business case and led the $250M program from technical build out through deployment.

Completed full IT transformation with a $35M cost reduction and to resolve recurring issues with slow delivery, poor quality, and excessive costs; implemented the functional model and organizational design, reengineering SDLC and intake processes, established EPMO and standardized ITIL practices.
Next up: Skills section on executive resumes