Church volunteer work is great — it shows community involvement, public-mindedness, and a desire to help out. But does it belong on your resume?
The answer is a resounding 'maybe.' Whether to include church volunteer work on your resume depends on a lot of different factors, like what kind of work you did and whether you can use it to highlight relevant skills and accomplishments.
The good news is, including church volunteer work on your resume doesn't need to be controversial. By making a few small tweaks, like listing a generic version of your job title and organization, you can even keep religion out of it entirely. Here are more tips for how to put church volunteer work on your resume, including examples for you to follow.
How to put church volunteer work on a resume
Decide where to put your church volunteer work. The most obvious place is in a volunteering section, but we discuss other options below.
Create a subheading for that section. Stick with something neutral — 'Volunteer Work' rather than 'Church Volunteer Work.'
List the organization you volunteered for, your specific job title, and the dates.
(Optional) Come up with 1-2 accomplishments that are relevant to the job you're applying for or that demonstrate transferable skills.
Run your resume through an ATS resume checker for a final once-over to check that you have everything covered.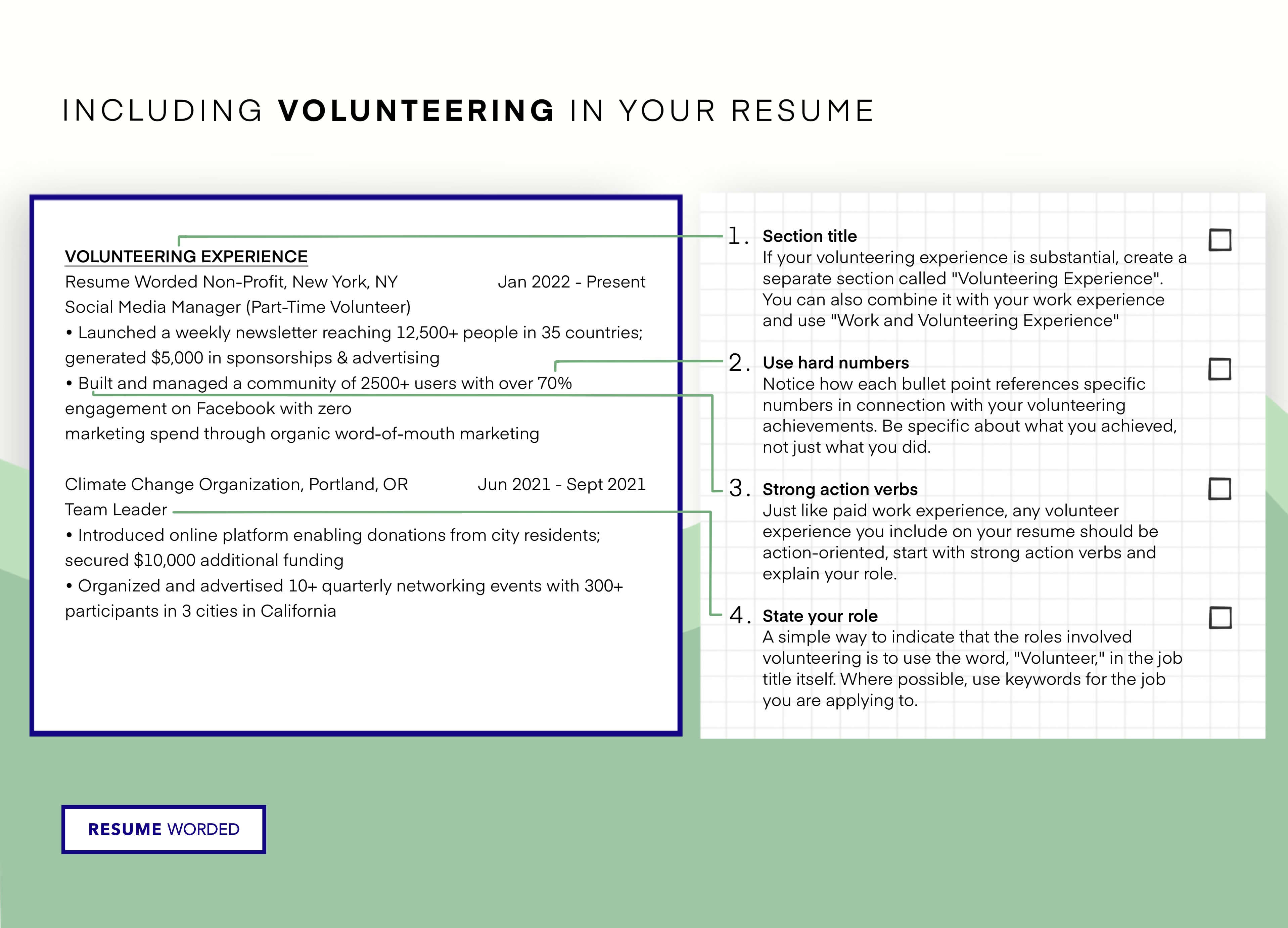 Where to include church volunteer work on a resume: Tips + examples
You can list church volunteer work in your:
Volunteering section
Work experience section
'Other' section
Let's take a look at the pros and cons of each of those options and some examples of how to do it well.
Volunteering section
Creating a dedicated volunteering section on your resume is the best option if you have significant volunteering experience and/or you want to specifically highlight it.
Tips:
Put your volunteering section beneath your work experience
List the organization and dates just like you would for paid experience
If it was an ongoing volunteer role, try to list a specific job title rather than something generic like 'Volunteer'
If you volunteered for a single project, include a brief description of what that project was and what you did specifically
Work experience section
Putting church volunteer work in your regular work experience section is also an option. This could make sense if you don't have a lot of paid work experience or if you're applying for a job (paid or volunteer) at another church or similar organization.
Tips:
List the employer, job title, and dates the same way as you would any other work experience
Specify that it was a volunteer role by listing a job title like 'Volunteer Office Manager' or putting '(Volunteer)' at the end
If you're worried about bringing religion into your job search, you can list a more generic employer name — for example, 'Parkville Soup Kitchen' rather than 'Parkville Catholic Church'
Try to separate out the religious element from the role and focus on professional accomplishments and transferable skills
Good achievements to highlight are things like raising funds, managing people, organizing events, etc.
Other section
If your church volunteer work wasn't substantial enough to warrant its own section, that doesn't mean you need to leave it off entirely. Listing volunteer work and community involvement in a short additional section is a good compromise, allowing you to include it without taking up too much space.
Tips:
Title the section something like 'Other' or 'Additional Information.'
Include subheadings to keep the section organized — things like 'Volunteering,' 'Skills,' 'Languages,' and 'Certifications.'
Keep it brief — a single line for church volunteer work should be enough.
Specify the frequency or number of hours you volunteer, but don't go into too many details.
Include this section at the very bottom of your resume.
If you want to find out if your church volunteer experience is structured the right way on your resume, upload it to the tool below — it'll scan your resume sections, identify any mistakes and give you suggestions for improvements.
Dos and don'ts of putting church volunteer work on your resume
All of that is pretty straightforward, but it still leaves one question: Is it good to include church volunteer work on a resume? Here are some basic do's and don'ts to help you decide.
DO: Include church volunteer work on your resume if you held a volunteer role that's very similar to the job you're now applying for.
DON'T: Include occasional volunteer work, like if you helped organize a small one-time event or only volunteer at a soup kitchen on holidays.
DO: Consider the culture of the organization you're applying to when deciding if it's a good idea to put church volunteer work on your resume.
DON'T: Include things like church attendance or otherwise directly state your religion on your resume (unless you're applying for an explicitly religious institution and they ask for it).