Volunteering isn't just a great way to help out your community — it can also be used to build your resume. Whether you don't have a lot of paid work experience yet or you're trying to get experience in a specific niche, volunteer work is a great way to round out your resume, learn in-demand skills, and fill in any missing gaps.
Keep reading to learn how to effectively showcase volunteer work on your resume. In this article we will cover:
Volunteer resume templates you can download
Examples of volunteer resume accomplishments
Essential volunteer-based skills to list on your resume
How to list volunteer work on a resume
Start by creating a separate resume section. Give it a title like "Volunteer Experience" or "Community Involvement."
Alternatively, you can list volunteer work directly in the Work Experience section of your resume — just make sure to put "Volunteer" somewhere in your job title.
List the organization and your dates of service (years or months).
List your job title. If you had a specific job title, like "Fundraising Coordinator," use that, but if not, "Volunteer" is fine.
Choose 2-3 examples of things you accomplished during your role.
List these in bullet points, starting with an action verb like Managed, Collaborated, or Organized.
If possible, add some numbers to quantify each accomplishment — for example, "collected $15,000 in donations" rather than "collected donations."
Get instant feedback from our free resume scanner before you send it off.
Volunteer resume templates
Here's an example of a resume you could use to show off your volunteer work for a nonprofit organization: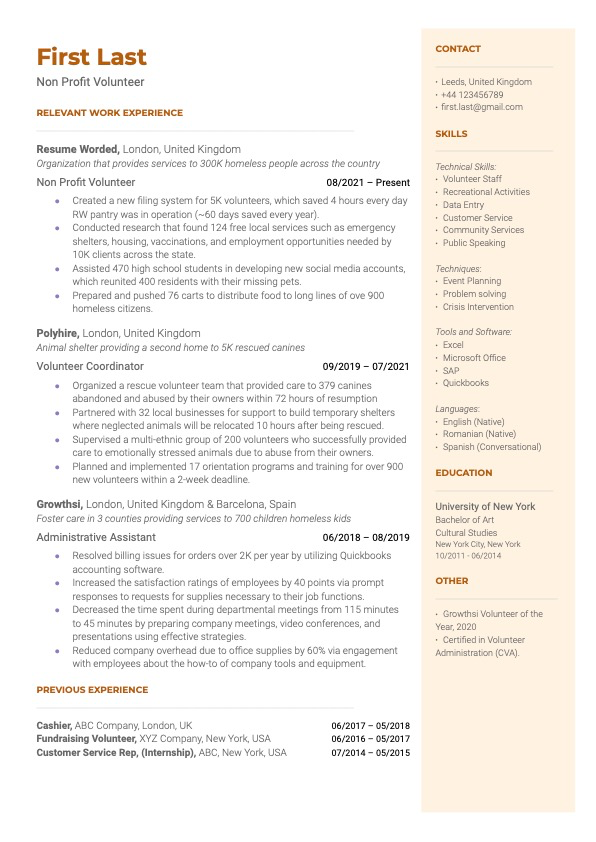 A template like this works well if you don't have a lot of paid work experience, by taking your volunteer experience and letting it shine upfront.
Here's another volunteer resume example: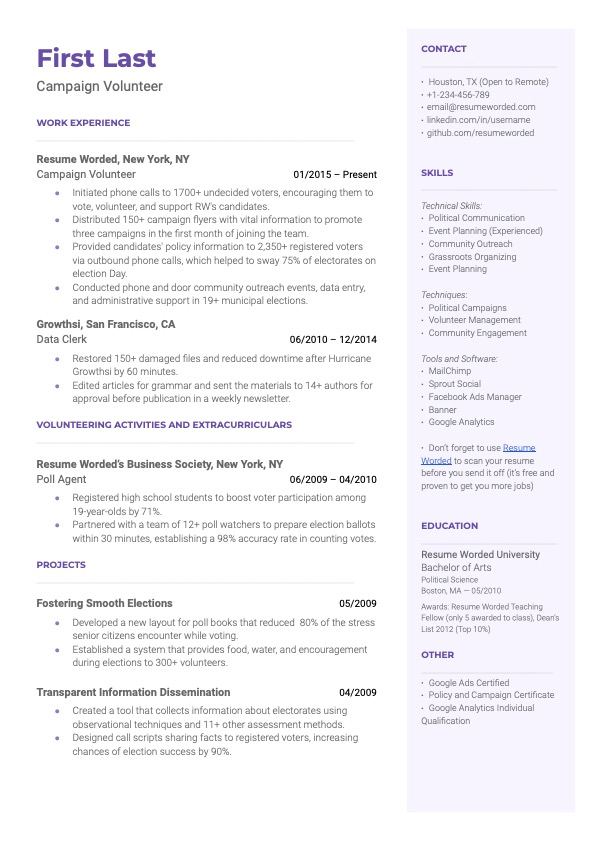 This template is ideal if you have a mix of paid and volunteer experience that you want to showcase on your resume. You can download these volunteer resume templates — and more — from our ATS resume templates page.
I recommend uploading your resume to the tool below to check whether you have effectively highlighted your volunteer experience, along with any transferable skills gained from that experience.
Examples of volunteer work on a resume
Whether you start with one of the templates above or prefer to create your own resume from scratch, you'll need some actual accomplishments to fill it out. Here are some volunteer resume examples you can copy and paste or use as a jumping-off point to write your own.
Nonprofit volunteer resume
Volunteer work looks great on a resume, whether you're applying to work at a nonprofit organization or you just want to show off a few relevant accomplishments. Here's an example:
XYZ Nonprofit Organization, June 2019 - Present
Volunteer
• Organized and executed fundraising events, resulting in over $15,000 in donations.
• Coordinated with volunteers to collect and distribute donations to local families in need.
• Provided support for various programs and initiatives, including outreach to underserved communities.
Community service volunteer resume
Community service isn't just a nice thing to do — it's also a great way to build skills and gain experience, especially if you're just starting out. Here's an example:
VOLUNTEER EXPERIENCE
ABC Youth Center, September 2018 - May 2019
Volunteer Mentor
• Mentored and provided support to a group of 10 at-risk youth, promoting positive behavior and academic success.
• Coordinated activities and field trips, fostering teamwork and communication skills among youth participants.
• Encouraged and guided youth in setting and achieving personal goals, resulting in increased self-esteem and motivation.
Student volunteer resume
If you're a student or recent graduate, volunteer work is a valuable addition to your resume. This can include student activities and organizations. Here's an example:
VOLUNTEER EXPERIENCE
Resume Worded Finance Society, September 2017 – May 2020
Head of Events
• Founded the first ever Business Series to organize finance training for 500 students.
• Organized and advertised 10+ quarterly networking events with 300+ participants in 3 universities in Boston.
• Managed the launch of new booking system to improve organization of events; system now used across university.
Hospital volunteer resume
Looking to start your medical career? Adding some volunteer work alongside your studies is a great way to show that you're committed to the field and passionate about your work.
Here's an example:
VOLUNTEER EXPERIENCE
Resume Worded Medical Center, 2016 - 2018
Volunteer Emergency Medical Technician
• Volunteered as an EMT for one night-shift weekly in one of the busiest areas in New York City.
• Provided basic patient assessments to assess the severity of the patient's condition, subsequently providing BLS to treat those conditions; 100% success rate in resuscitating emergency patients.
• Worked as part of a 3-person team to treat patients & understand their medical and family histories.
Political volunteer resume
Political organizations can be contentious, but there's a way to list them on your resume while staying professional. Instead of talking about a specific issue, keep the focus on the work you did and leave partisanship out of it. Here's an example:
VOLUNTEER EXPERIENCE
Young Voters Society, June 2019 – April 2020
Poll Agent
• Registered high school students to boost voter participation among 19-year-olds by 71%.
• Partnered with a team of 12+ poll watchers to prepare election ballots within 30 minutes, establishing a 98% accuracy rate in counting votes.
Charity work resume
No volunteer work is too small for your resume. Remember to keep the focus on what you accomplished with some action verbs and metrics, like in this example:
VOLUNTEER EXPERIENCE
XYZ Animal Shelter, August 2017 - December 2018
Volunteer
• Assisted in the care and adoption of over 100 animals, including dogs, cats, and rabbits.
• Coordinated with staff and other volunteers to organize successful adoption events, resulting in a 30% increase in adoptions.
• Raised over $5,000 in donations through social media campaigns and community outreach efforts.
Resume-worthy skills gained through volunteer experience
Don't have volunteer experience in the area you're planning to work in? That doesn't mean it isn't relevant! When listing experience — volunteer or otherwise — on your resume that isn't obviously related to the job you're applying for, the key is to emphasize transferable skills. Some of the best soft skills to highlight on a volunteer resume include:
Project management
Customer service
Relationship building
But don't rush to list these skills in your Skills section — transferable skills like these belong in your Work Experience accomplishments instead. For each skill that you want to highlight, choose an example of a time when you demonstrated that skill and turn it into a bullet point. Here are some examples:
Teamwork
Collaborated with a team of volunteers to organize a successful fundraising event that raised $10,000 for a local charity.
Worked in a team to implement a new system for tracking donations, resulting in a 25% increase in donor retention.
If you're struggling to come up with things you accomplished, try thinking about what your whole team accomplished instead. Not only will this add some more achievements to your resume, it also shows that you're a team player, which is something every employer wants.
Communication
Provided excellent customer service as a volunteer at a community center, effectively communicating with diverse populations and resolving issues in a timely manner.
Managed social media accounts for a nonprofit organization, creating engaging content and responding to inquiries from followers.
Instead of saying something vague like "communicated with members of the public," try to focus on how you communicated — for example, working in a customer-facing position, calling donors, or managing a social media account.
Problem solving
Created a system for organizing and distributing supplies to volunteers during a disaster relief effort, resulting in a more efficient and effective response.
Identified and addressed issues with a nonprofit's website, improving user experience and increasing traffic by 30%.
If you've ever been in an interview, you've probably been asked about a time when you encountered a problem and how you solved it. That's not just a good interview question — it's also a great idea for a resume bullet point like the ones above.
Leadership
Led a team of volunteers in planning and executing a successful environmental conservation project, resulting in recognition from local government officials.
Coordinated a group of volunteers for a charity event, delegating tasks and ensuring smooth operations throughout the day.
Applying for roles where leadership is a must but without formal management experience? Volunteering is a great way to help with that — any time you led a team, trained new volunteers, or spearheaded a project can be used to show your leadership skills.