Most laws never expire unless directly repealed, meaning that the number of laws on the books (be it at the local, state, or federal level) are becoming more numerous. To help navigate existing laws, win civil or criminal cases, and become legal citizens, people need lawyers.

The Bureau of Labor Statistics anticipates that lawyers will be in steady demand through 2029, with an average growth rate of four percent every year. Being a lawyer comes with a median pay of $126,930 per year, making it a profitable career path.

Lawyers operate in different spheres based on their specialty, and their associated tasks and accomplishments should change appropriately. Below, we'll look at resume templates for general lawyers (which could be civil or criminal lawyers), corporate lawyers, and immigration lawyers.

After reviewing the templates, read on to find out what skills are important to emphasize in your resume, and where they should be included, along with the action verbs that will help your resume stand out to hiring managers.
Lawyer Resume Sample
In lawyer resumes, being succinct and clear is key - therefore it helps to clearly indicate your expertise and experience in working with specific, relevant tasks. You can do this by including lawyer-related skills in every bullet point and using numerical data to shore up your credibility.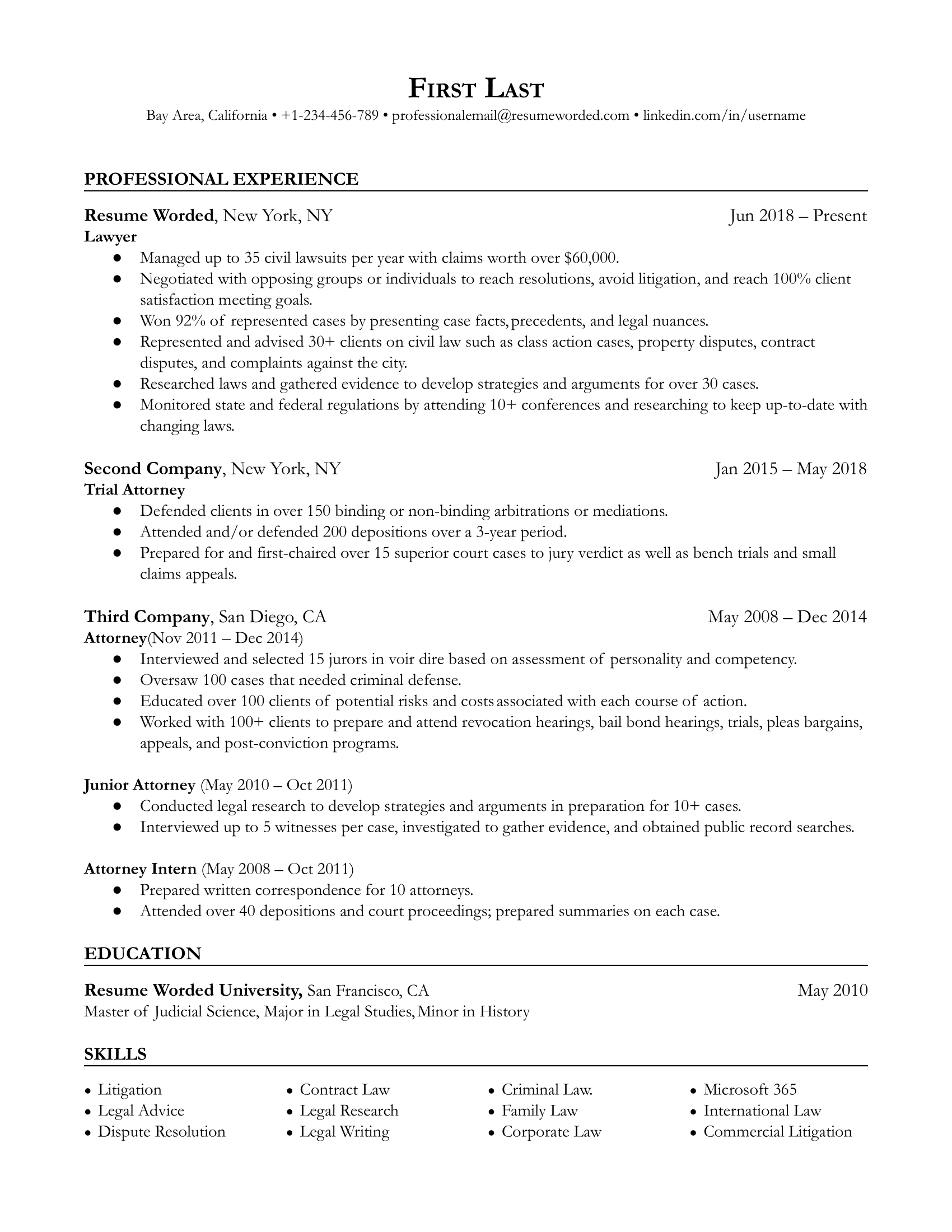 Recruiter Insight: Why this resume works in 2021
Corporate Lawyer Resume Sample
Corporate lawyers work specifically within the field of corporate law, and will be expected to have knowledge of its inner workings. If you can demonstrate your background working in the legal realm in tandem with showcasing your efforts supporting specific employers, you will make a solid impression.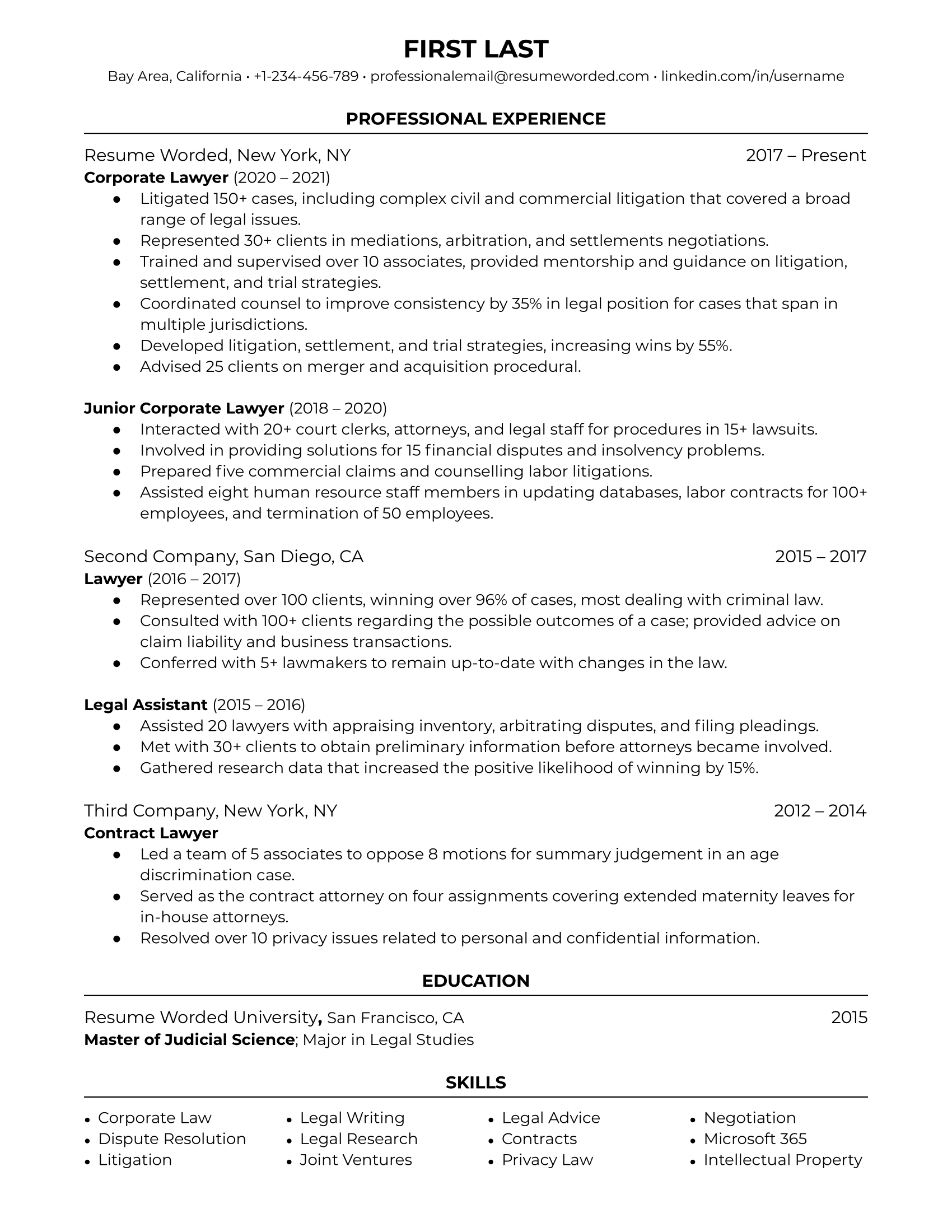 Recruiter Insight: Why this resume works in 2021
Immigration Lawyer Resume Sample
While general lawyers and corporate lawyers will dabble in government law, immigration lawyers will be steeped in it as they work to understand the current legal policies established by the federal government for citizenship.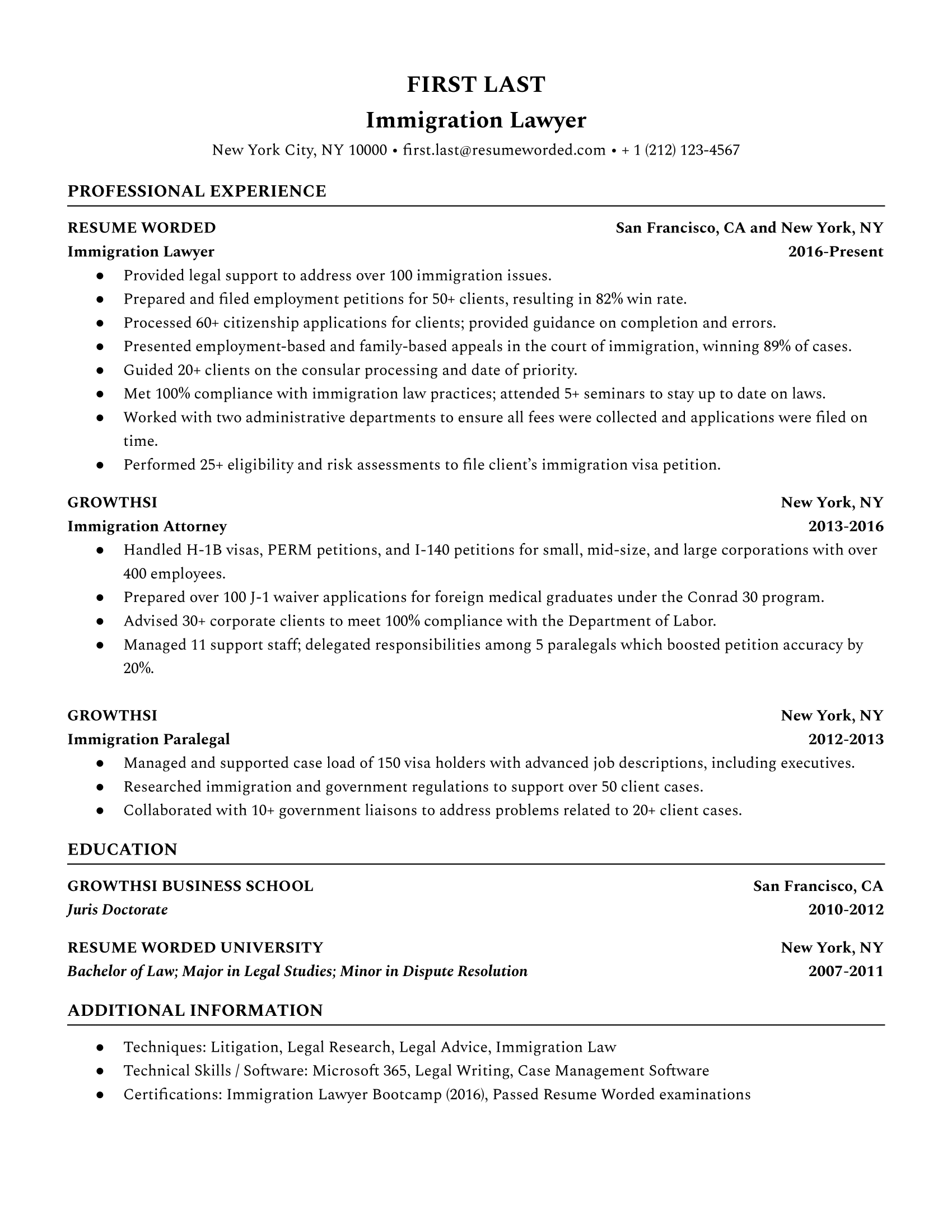 Recruiter Insight: Why this resume works in 2021
Skills For Lawyer Resumes
Lawyers of all specialities are engaged in similar work to some degree, as lawyers manage client and case logs. To get your resume past automatic screening tools and make it eye-catching to hiring managers, you should aim to work in the skills we've listed at the left.

As in the resumes we reviewed, you should be including these skills in each of your bullet points whenever possible (even for positions not related to working in the field of law). This will help hiring managers see that your accomplishments are relevant to the position.

Additionally, you can opt to include a skills bank on the side or the bottom of your resume. This serves as an efficient indicator for hiring managers who are scanning resumes that you know what the work entails and can handle it.

Lastly, you could start your resume with a short summary statement that integrates the relevant skills you've practiced as a lawyer to give a good first impression.
Corporate Law
Intellectual Property
Legal Writing
Legal Research
Licensing
Corporate Governance
Legal Advice
Litigation
Commercial Litigation
Entertainment Law
Mergers & Acquisitions (M&A)
Civil Litigation
Contract Negotiation
Data Privacy
Commercial Contracts
Due Diligence
Privacy Law
Contract Law
Mediation
Dispute Resolution
Action Verbs For Lawyer Resumes
As a lawyer, you can convey your experience in the field by starting every accomplishment with a strong action verb that affirms your relevant background. While there will be other skills that are personally applicable for you, you should aim to work in the relevant skills from the ones we've listed above as it will help elevate your resume both in the automatic rankings and in the eyes of the hiring manager.

Outside of your bullet points, you can work these action verbs into a short summary at the top of your resume if you wish to include one.
Represented
Developed
Reviewed
Coordinated
Interacted
Consulted
Arbitrated
Processed
Guided
Performed
Advised
Interviewed
Educated
Negotiated
Researched
Conducted
For a full list of effective resume action verbs, visit Resume Action Verbs.