Attorney Resumes
Attorneys are always in demand, so what better time than now to brush up your skills and update your resume? In this guide, you'll find resume templates for you to use as examples, as well as industry-specific tips and a walkthrough on how to narrow down the perfect skills and keywords.
Load more resumes
Attorney resume guide
Lawyer Resumes
Practicing law continues to be a lucrative field as individuals and corporations alike seek to navigate the increasingly complex legal system. In this guide, we'll cover three specialties and look at templates you can base your lawyer resume on, in addition to discussing the skills and action verbs you should focus on including.
Load more resumes
Lawyer resume guide
Legal Assistant Resumes
Wherever there are lawyers, you'll find legal assistants — hard-working support staff working behind the scenes. The position is ideal for people seeking an administrative career or on their way to a law or paralegal qualification. In this guide, we'll walk you through how to land a legal assistant job, including resume templates and tips on essential skills and keywords.
Entry Level Legal Assistant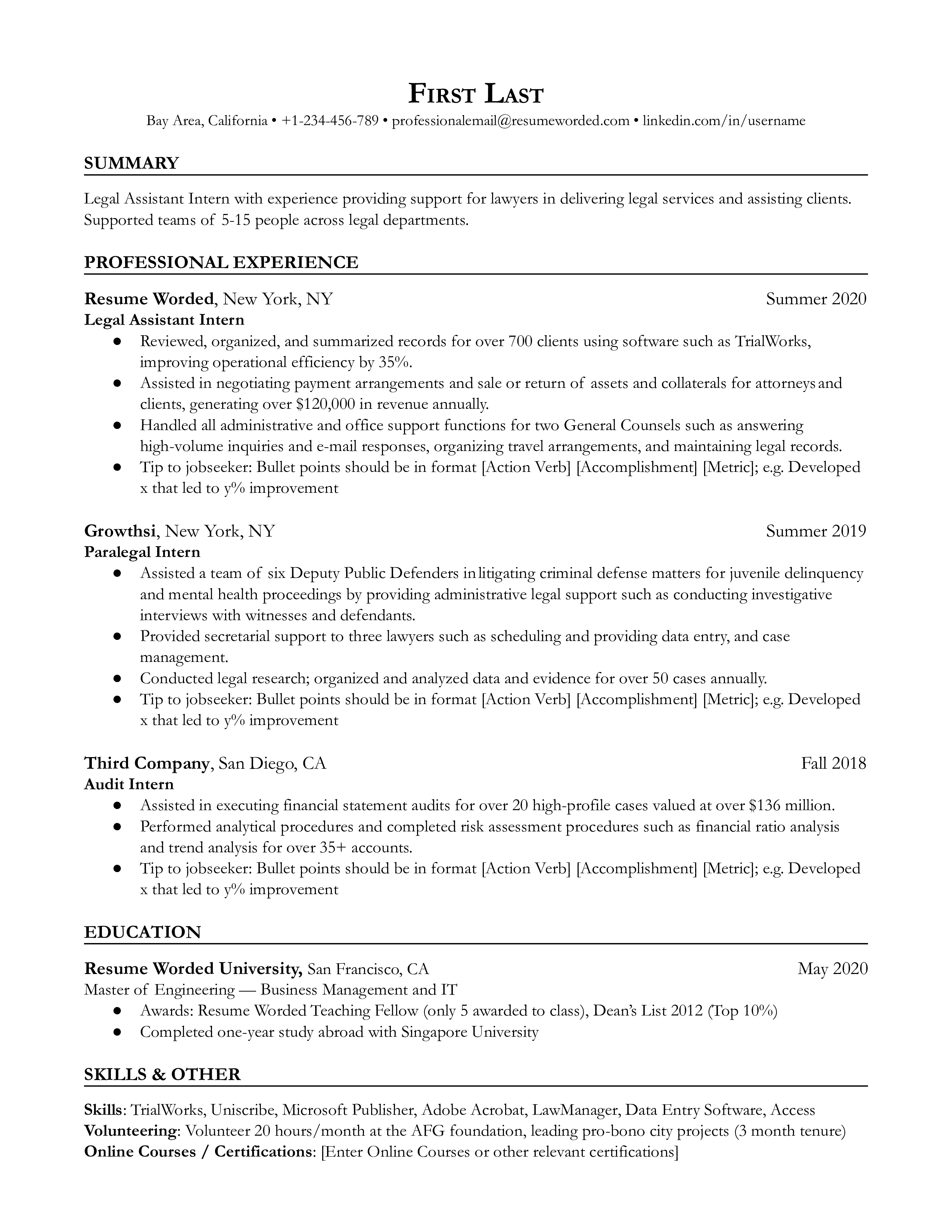 You can apply for entry level legal assistant positions even without any legal qualifications or office administration experience, or transition to the field from other administrative roles. Employers will be looking for evidence of transferable skills as well as technical skills like data entry software and Microsoft Access. If you have experience as an intern or volunteer in a legal or related field, that can also strengthen your candidacy.
Expand
Download .DOC or .PDF
Experienced Legal Assistant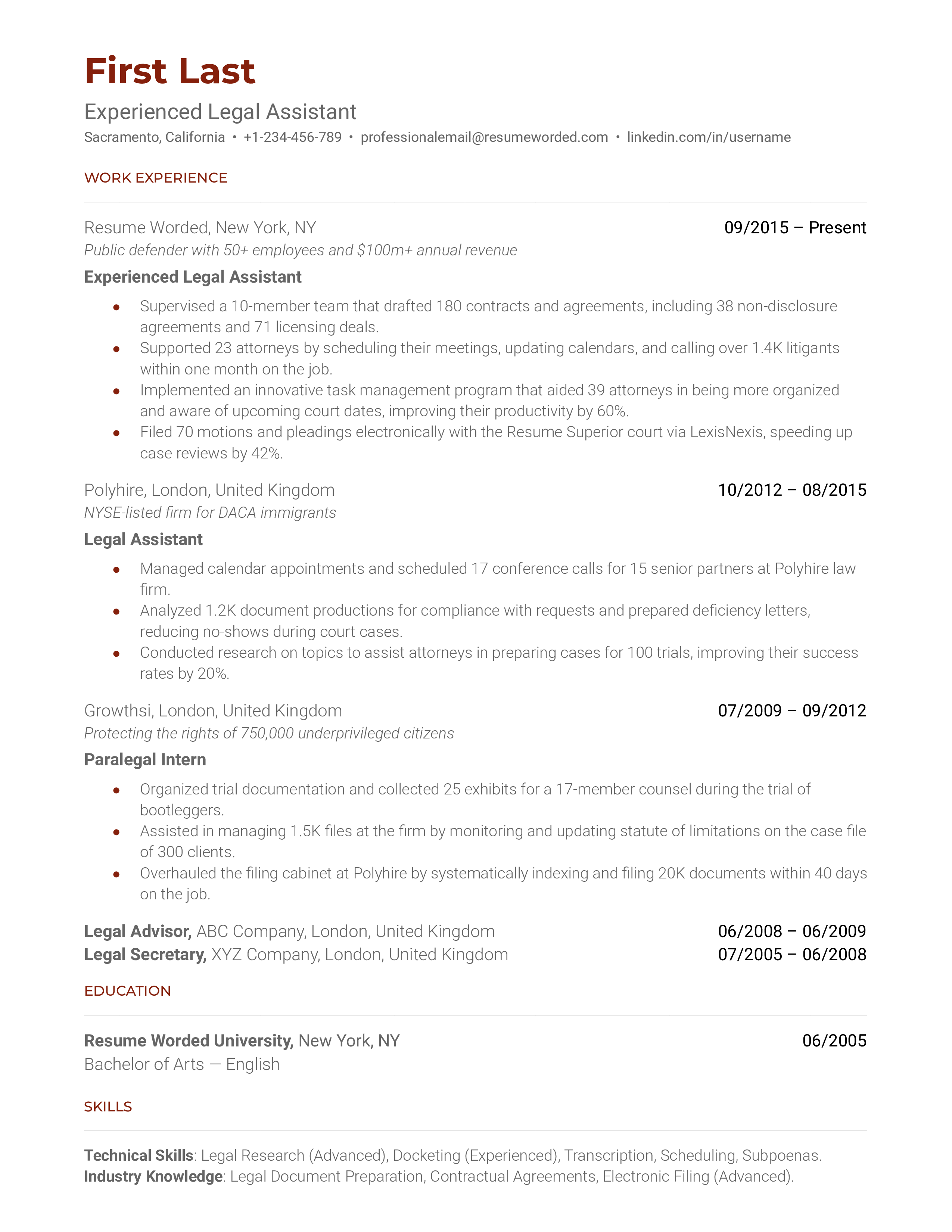 An experienced legal assistant supports attorneys in a variety of ways. Tasks you can expect include doing research, preparing legal documents, scheduling meetings, organizing documents, etc. To qualify for this job you need to have a degree in law or paralegal studies or a paralegal certificate. This position is for an experienced legal assistant so you will be expected to have years of experience as a legal assistant. It would also benefit you to have experience as an administrator, especially in a law firm. Take a look at this recruiter-approved resume sample.
Expand
Download .DOC or .PDF
Entry Level Legal Assistant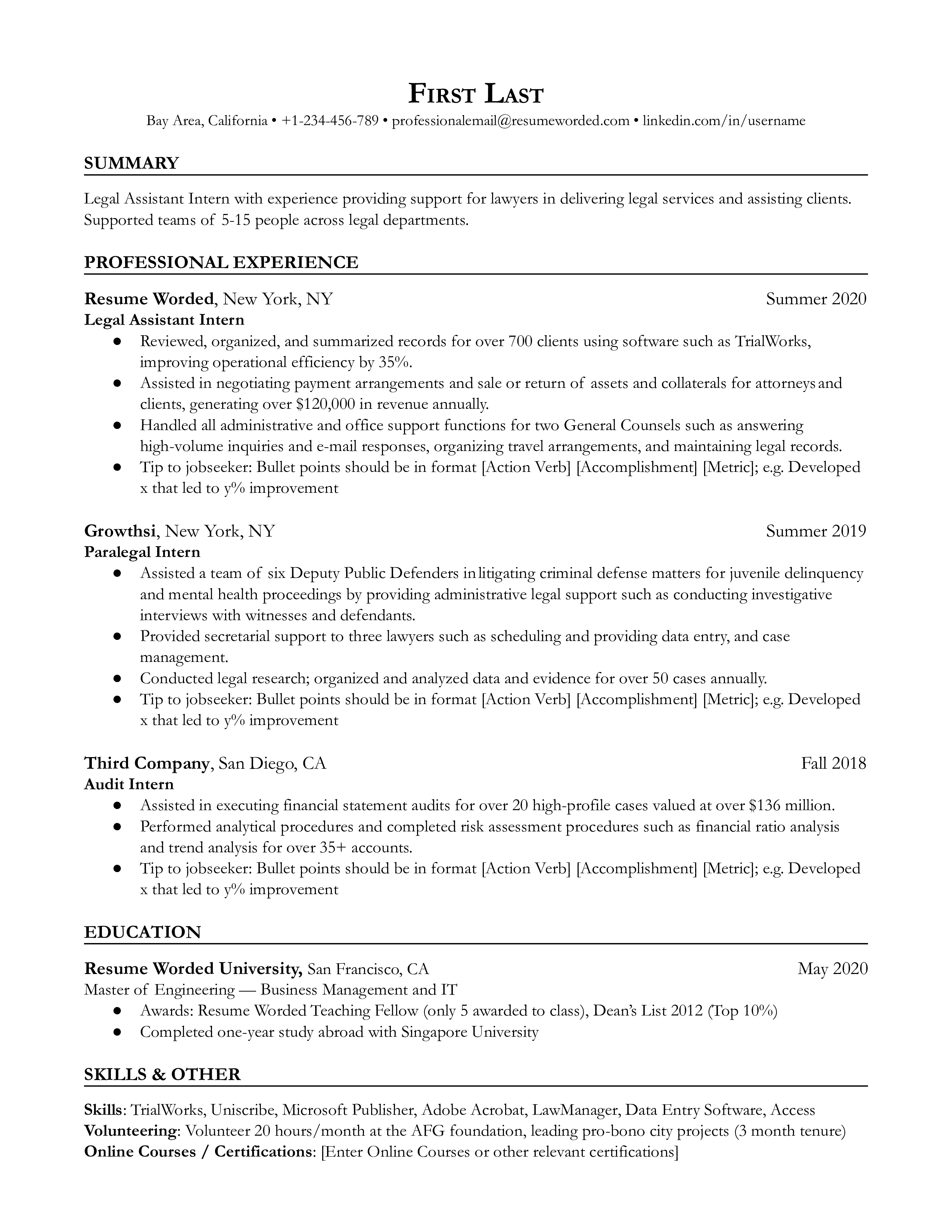 As an entry-level legal assistant, you'll be responsible for supporting attorneys and paralegals with tasks such as organizing documents, conducting research, and drafting legal documents. The legal field is constantly evolving, and employers are looking for candidates who can quickly adapt to new technologies and stay updated on current regulations. A strong resume is crucial to showcase your skills and demonstrate your commitment to this fast-paced industry. In the legal field, attention to detail and strong communication skills are highly valued. Companies will be looking for candidates who can efficiently manage their workload, meet deadlines, and maintain a high level of professionalism. Crafting a tailored resume for this specific industry is essential to demonstrate your understanding of these expectations.
Expand
Download .DOC or .PDF
Load more resumes
Legal Assistant resume guide
Policy Analyst Resumes
Policy analysts are problem identifiers and solution builders. They research and interrogate policy, look at the effects of policies, and create/recommend more effective and mutually beneficial policies. As such, they must be strong researchers and creative problem solvers. This guide will help you craft a resume that highlights your most attractive skills and qualifications to get your desired job.
Insurance Policy Analyst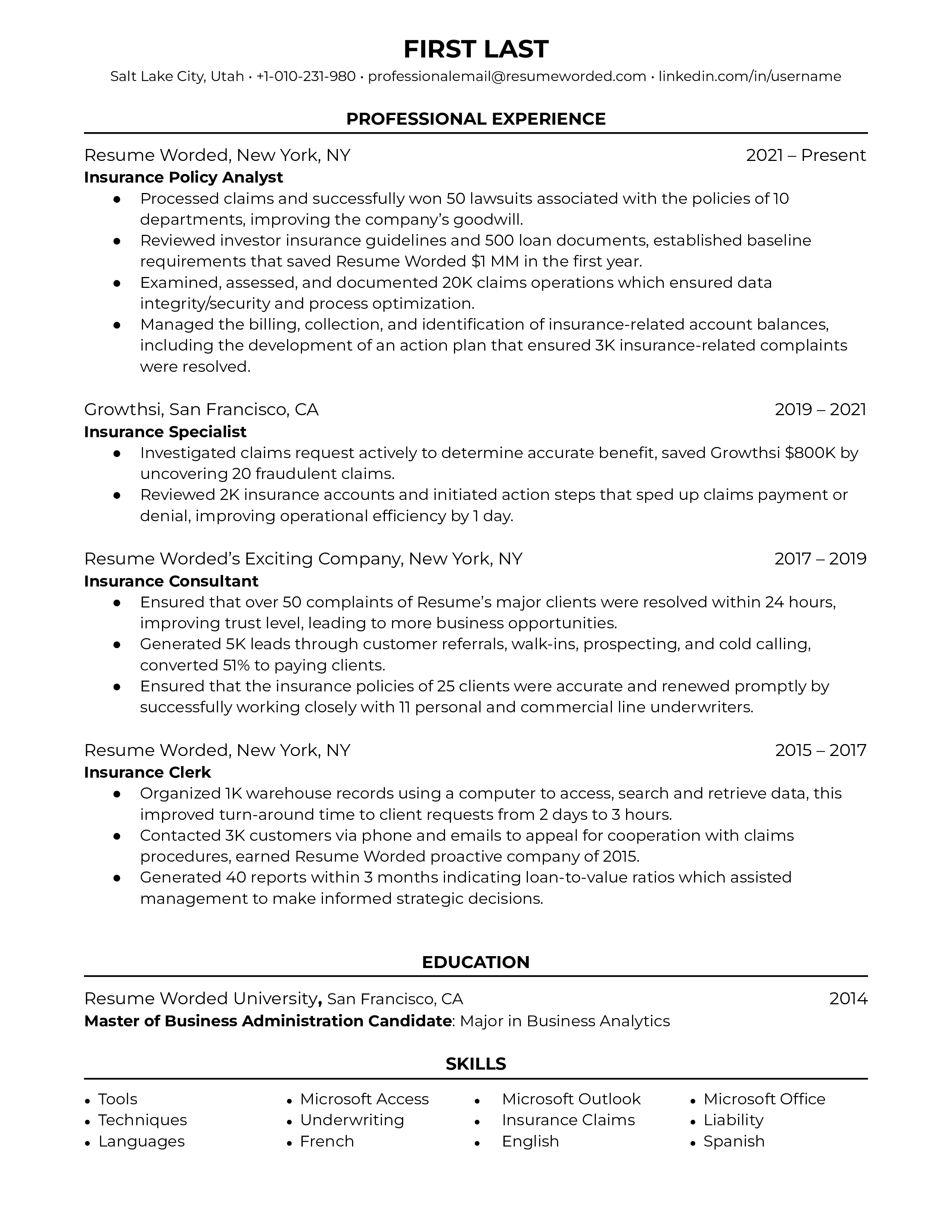 An insurance policy analyst evaluates insurance policies to identify the relevant risks to both the insurance company and the policyholders. They may also calculate associated risk to determine which insurance policy is best suited for a client, and interrogate insurance claims to ensure they are legitimate and can be processed successfully. This resume effectively shows a professional with extensive experience in the insurance industry, which would be highly preferred. Furthermore, the resume demonstrates promotions with each position change, highlighting employer confidence in the professional's capabilities.
Expand
Download .DOC or .PDF
Junior Policy Analyst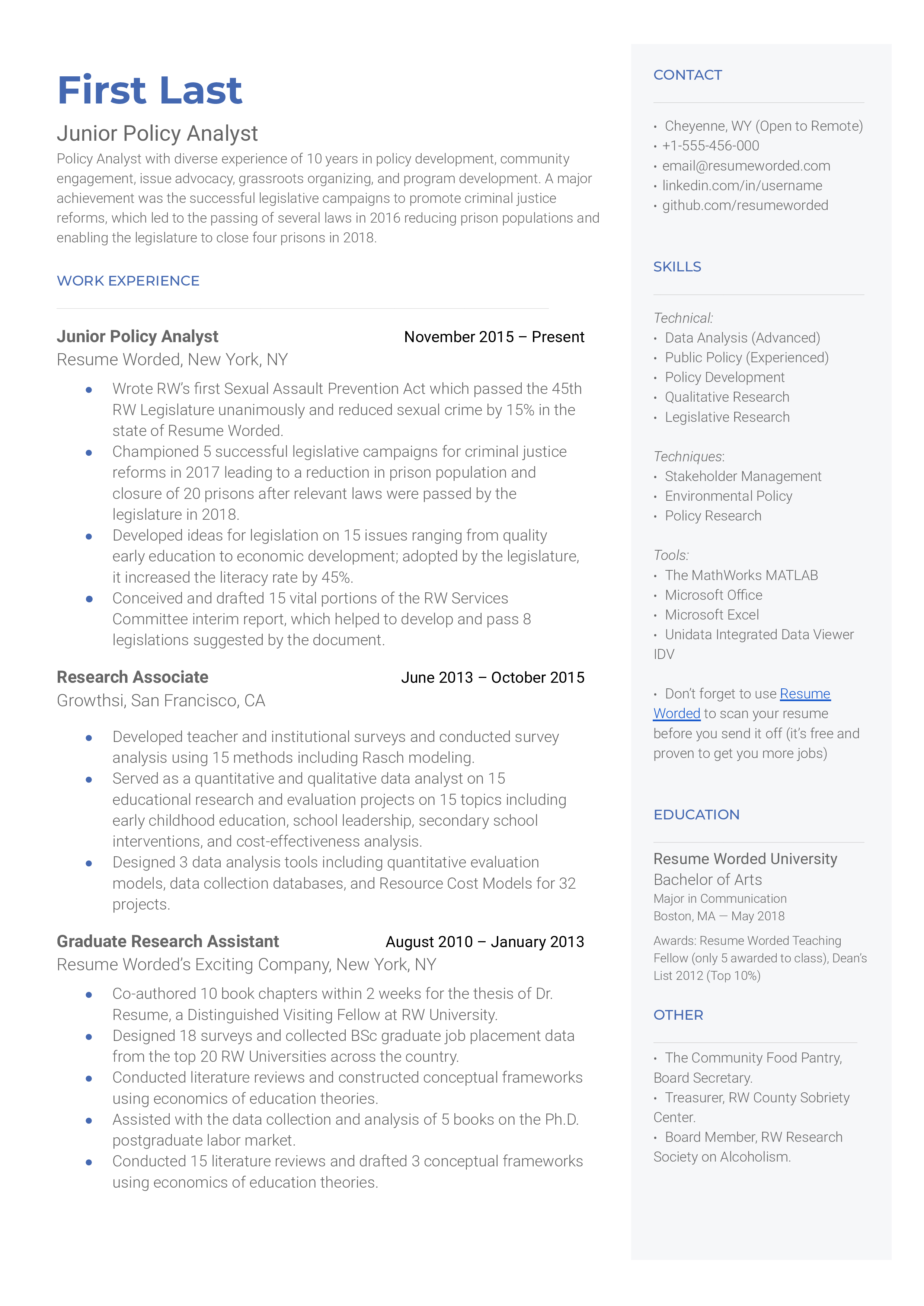 A junior policy analyst works as a support for their superiors and departments. They may be tasked with organizing and conducting research, collecting interviews or appointments, providing summaries of collected data, presenting research-based solutions, and whatever other task they are assigned. As this position can be multifaceted, this resume succeeds in highlighting the variety of tasks this applicant had successfully completed. It also highlights the policy successes that the applicant has been, at least, partially responsible for, which is impressive for someone in a junior position, and would be attractive to a recruiter.
Expand
Download .DOC or .PDF
Policy Analyst resume guide
Compliance Resumes
Although compliance officers may go unnoticed, they are a solid foundation for ensuring transparent processes in any business. The current demand for these professionals is great for the coming years. Therefore, if you choose this work field, we want to help you write the best resume to apply for these jobs. Take a look at the top 10 compliance resume examples below.
Load more resumes
Compliance resume guide
Underwriter Resumes
Being a financial expert isn't the only thing that magically lands you a job in the underwriting world. A resume showcasing you in the best light will help you get far in your career! If you're wondering what a successful underwriter resume can look like, all you need is to go through our guide for underwriter resume examples where we provide downloadable resume templates as well as tips to make the best out of your resume!
Load more resumes
Underwriter resume guide
Regulatory Affairs Resumes
Regulatory affairs professionals evaluate pharmaceuticals, cosmetics, agrochemicals, and medical products before they are commercialized. They make sure that these products are ready for consumption and meet regulatory compliance. Remember that these items often play a huge role in people's wellbeing, so regulatory affairs specialists are the guards of public health. If you have a regulatory affairs specialist and would like to create your resume, we have you covered. This guide will provide you with tips and resume examples templates that you can customize with your own experience and skills.
Regulatory Affairs Manager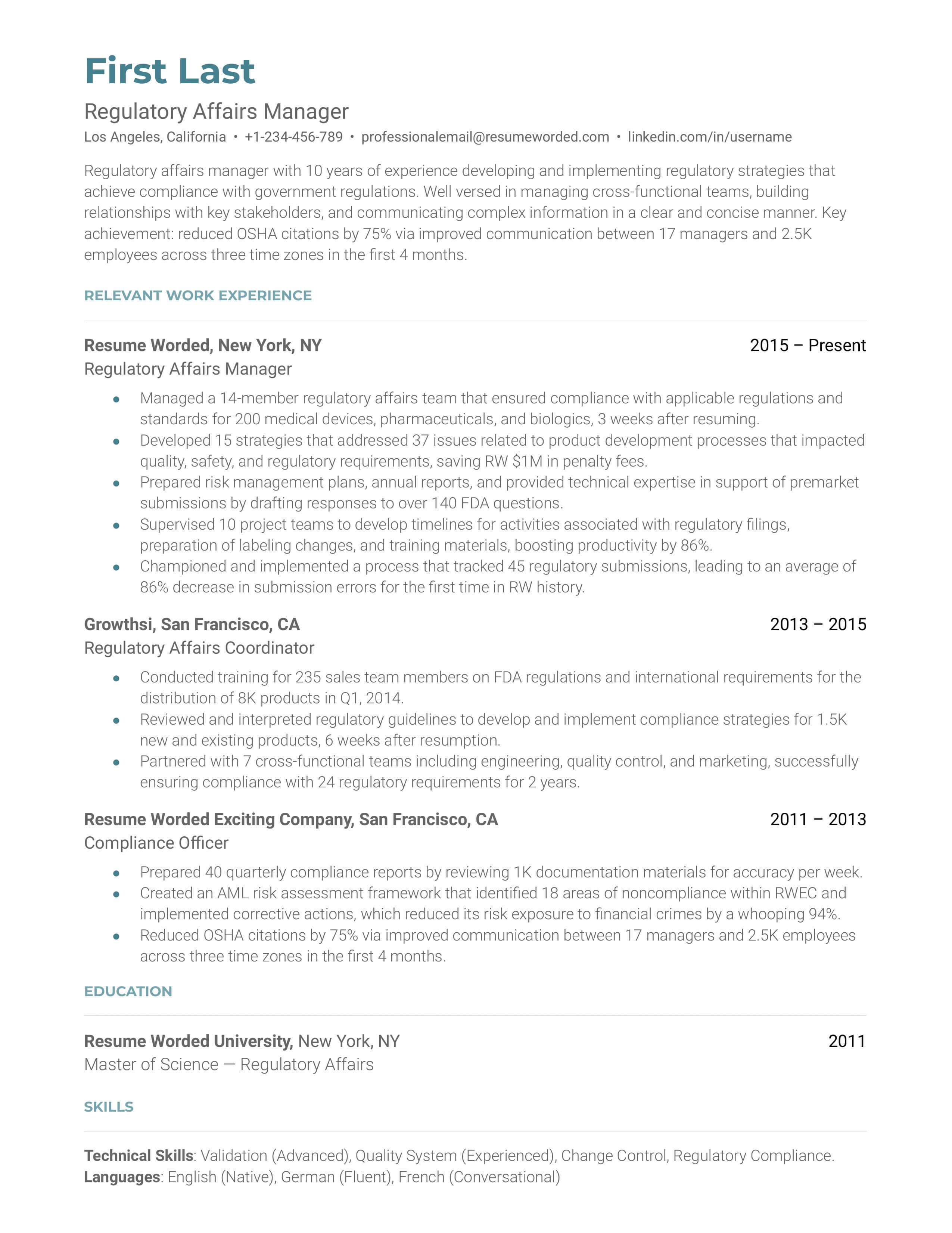 A regulatory affairs manager is the head of the RA team. They will oversee the work of other regulatory affairs specialists and assign duties. RA managers meet and maintain long-term professional relationships with regulatory bodies. They also assist multiple teams in the manufacturing process to ensure they follow regulatory compliance. As a regulatory affairs manager, you will also conduct research and create reports to share with stakeholders. They will also respond to information requests from regulatory agencies. A RA manager must also evaluate how regulatory compliance will affect the company's operations and finances.
Expand
Download .DOC or .PDF
Regulatory Affairs Associate (Entry Level)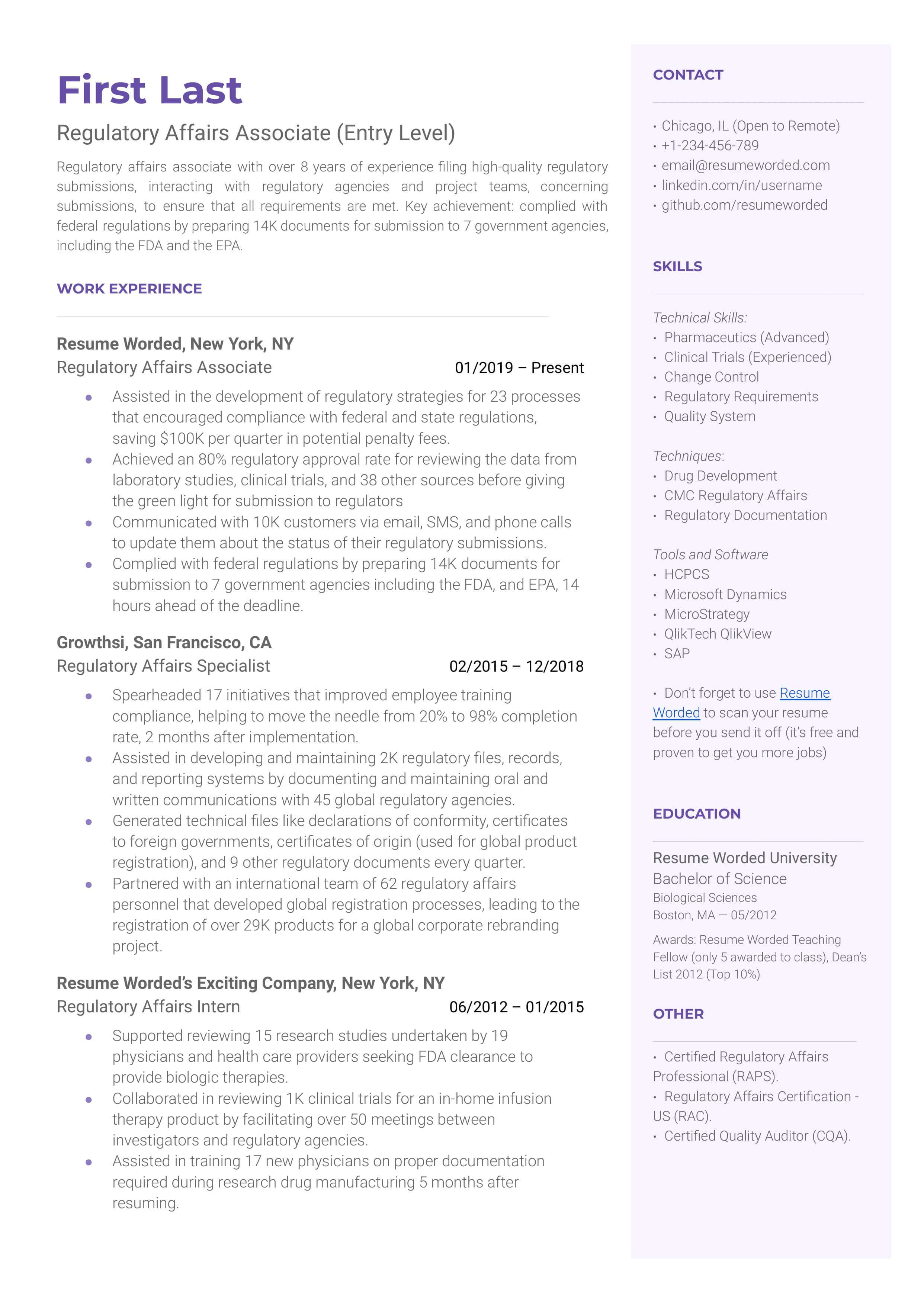 A regulatory affairs associate is the company's representative in legal negotiations with regulatory agencies. They assist companies in the process of getting their products approved by regulatory bodies such as the FDA and the ICH. RA associates collect documents and evaluate manufacturing processes.
Expand
Download .DOC or .PDF
Regulatory Affairs resume guide
Contract Specialist Resumes
Our increasingly global workplace has brought along new intricacies in our development of contracts and increased the number of contracts we use. Contract specialists ensure that a company's contracts are in the best interest of the company and are in line with all laws. Here is a guide to help you create a contract specialist resume that will grab the attention of recruiters today.
Contract Administrator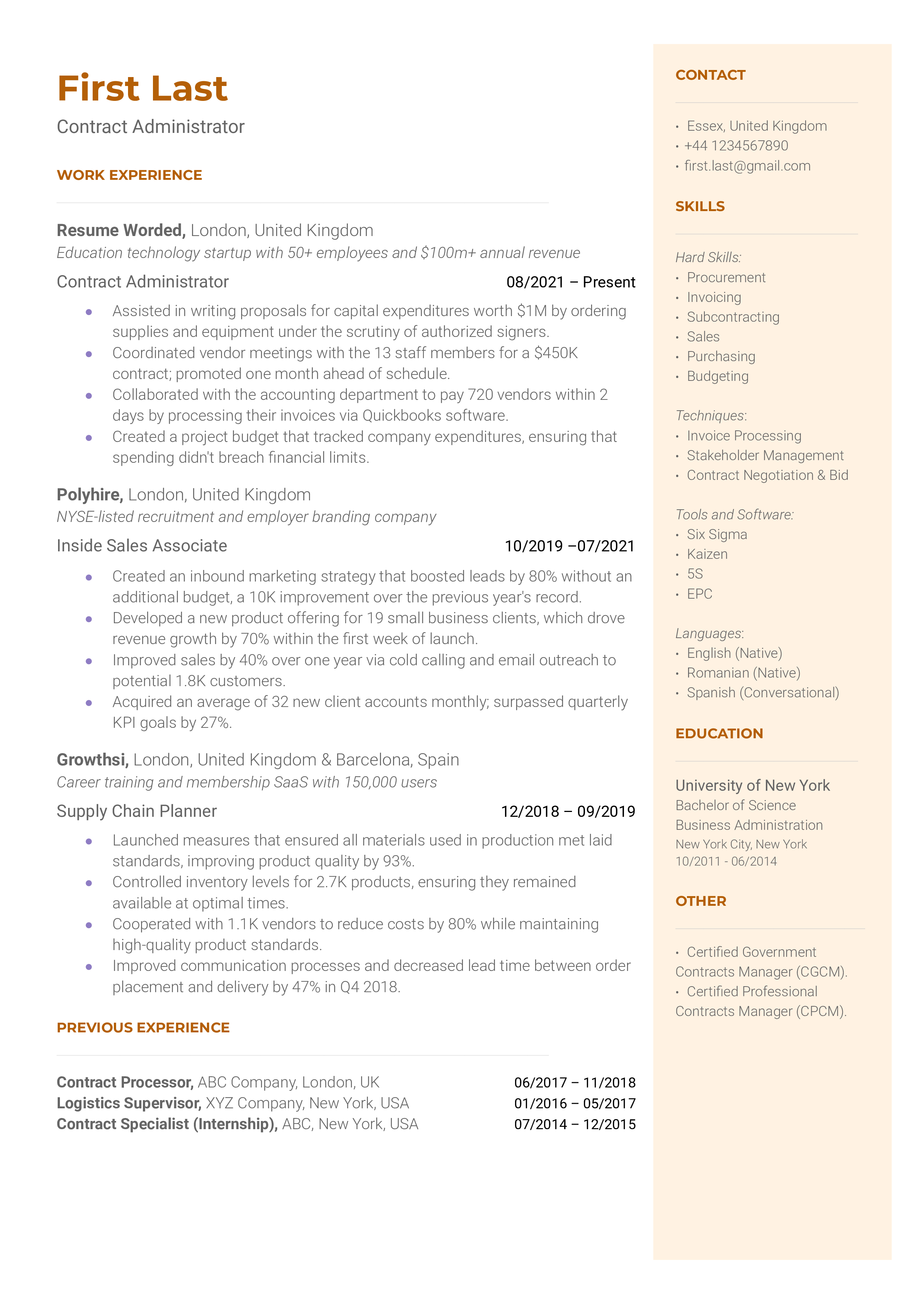 A contract administrator ensures that contracts make their way through the contract cycle in a timely fashion and are in line with all relevant laws. These professionals are generally business administrators who specialize in contracts and as such recruiters will be looking for a degree in business administration or a similar field. Recruiters will also need to see experience working with contracts. Take a look at this successful resume.
Expand
Download .DOC or .PDF
Contract Manager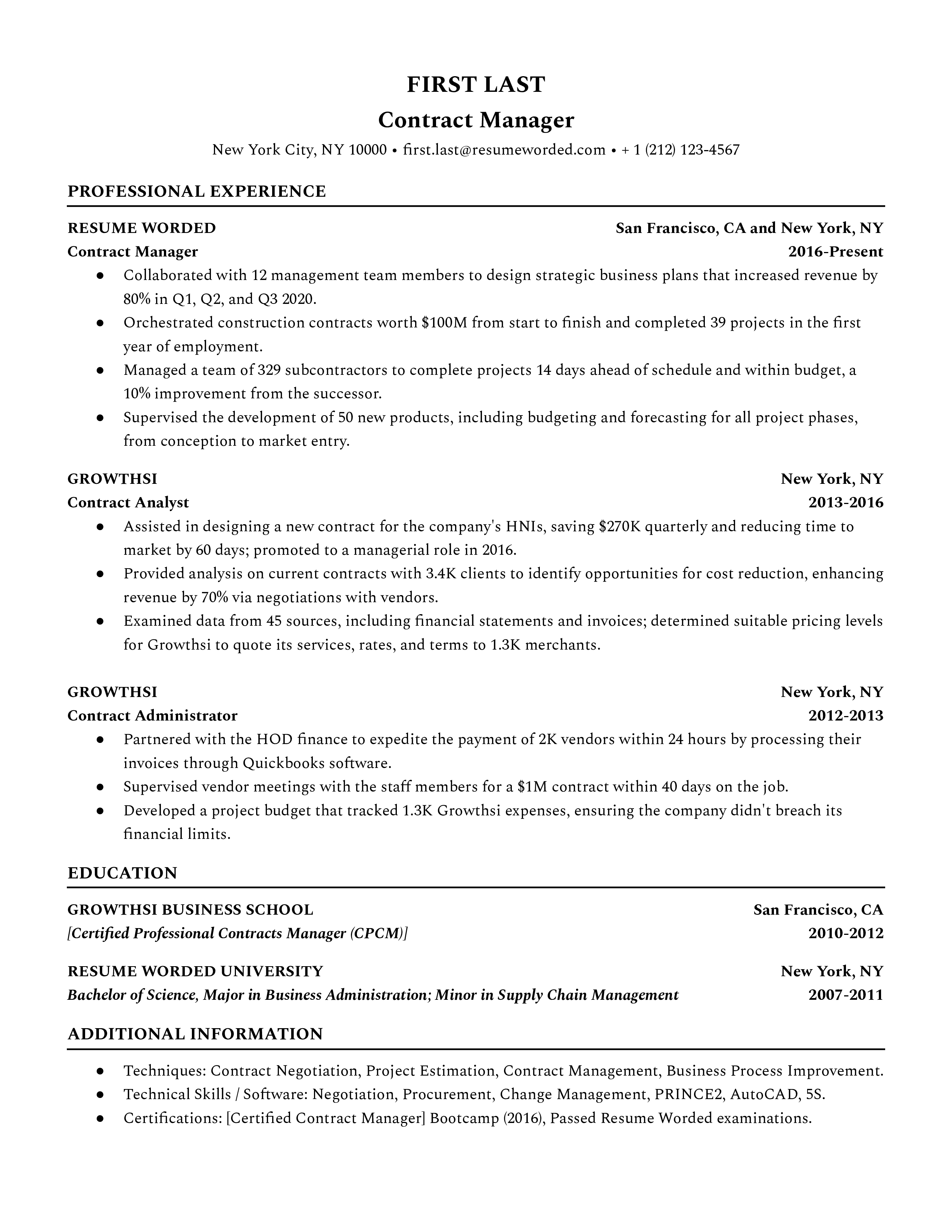 As the name suggests, this professional is tasked with managing a company's contracts. They oversee the drafting and consolidating of contracts and they ensure the contracts are enforced and executed. To thrive in this position you need to have both a strong contract background as well as strong management skills. You will be required to have at least a bachelor's degree in law, business administration, or a related field and years of experience working with contracts. Here is a recruiter-approved contract manager resume.
Expand
Download .DOC or .PDF
Contract Manager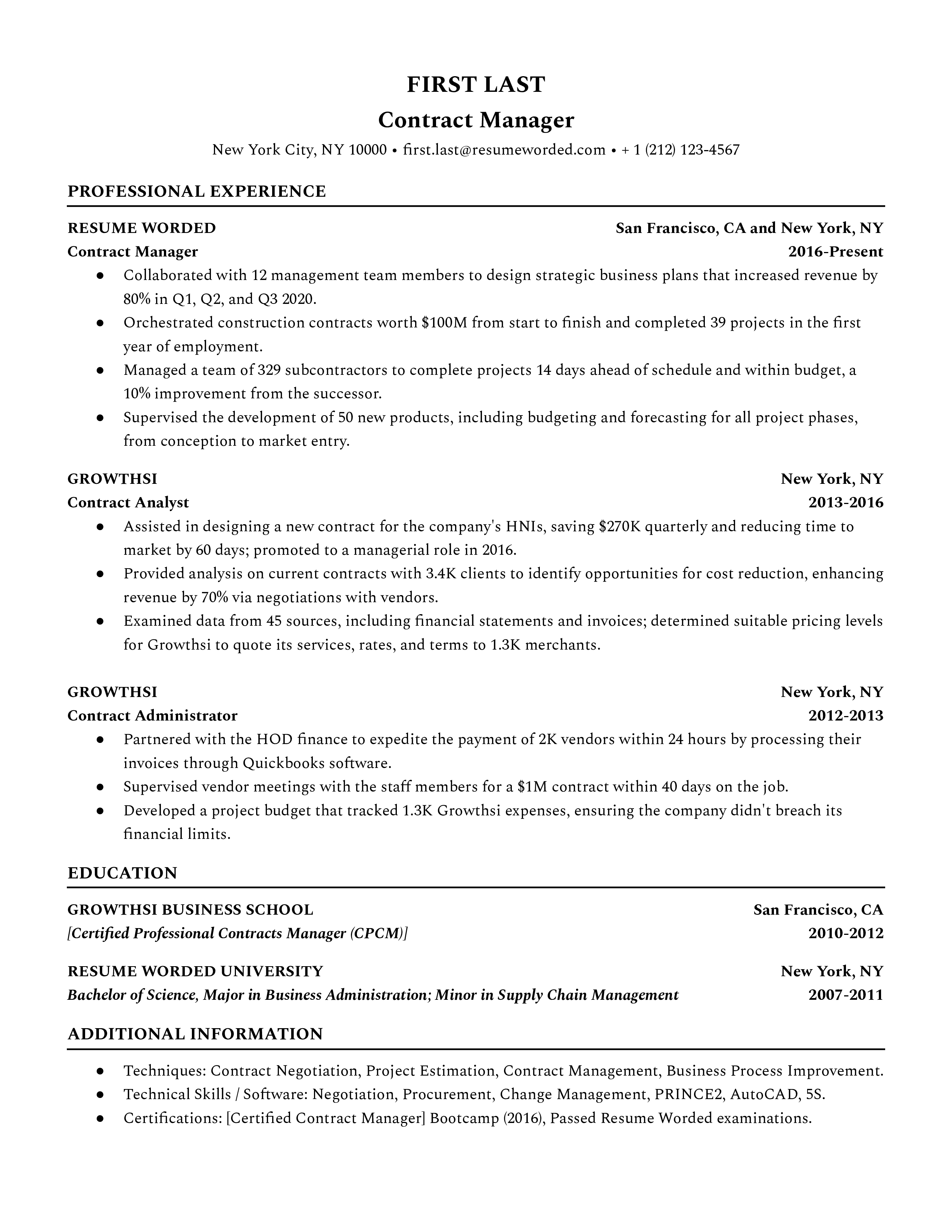 Contract Managers are the guardians of the commercial and contractual commitments within a company. They ensure that all contracts and agreements are airtight, fair, and legally binding. Recently, with the proliferation of complex digital contracts and the increased exposure to global suppliers, the role has become increasingly important yet challenging. When crafting your resume, remember it's about demonstrating you're a proactive problem-solver who can anticipate contractual complications before they become issues. Also, be sure to highlight your knowledge of emerging digital trends in contract management. In today's climate, a lot of businesses are shifting towards flexible, remote working situations. As a result, Contract Managers often have to manage relationships remotely. Your resume should reflect your ability to excel in this new environment, indicating your adaptability and strong communication skills even when not in a traditional office setting.
Expand
Download .DOC or .PDF
Load more resumes
Contract Specialist resume guide
Public Policy Resumes
Public policy professionals review, revise, and pinpoint areas for improvement within current public policy. This career path is especially fruitful in today's world, due to the pandemic and subsequent socioeconomic effects of it, talented public policy professionals are in high demand. Some public policy professionals oversee several parts of a public policy team, such as with public policy directors. Other public policy professionals closely investigate singular aspects of public policy by researching and analyzing data to make changes, such as a public policy analyst. This career path holds lots of opportunities to grow. If you want to learn more about how to land a public policy job, keep reading.
Director of Public Policy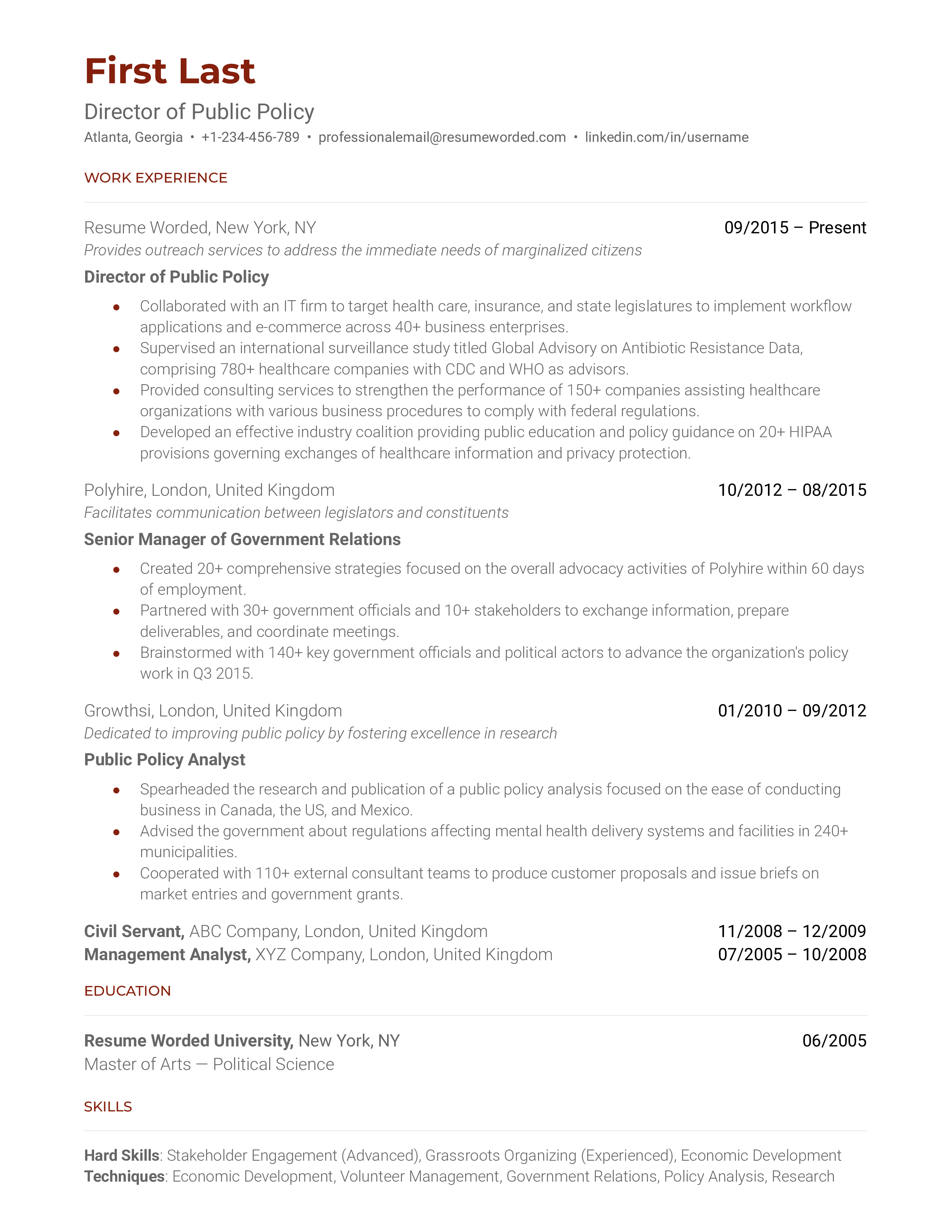 The director of public policy is a senior-level professional who oversees many facets of public policy. As a director of public policy, you may be involved with ground-level tasks like collecting data, but you will also be heavily involved in making decisions and implementing programs based on your team's research results. A director of public policy typically has a master's degree in political science, though a bachelor's degree with several years of experience and demonstrated knowledge may suffice. Typically, hiring managers will be looking for candidates with key previous job experience, such as a prior role as a public policy analyst or government relations manager. Hiring managers will be looking for someone who is knowledgeable in the realm of data collection and interpretation, but also skilled at creating actionable plans, communicating effectively, and implementing public policy changes. A good candidate for this role will be an analytical thinker, a skilled communicator, and an effective leader.
Expand
Download .DOC or .PDF
Public Policy resume guide
Action Verbs For Legal Resumes
Supervised
Analyzed
Handled
Developed
Updated
Trained
Represented
Drafted
Negotiated
Mentored
Streamlined
Researched
Prepared
Prosecuted
Collaborated
Advised
How to use these action verbs?
You might be wondering how to structure your resume's bullet points. An easy place to start is to always use an action verb when speaking about your accomplishments. This list on the left are perfect examples of action verbs you can use when discussing your legal experience.

The legal field prioritizes professional communication, so make sure you stress your experience here by including action verbs like "Drafted" or "Presented" — verbs like these show to recruiters that you have strong communication skills, skills that are essential in the legal industry.