Choose a category to browse Legal resumes
We've put together a number of free Legal resume templates that you can use. Choose a category depending on your field, or just scroll down to see all templates.
Attorney
Lawyer
Legal Assistant
Policy Analyst
Attorney Resumes
Attorneys are always in demand, so what better time than now to brush up your skills and update your resume? In this guide, you'll find resume templates for you to use as examples, as well as industry-specific tips and a walkthrough on how to narrow down the perfect skills and keywords.
Load more resumes
Attorney resume guide
Lawyer Resumes
Practicing law continues to be a lucrative field as individuals and corporations alike seek to navigate the increasingly complex legal system. In this guide, we'll cover three specialties and look at templates you can base your lawyer resume on, in addition to discussing the skills and action verbs you should focus on including.
Corporate Lawyer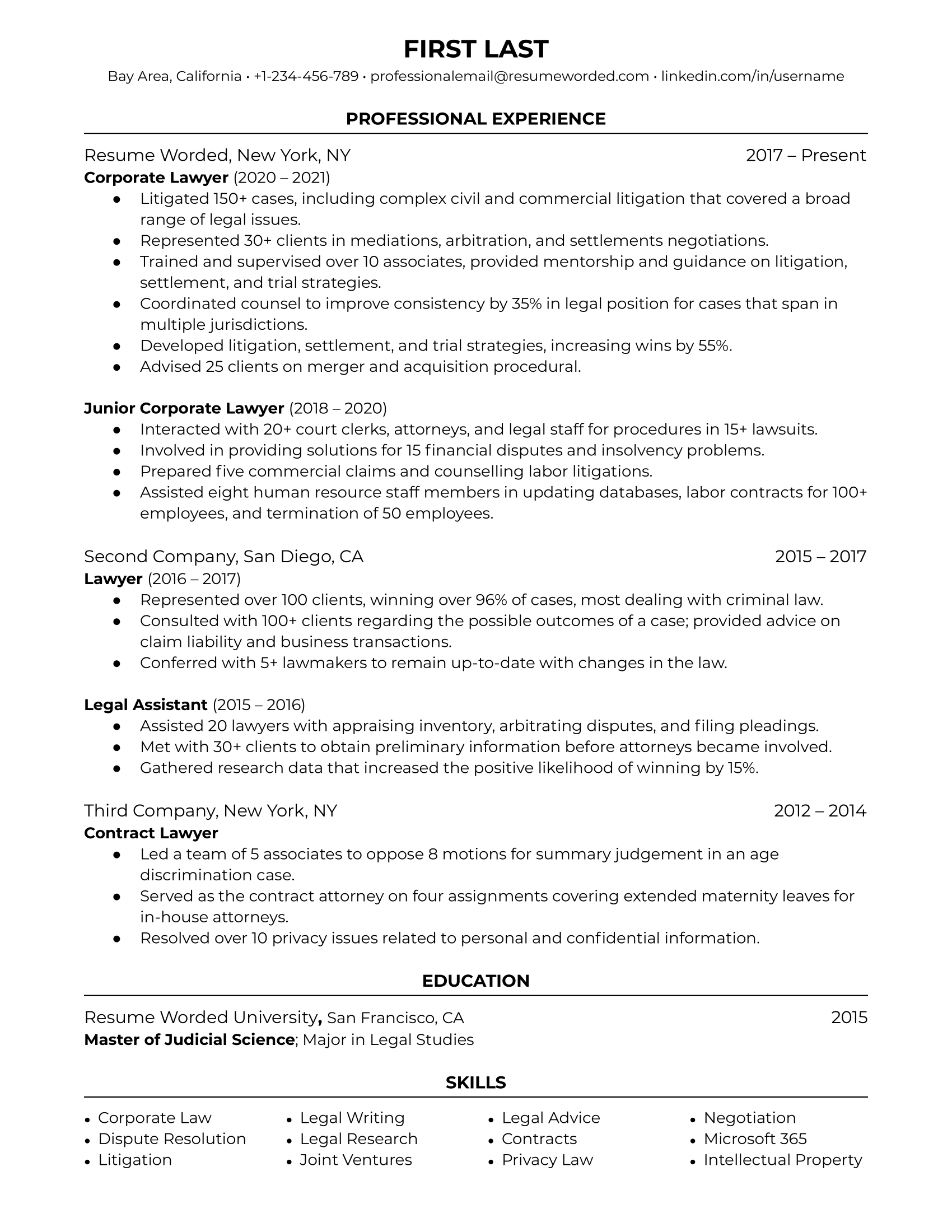 Corporate lawyers work specifically within the field of corporate law, and will be expected to have knowledge of its inner workings. If you can demonstrate your background working in the legal realm in tandem with showcasing your efforts supporting specific employers, you will make a solid impression.
Expand
Download .DOC or .PDF
Immigration Lawyer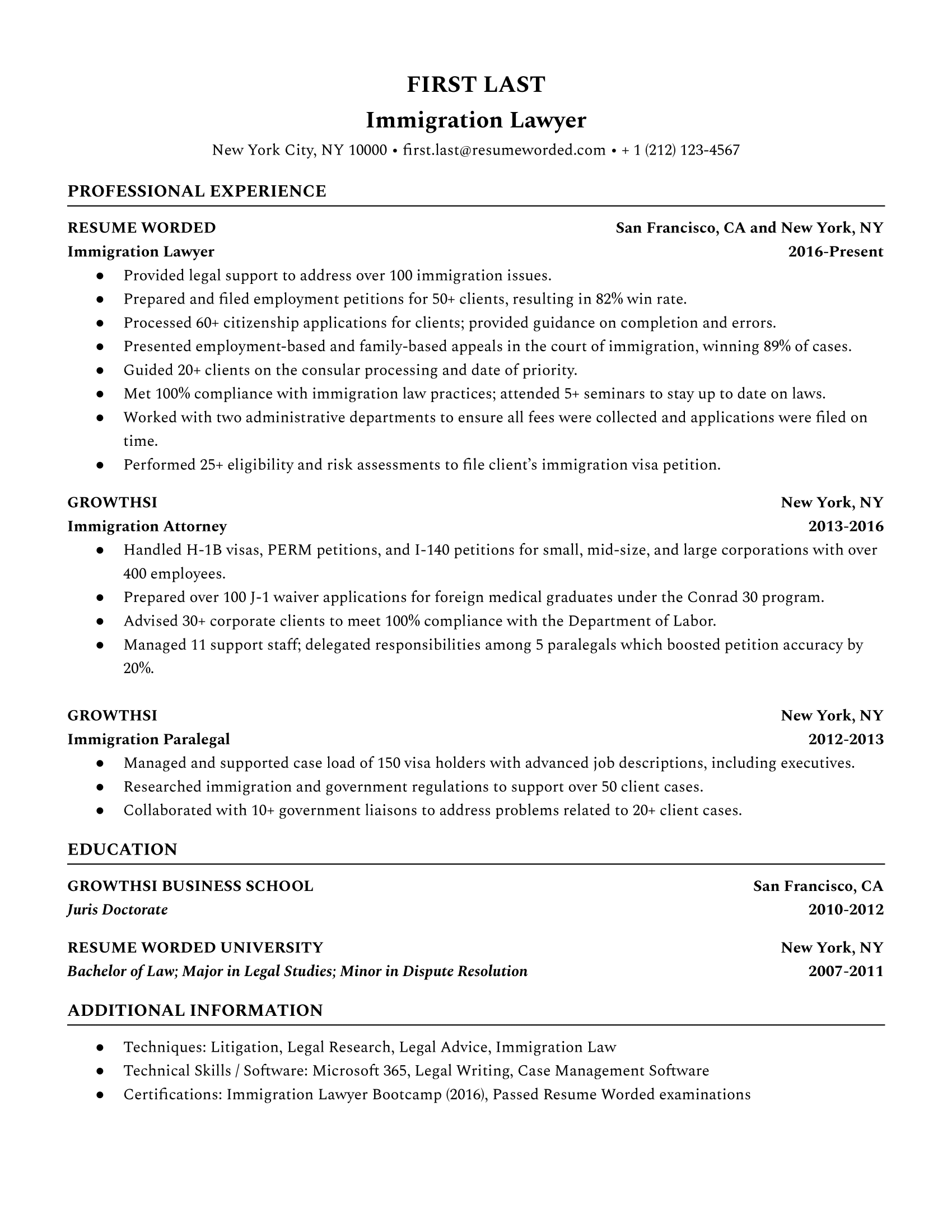 While general lawyers and corporate lawyers will dabble in government law, immigration lawyers will be steeped in it as they work to understand the current legal policies established by the federal government for citizenship.
Expand
Download .DOC or .PDF
Lawyer resume guide
Legal Assistant Resumes
Wherever there are lawyers, you'll find legal assistants — hard-working support staff working behind the scenes. The position is ideal for people seeking an administrative career or on their way to a law or paralegal qualification. In this guide, we'll walk you through how to land a legal assistant job, including resume templates and tips on essential skills and keywords.
Entry Level Legal Assistant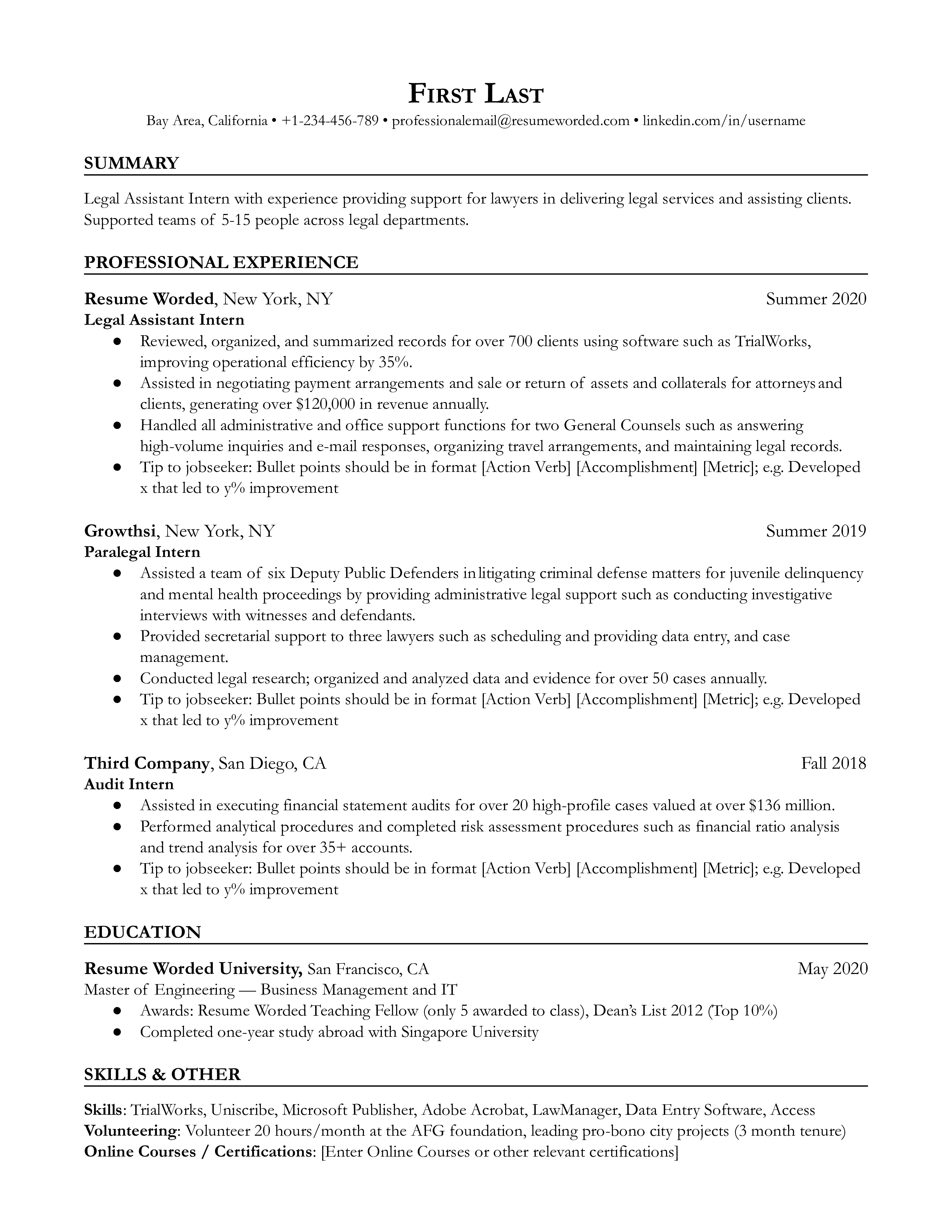 You can apply for entry level legal assistant positions even without any legal qualifications or office administration experience, or transition to the field from other administrative roles. Employers will be looking for evidence of transferable skills as well as technical skills like data entry software and Microsoft Access. If you have experience as an intern or volunteer in a legal or related field, that can also strengthen your candidacy.
Expand
Download .DOC or .PDF
Legal Assistant resume guide
Policy Analyst Resumes
Policy analysts are problem identifiers and solution builders. They research and interrogate policy, look at the effects of policies, and create/recommend more effective and mutually beneficial policies. As such, they must be strong researchers and creative problem solvers. This guide will help you craft a resume that highlights your most attractive skills and qualifications to get your desired job.
Insurance Policy Analyst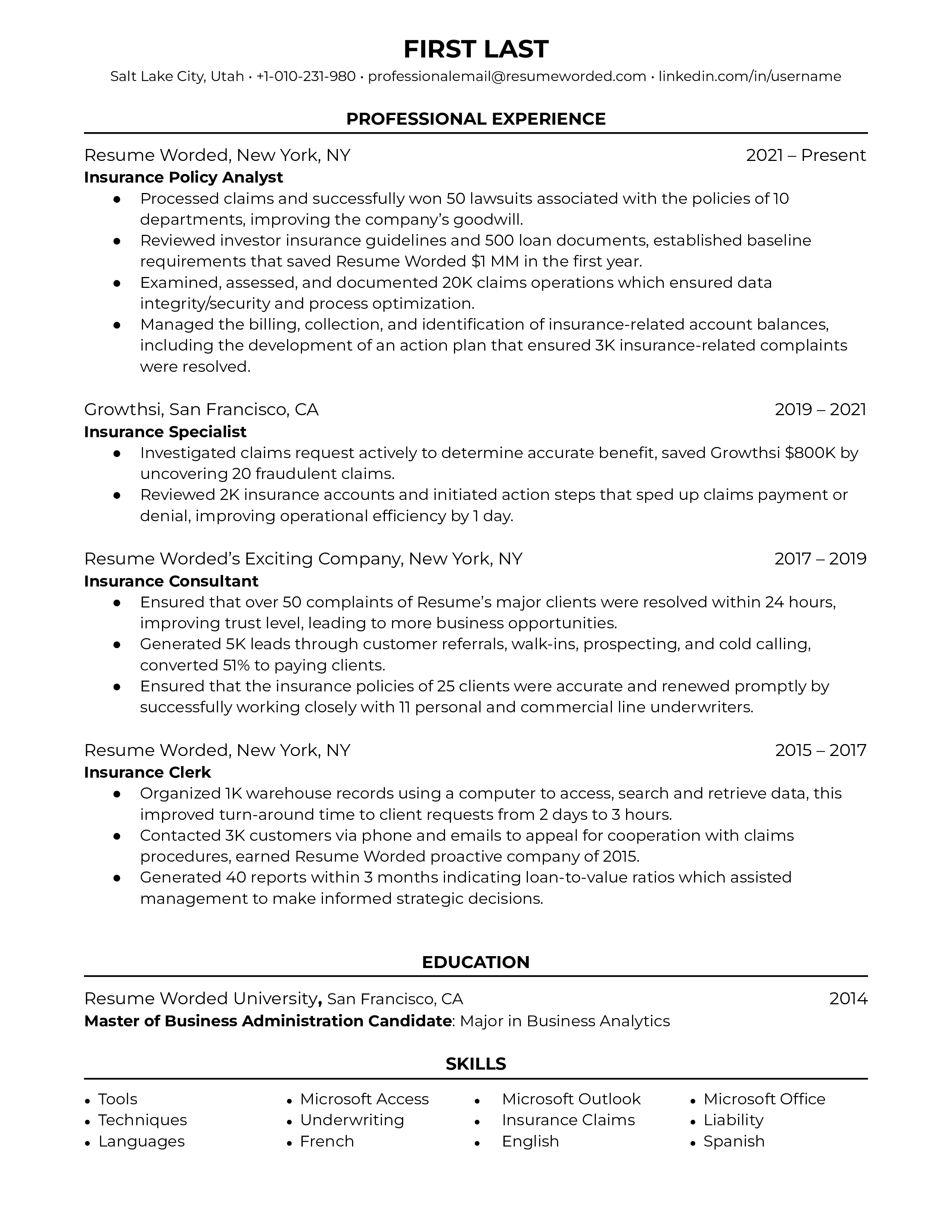 An insurance policy analyst evaluates insurance policies to identify the relevant risks to both the insurance company and the policyholders. They may also calculate associated risk to determine which insurance policy is best suited for a client, and interrogate insurance claims to ensure they are legitimate and can be processed successfully. This resume effectively shows a professional with extensive experience in the insurance industry, which would be highly preferred. Furthermore, the resume demonstrates promotions with each position change, highlighting employer confidence in the professional's capabilities.
Expand
Download .DOC or .PDF
Junior Policy Analyst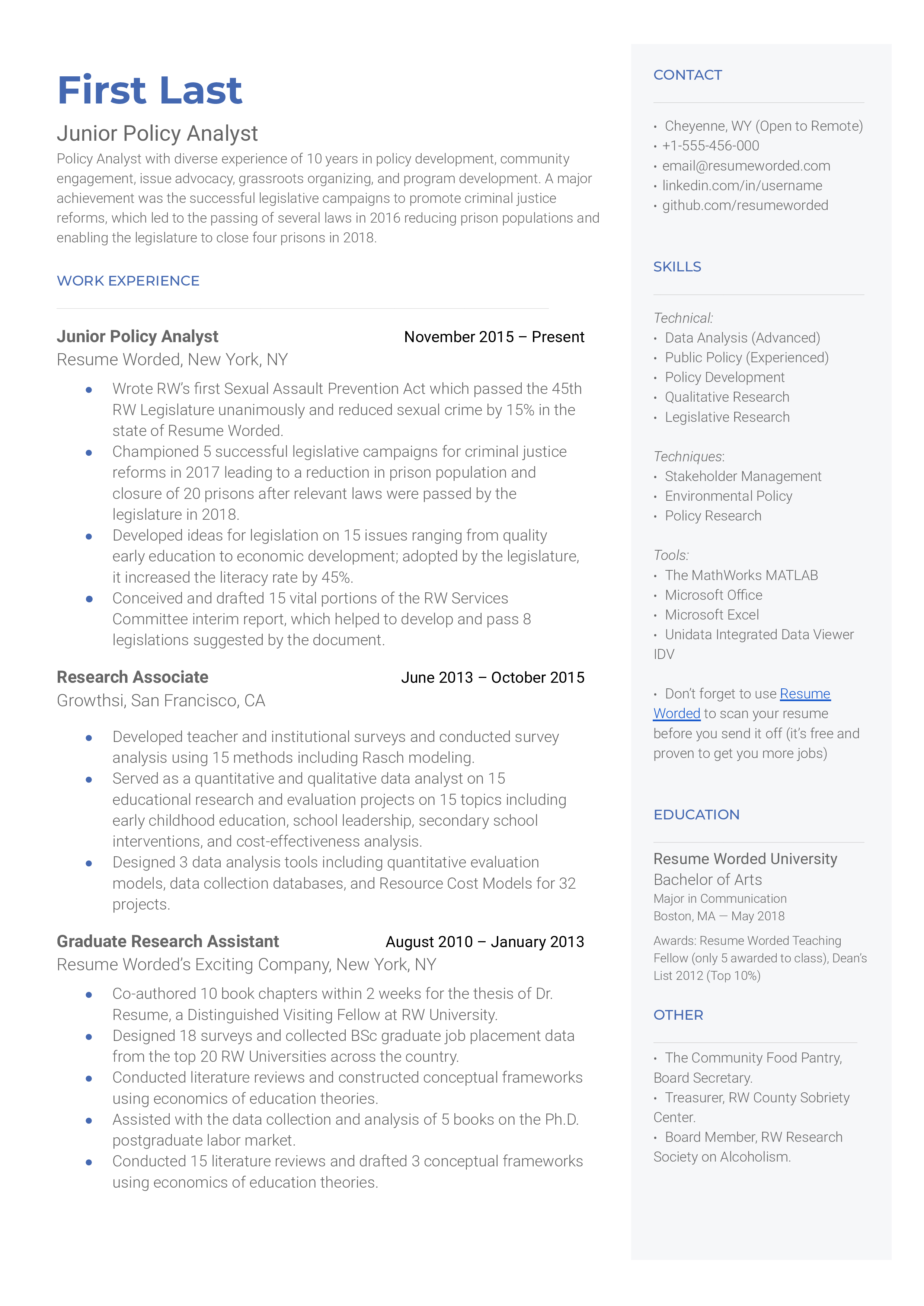 A junior policy analyst works as a support for their superiors and departments. They may be tasked with organizing and conducting research, collecting interviews or appointments, providing summaries of collected data, presenting research-based solutions, and whatever other task they are assigned. As this position can be multifaceted, this resume succeeds in highlighting the variety of tasks this applicant had successfully completed. It also highlights the policy successes that the applicant has been, at least, partially responsible for, which is impressive for someone in a junior position, and would be attractive to a recruiter.
Expand
Download .DOC or .PDF
Policy Analyst resume guide
Action Verbs For Legal Resumes
Supervised
Analyzed
Handled
Developed
Updated
Trained
Represented
Drafted
Negotiated
Mentored
Streamlined
Researched
Prepared
Prosecuted
Collaborated
Advised
How to use these action verbs?
You might be wondering how to structure your resume's bullet points. An easy place to start is to always use an action verb when speaking about your accomplishments. This list on the left are perfect examples of action verbs you can use when discussing your legal experience.

The legal field prioritizes professional communication, so make sure you stress your experience here by including action verbs like "Drafted" or "Presented" — verbs like these show to recruiters that you have strong communication skills, skills that are essential in the legal industry.