Attorneys are in demand in just about every sector — from public to private, from real estate to maritime law. While the image most people have of lawyers is probably closer to prime time drama than reality, the job of an attorney is surprisingly diverse. Some lawyers work in the courtroom, prosecuting crimes or defending clients, while others diligently prepare legal briefs, draft contracts, advise clients, and assist in mediation. Most attorneys choose to specialize in a particular area — think criminal law, family law, or corporate law — meaning the exact skills you'll need will depend heavily on the exact job you're applying for. No matter what, recruiters will be looking for transferable skills in research, communication, and critical thinking.

In most states, you'll need a law degree to practice as an attorney, as well as passing the prestigious bar exam. Once you do, you'll be rewarded with hard work and long hours, but also with multiple career options and attractive compensation, with a median salary of over $120,000. In 2021, look for increased emphasis on fields like cybersecurity, diversity and inclusion, and emerging technologies, as well as brand new fields arising from the pandemic and its effects on the labor market.
Attorney Resume Templates
Attorney Resume Sample
Download Resume Template (Google Doc)
Download Resume in PDF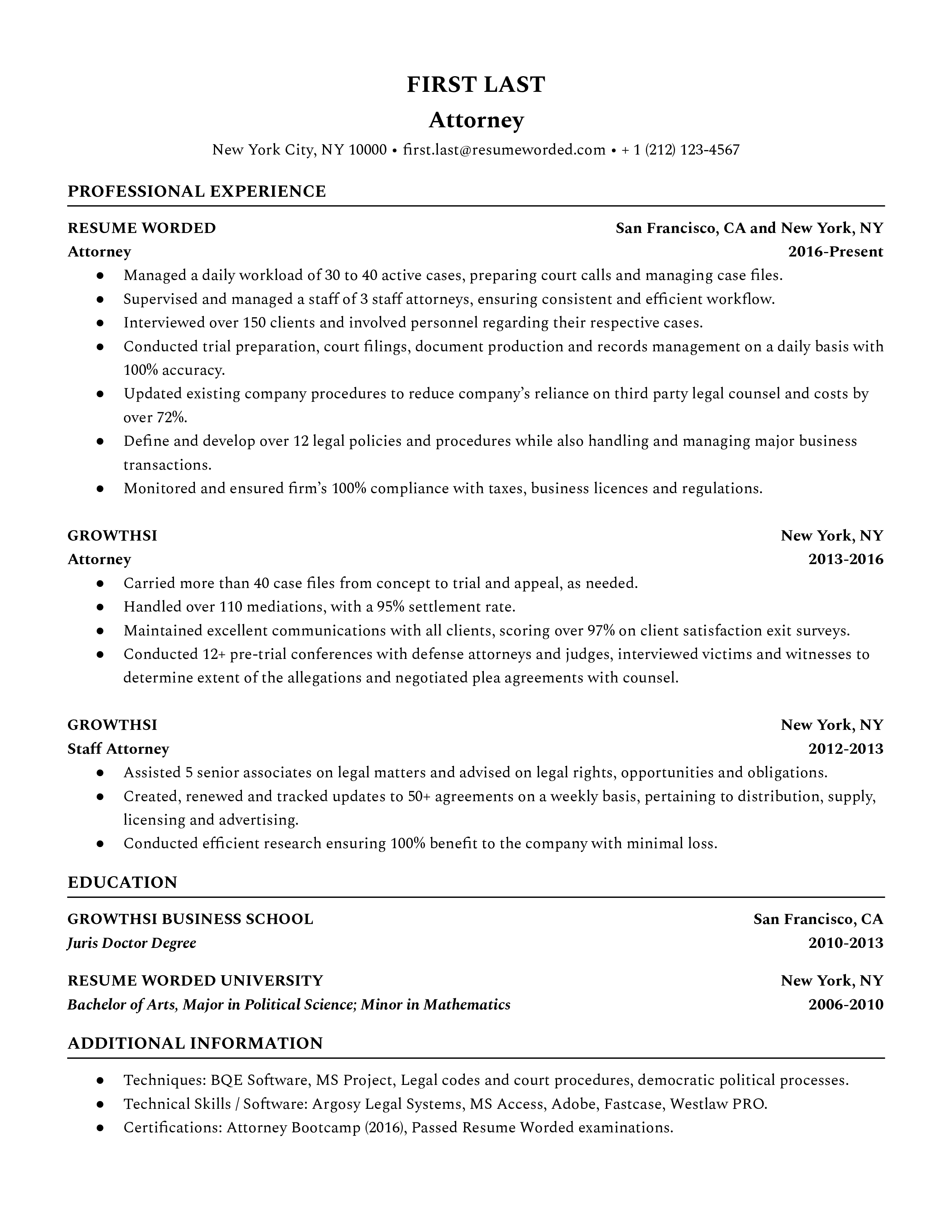 Why this resume works in 2021
While every field of law is different, some duties and expectations remain the same for attorneys across the board. Lawyers represent clients and provide legal advice, interpret case law, oversee mediations, prepare legal documents, and occasionally appear in court. Whatever your field, you'll need skills in research, communication, and building relationships, as well as appropriate legal qualifications.
Improve your Attorney resume, instantly.
Use our free resume checker to get expert feedback on your resume. You will:
• Get a resume score compared to other Attorney resumes in your industry.
• Fix all your resume's mistakes.
• Find the Attorney skills your resume is missing.
It's instant, free and trusted by 1+ million job seekers globally. Get a better resume, guaranteed.
Upload your resume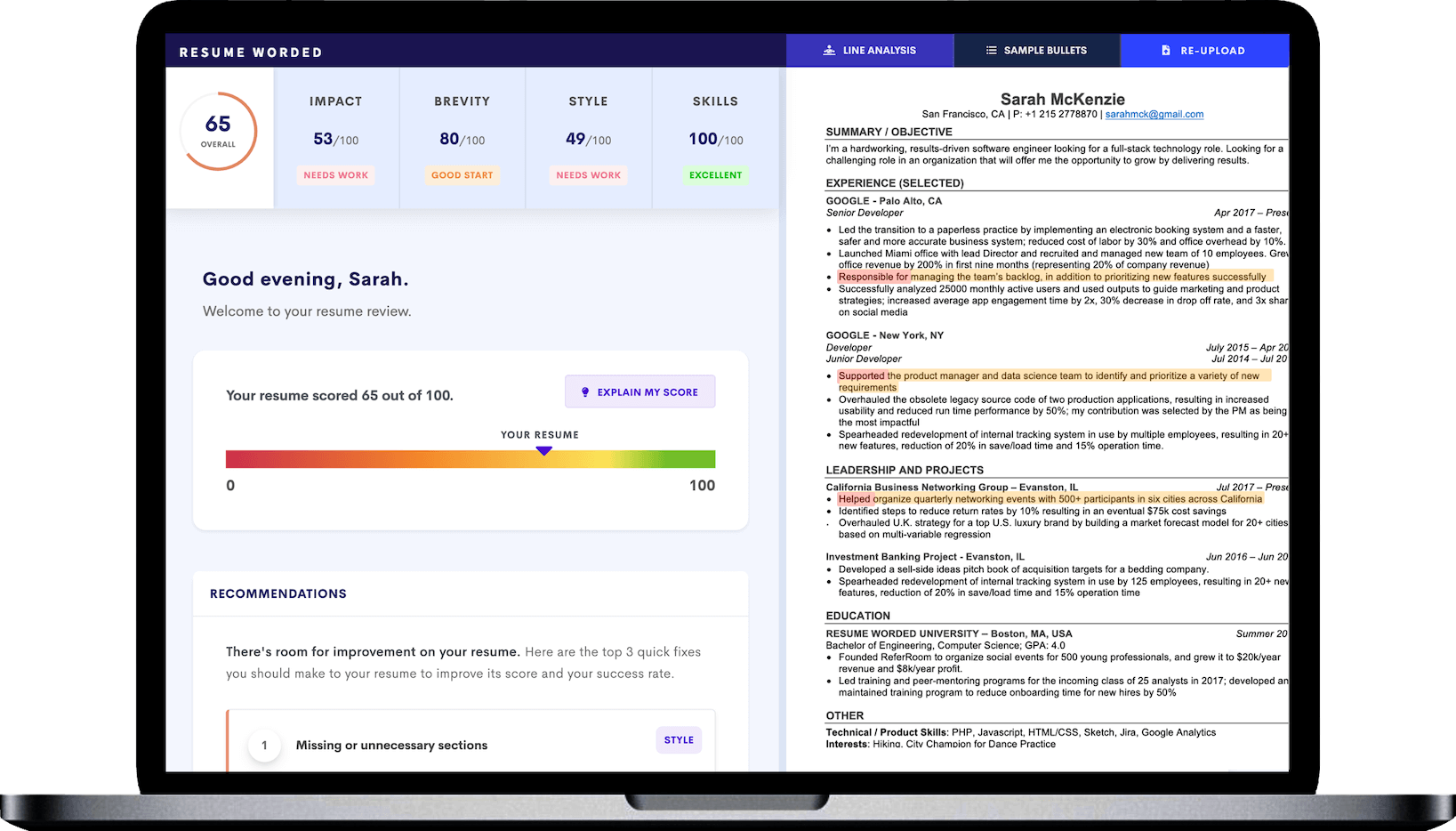 Associate Attorney Resume Sample
Download Resume Template (Google Doc)
Download Resume in PDF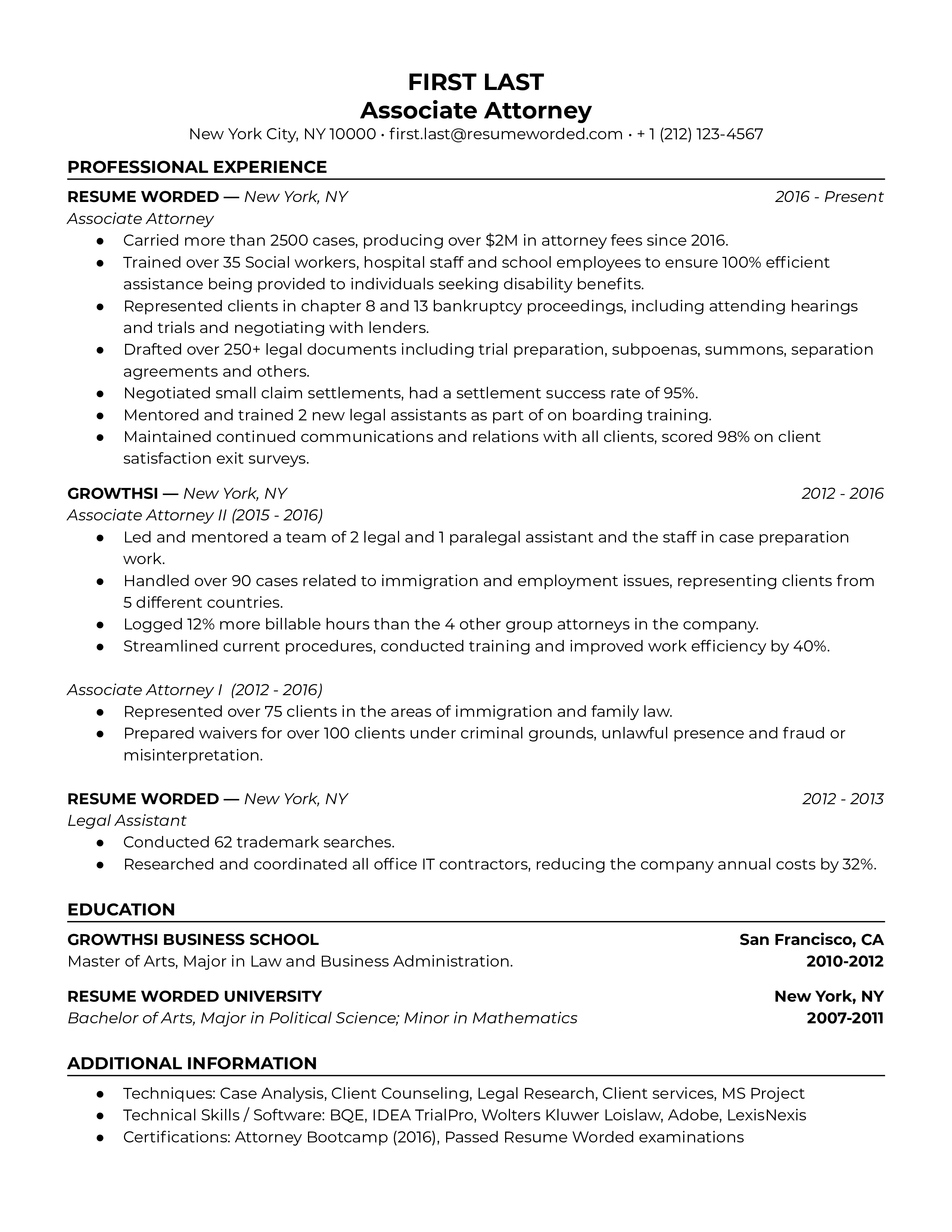 Why this resume works in 2021
Associate attorneys work on a contract basis rather than a partnership. They're often less experienced and may be supervised by a senior or more experienced employee. As an associate attorney, you'll be called upon to prepare brief and case reports, build relationships with clients, and provide legal support. Your resume should emphasize transferable skills as well as any technical skills specific to your field.
Experienced Attorney Resume Sample
Download Resume Template (Google Doc)
Download Resume in PDF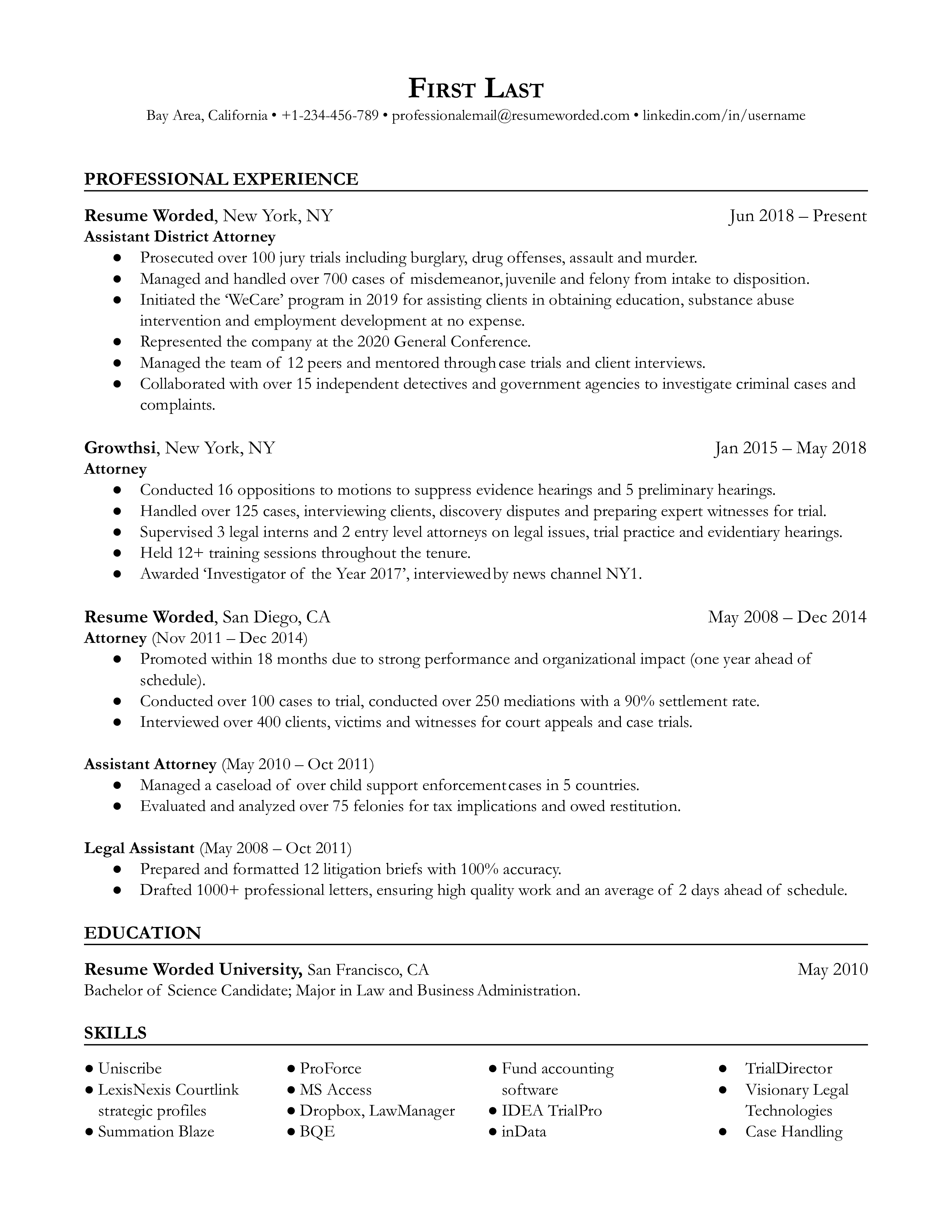 Why this resume works in 2021
As a senior or experienced attorney, you should be able to demonstrate a strong track record of success, including securing positive outcomes for clients and experience overseeing more junior employees. As an experienced lawyer, you'll take on more of a management role — making leadership skills essential — as well as more responsibility providing expert legal advice, collaborating with other teams, and drafting important legal documents.
Litigation Attorney Resume Sample
Download Resume Template (Google Doc)
Download Resume in PDF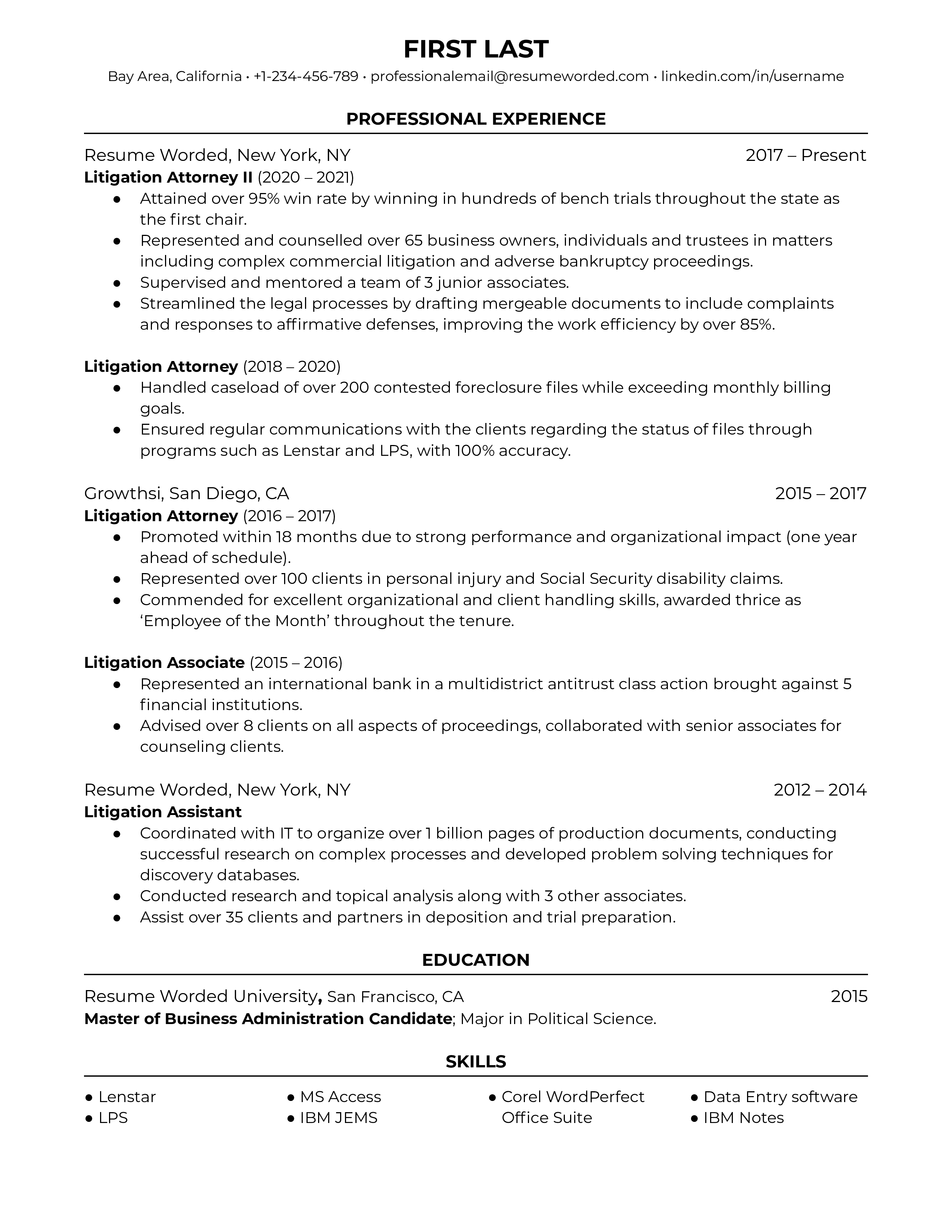 Why this resume works in 2021
Litigation attorneys work primarily in a courtroom setting, though litigators also cover alternative dispute resolution like arbitration and mediation. As a trial lawyer, you'll be investigating cases, providing initial assessments, researching relevant case law, gathering witness statements, and representing your clients through the trial process. Excellent verbal and written communication skills are a must, so make sure you choose accomplishments that help those soft skills stand out.
Real Estate Attorney Resume Sample
Download Resume Template (Google Doc)
Download Resume in PDF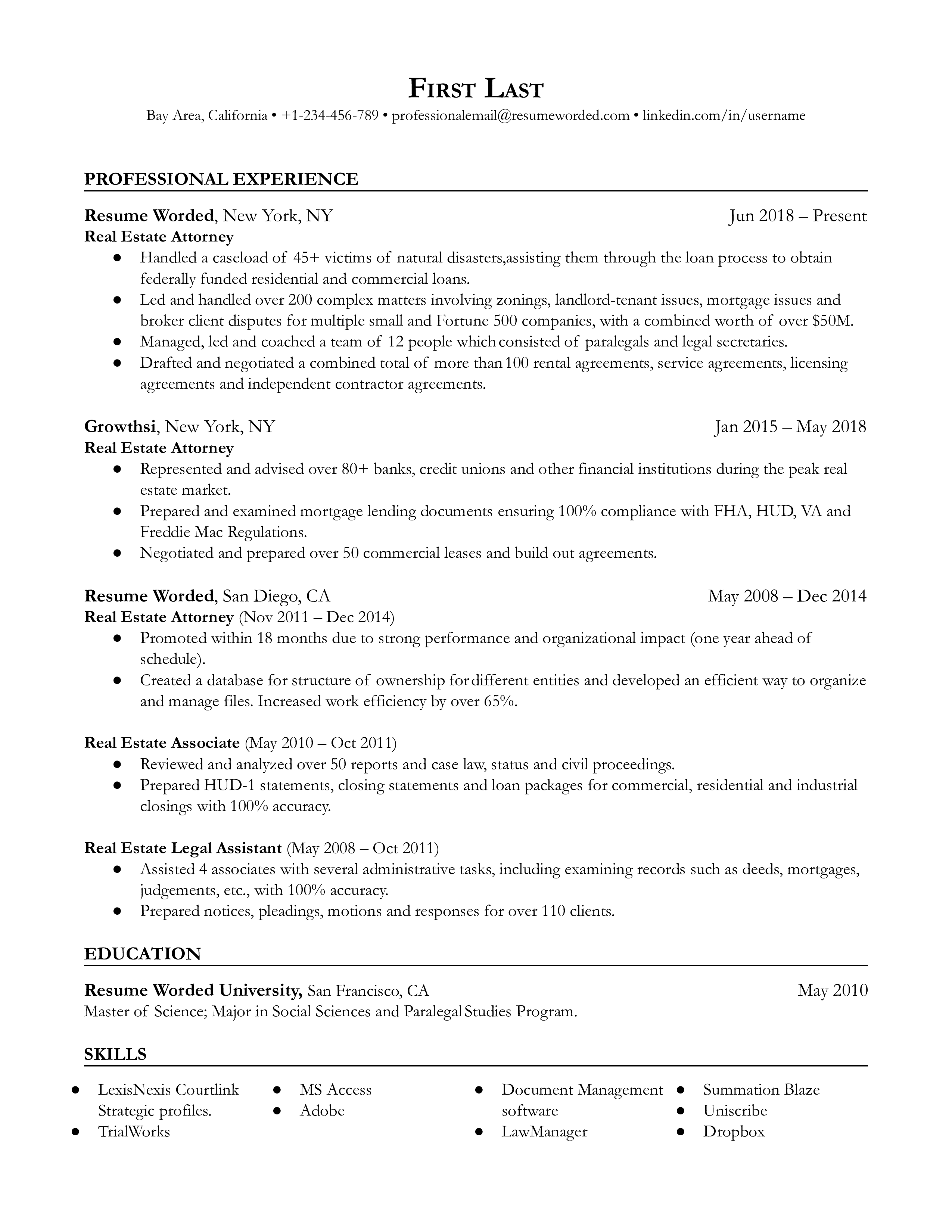 Why this resume works in 2021
Real estate attorneys deal with the purchase and sale or property, from private home ownership to major corporate buyouts. In addition to preparing and reviewing sale documents, you may be tasked with researching appropriate state and local laws, including those that cover zoning, titles, deeds, and taxes, and with representing your client during negotiations and at closing. To succeed, you'll need to demonstrate a good knowledge of real estate and contract law.
Skills For Attorney Resumes
Legal Writing
Litigation
Civil Litigation
Legal Research
Trials
Mediation
Appeals
Commercial Litigation
Corporate Law
Trial Practice
Legal Advice
Westlaw
Arbitration
Hearings
Personal Injury Law
Family Law
Criminal Law
Legal Issues
Attorneys
Labor and Employment Law
How to use these skills?
Many skills required by attorneys — including communication, building interpersonal relationships, and the ability to work under pressure — are ones that don't belong on the skills list at the bottom of your resume. These should go in your bullet points instead, with accomplishments and hard metrics to back them up. Instead of saying you have excellent written communication, highlight the number of briefs you've prepared or an article you've written in a law review.

To find the skills and keywords you'll need to get past Applicant Tracking systems (ATS) and impress recruiters, check out our comprehensive list of skills and keywords compiled from an analysis of over a million job descriptions, or use our free Targeted Resume tool to get personalized feedback on how you can instantly improve your resume.
Action Verbs For Attorney Resumes
Supervised
Analyzed
Handled
Developed
Updated
Trained
Represented
Drafted
Negotiated
Mentored
Streamlined
Researched
Prepared
Prosecuted
Collaborated
Advised
How to use these action verbs?
Attorneys need to be proactive, which means your resume bullet points shouldn't read like a list of job duties. Frame your accomplishments in a positive light by starting with strong action verbs. These let a hiring manager know what you've actually done and provide an insight into your strengths as an attorney. For example, using words like "researched" or "drafted" emphasizes your written communication and critical thinking skills, while "prosecuted" and "negotiated" indicate the ability to put together a strong verbal argument.

In your bullet points, always lead with the action verb, followed up by your specific role or accomplishment and the impact it had. Try to choose verbs that fit the job you're applying for, not just the ones you've left — even if you've never held a leadership role, if you're applying for a senior position, you should try to start at least one or two bullet points with "led," "trained," or "supervised."

For a full list of effective resume action verbs, visit Resume Action Verbs.