As a legal assistant, you'll be working in an administrative office-based role within the legal industry. While an interest in law and additional qualifications can be ideal, they aren't necessary. Most positions are open to high school graduates or those with general office administration experience, but if you really want to stand out or move into higher roles within the industry, you might consider pursuing an associate's or bachelor's degree in law or paralegal studies or a Certified Legal Assistant (CLA) certification.

Even more important are administrative skills like computer literacy, filing, scheduling appointments, and typing correspondence. Familiarity with legal terms and procedures and experience preparing legal documents is also a plus. If you're interested in a career in law, like becoming a paralegal or attorney, working as a legal assistant is a great way to gain some experience and insight into the field before you commit to an expensive degree.

Legal assistants are generally paid hourly, with salary ranges fluctuating depending on your state. Average wages across the United States can range from $16.86 to $25.49 per hour. In 2021, legal assistants should be aware of the impact of trends like automation and remote work on the industry.
Legal Assistant Resume Templates
Legal Assistant Resume Sample
Download Resume Template (Google Doc)
Download Resume in PDF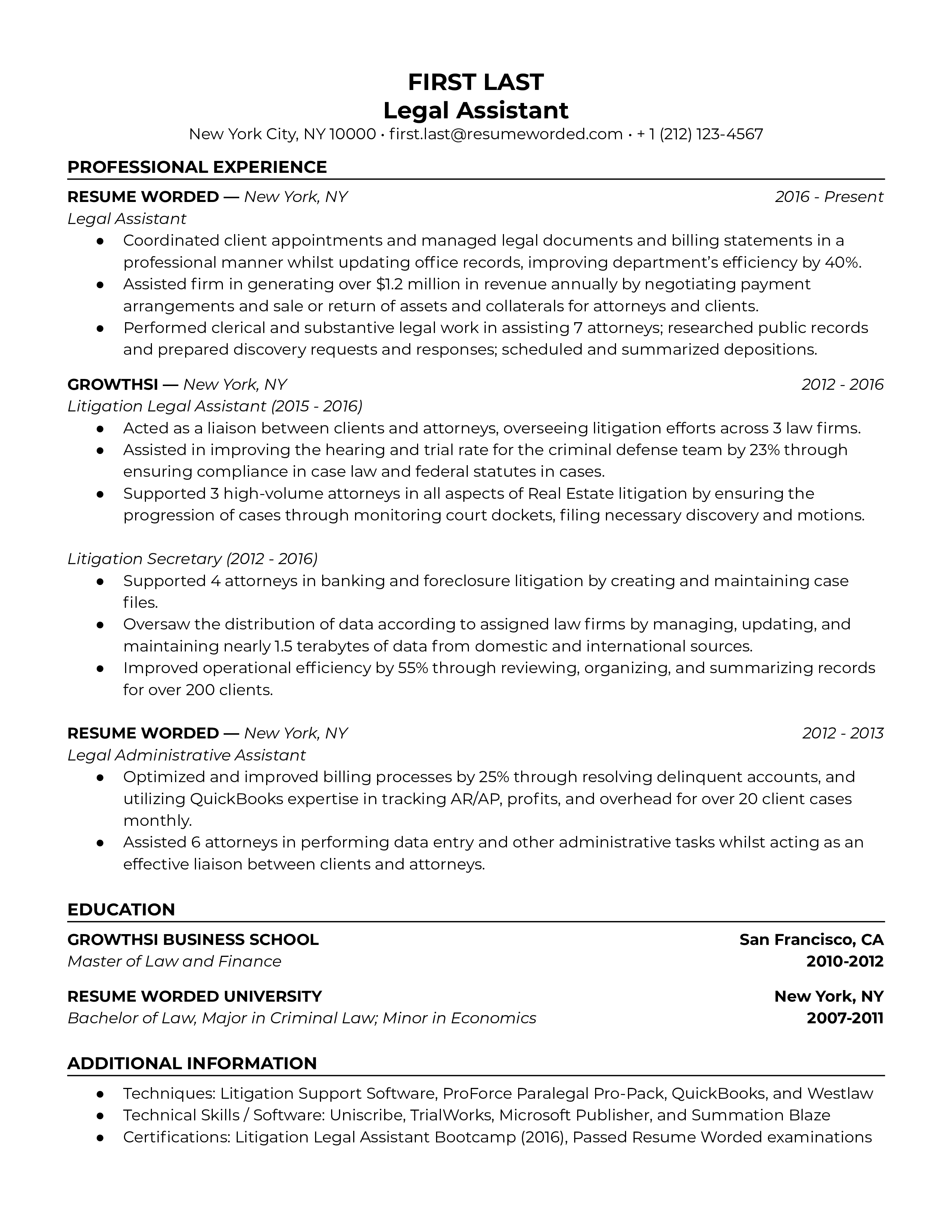 Why this resume works in 2021
Like the name implies, legal assistants are mainly tasked with assisting lawyers and other legal professionals in an office environment. Depending on your industry and firm, your role could include anything from organizing and filing documents to gathering evidence and assisting during trial. You'll need a high level of research and organizational skills, excellent communication, and the ability to take direction and work within a team.
Improve your Legal Assistant resume, instantly.
Use our free resume checker to get expert feedback on your resume. You will:
• Get a resume score compared to other Legal Assistant resumes in your industry.
• Fix all your resume's mistakes.
• Find the Legal Assistant skills your resume is missing.
It's instant, free and trusted by 1+ million job seekers globally. Get a better resume, guaranteed.
Upload your resume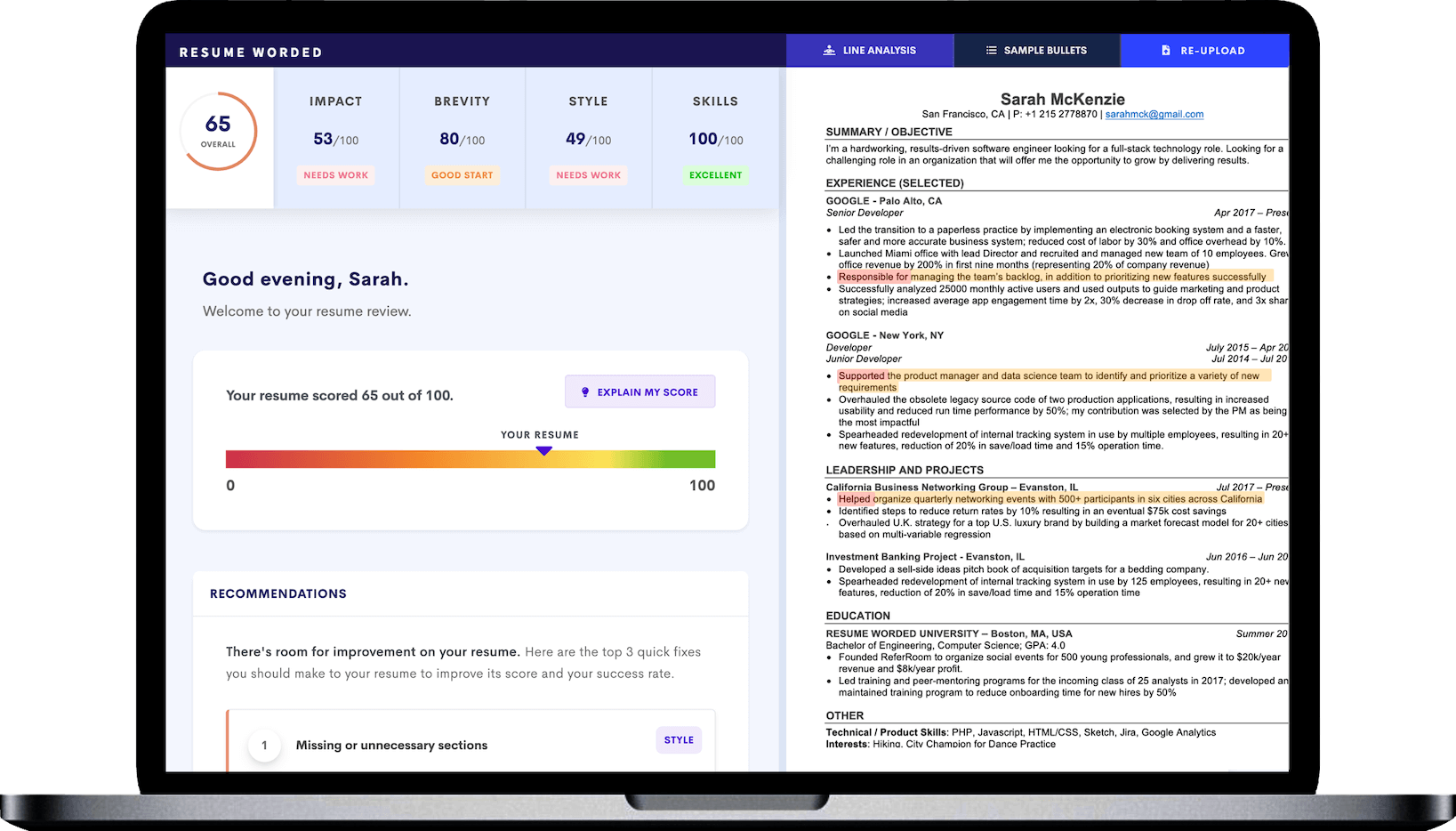 Entry Level Legal Assistant Resume Sample
Download Resume Template (Google Doc)
Download Resume in PDF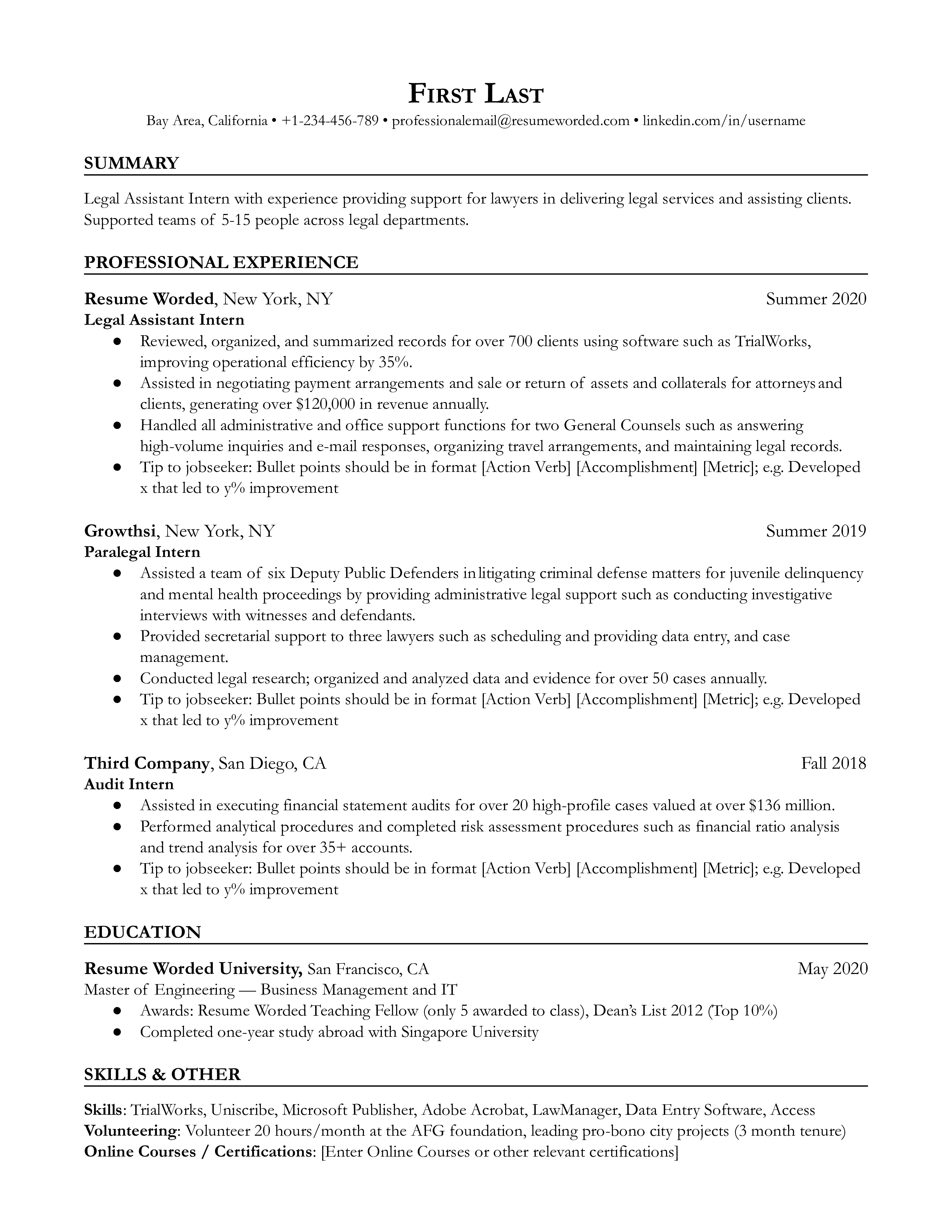 Why this resume works in 2021
You can apply for entry level legal assistant positions even without any legal qualifications or office administration experience, or transition to the field from other administrative roles. Employers will be looking for evidence of transferable skills as well as technical skills like data entry software and Microsoft Access. If you have experience as an intern or volunteer in a legal or related field, that can also strengthen your candidacy.
Skills For Legal Assistant Resumes
Legal Advice
Legal Research
Legal Writing
Litigation
Legal Document Preparation
Civil Litigation
Westlaw
Trials
Pleadings
Commercial Litigation
Personal Injury Law
Litigation Support
Corporate Law
Document Review
Legal Assistants
Mediation
Electronic Filing
Appeals
Paralegals
LexisNexis
How to use these skills?
As a legal assistant, office administrative skills are crucial. These include both soft and hard skills, but remember not to lump these together in your skills section. Technical skills like document drafting or CLA certification are hard skills that can be listed at the bottom of your resume. Transferable skills, on the other hand — things that are harder to demonstrate, like communication skills or time management — need to be highlighted through your accomplishments rather than stated outright.

To find out the exact skills hiring managers and ATS are screening for, always review the job description itself. From there, you can pull out the top skills the job is asking for. For more guided assistance, you can upload your resume to our Targeted Resume tool or browse our comprehensive list of legal assistant skills and keywords to ensure your resume lands on the top of the 'yes' pile.
Action Verbs For Legal Assistant Resumes
Supported
Coordinated
Organized
Proposed
Oversaw
Improved
Optimized
Reviewed
Conducted
Performed
Provided
Handled
Summarized
Prepared
Researched
Systemized
How to use these action verbs?
The work experience section of your resume should never read like a job description. Recruiters aren't interested in what duties you were assigned — they want to know what you accomplished in previous roles and what you're likely to achieve in this one. The easiest way of distinguishing between a duty and an accomplishment is by starting your bullet points with a strong resume action verb, which keeps the focus on what you actually did.

As a legal assistant, you'll be conducting research, preparing documents, and organizing legal documents. To emphasize your ability to do the job, choose action verbs that reflect what you'll actually be doing. Systemized and Organized highlight your attention to detail and organizational skills, while Supported, Assisted, and Coordinated emphasize your teamwork and communication.

For a full list of effective resume action verbs, visit Resume Action Verbs.