Improving your resume is always challenging. How do you know where to begin? You might have relevant experience and competitive skills, but you're still not seeing results. Where are you going wrong? And how can you improve your resume without it taking all day?
The answer is resume boosters: Simple tricks to improve your resume and make it stand out from the rest.
In this article, we'll explore 12 quick and easy ways to boost your resume, as well as long-term strategies to beef up your CV and common mistakes to avoid.
What are resume boosters?
Simply put, resume boosters are ways to make your existing resume more effective without having to start from scratch. Common resume boosters include:
Below, we discuss the top 12 ways to quickly enhance your resume, as well as long-term strategies to improve it over time.
Top 12 resume boosters that can improve your resume today
Updating your resume may seem daunting, but these 12 tips will help you spruce up your existing resume with just a few tweaks.
Tailor your resume
Gone are the days of sending the same resume to every job posting. Modern recruiters prefer to see experience directly related to their field to quickly assess if you're the right fit.
To tailor your resume, include only your most recent work experience in related fields and skills/qualifications directly relevant to the employer. Mirror the wording of the job description, use the job title in your resume header, and write a resume summary to highlight key accomplishments.
Once complete, run your resume through our Targeted Resume tool to compare your resume to the job description and receive tailored feedback on how to improve.
Stick to one page
To a recruiter, less is more. Keep your resume to one page by cherry-picking your most recent experience and removing any outdated or extraneous sections, such as hobbies, interests, or references.
Include keywords for ATS
Applicant Tracking Systems (ATS) are automated scanners that filter resumes depending on predetermined keyword criteria. If your resume doesn't include specific keywords, ATS might reject it before it gets into the hands of a recruiter.
To ensure this doesn't happen, use a keyword finder to scan the job description for essential keywords and make sure they appear at least once on your resume. If you're missing a crucial keyword, rephrase your work experience to include that skill, or consider investing in industry-specific training.
Use bullet points
As mentioned above, the less a recruiter has to read, the better. Instead of listing work experience in long-winded sentences, opt for short, snappy bullet points to describe your skills in a succinct manner.
Create strong power phrases
Use power phrases to create memorable, stand-out statements throughout your resume. A power phrase consists of a strong action verb, followed by a specific task/project you completed, and ends with a quantified result/metric. Follow the layout below to create your own power phrases.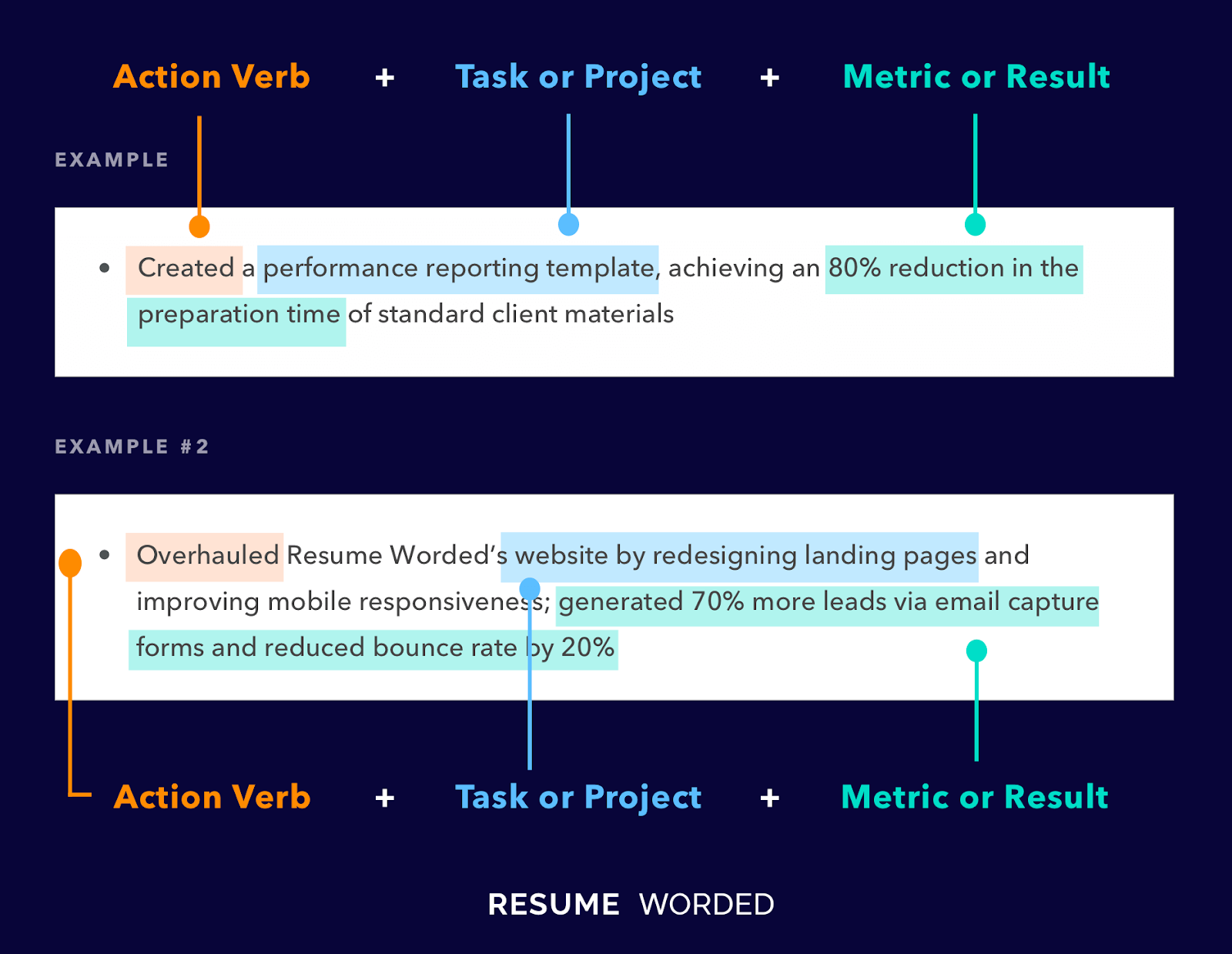 Quantify wherever possible
Whenever you list work experience, expand on your skills using quantified metrics such as numbers and percentages. This provides concrete proof of your skills and helps explain why your achievements are relevant.
For example, instead of saying that you "managed a team and oversaw successful projects," state that you "managed a team of 10 and oversaw 5 successful projects."
Promote hard skills over soft skills
Your resume skills section should include only hard skills. These are technical skills learned through work experience or education. Soft skills, like leadership or communication, should instead be exemplified through power phrases in your work experience section.
Highlight transferable skills
Even if your past experience is in a different field, you can always find transferable skills between industries. Consider the keywords related to the new position, and expand on how you used those specific skills in previous roles.
Update your tech proficiency
Tech skills are constantly evolving, and staying up-to-date with modern tools and platforms is a great way to boost your resume, especially for remote job opportunities. Remove outdated tech skills and list industry-specific software, like Trello, Teams, and Slack. Also, highlight any previous remote work experience to take advantage of the rise in remote work opportunities.
Remove outdated education
Remove any education older than 20 years, as it's likely not relevant to your current skills or work role. Highlight education completed in the last ten years, even if it's from a non-traditional learning platform. The one exception to this rule is a university degree, which is beneficial to include despite being outside the 20-year window.
Use a resume scanner
Once you have successfully updated your resume, upload it to a resume scanner to check that it includes all relevant details, is tailored to your application, contains the right keywords, and is optimized for ATS filters.
Top tip for career changers: Use non-work experience to highlight key skills
If you're struggling to list relevant work experience for a new career change, remember that you can use non-paid experience to highlight relevant skills. Volunteering, internships, freelance work, and community engagement can be a great way to showcase competitive skills when you lack traditional work experience.
Resume boosters that take a little longer but are a great investment for your resume
The above list of boosters are quick, easy fixes to enhance your resume, but investing a little time in education and alternate resume formats can significantly improve your application and set you up for future success.
Create an online resume
Online resume platforms like LinkedIn are highly beneficial for a modern job search. Follow these tips and tricks to optimize your resume for online platforms, and remember to update your online resume every time you update your regular resume.
Pursue further education
If you're missing specific keywords or skills for an application, consider online or formal training to enhance your resume. Online platforms such as Coursera and Google Career Certificates provide affordable online training that can quickly boost your resume with competitive new skills.
Volunteer work or internships
If you're considering a career change and are looking for relevant experience, volunteer work and internships can provide great experience to add to your resume and showcase your dedication to your new field.
Create an online portfolio
Especially useful for creative roles, an online portfolio is a great way to showcase past work and beef up your resume. Creating a portfolio can take some time, but online platforms such as WordPress, Squarespace, and Wix offer free professionally hosted portfolios that make the whole process quick and easy.
Learn a new language
With the rise in remote work opportunities and an increasingly globalized workforce, being bilingual can significantly boost any resume. Even if you're only a beginner, include a second language on your resume and state that you are "conversational" or "beginner".
Common mistakes to avoid when improving your resume
Before you submit your resume to your next application, double-check for these common mistakes:
Over-relying on buzzwords
Buzzwords are overused, cliched words such as 'hard-working', 'self-motivated', or 'team player' that take up space without adding any detail to your statements or experience. Swap out any buzzwords for action verbs to make your resume more engaging and less generic.
Neglecting the top sections of your resume
The top sections of your resume, such as your header, contact info, and summary, may seem redundant, but they're the first things a recruiter reads. Optimize your contact information for a modern recruiter by replacing your full street address with an email address and including a link to an online resume or portfolio. Use a tailored job title in your header, and replace your resume objective with an optimized resume summary highlighting your most notable achievements.
Exaggerating
We all want to put our best foot forward, but don't make the mistake of exaggerating your experience. Be prepared to be questioned in an interview about anything you write on your resume, and make sure you can back up your claims with actual experience.
Including references
Including references on your resume is an outdated practice. These days, if a recruiter is interested in your references, they will reach out and ask. Listing references takes up unnecessary space and could be seen as unprofessional.
Neglecting proper layout and formatting
Fancy resume templates may look exciting, but using graphs, images, graphics, and colors makes your resume harder to read for recruiters and ATS filters. Stick to a one or two-column layout, standard font choices, and Word or PDF file format. Better yet, use a resume template when crafting your resume to ensure you are using optimal formatting.
Using a one-size-fits-all resume
As mentioned above, sending the same resume to multiple applications actually reduces your chances of success. Though it may seem like more work to tailor your resume for every job posting, using a quick online scanner can help you update your resume each time, and a little work upfront can significantly improve your application's success.