When it comes to building your resume, there's a lot of information out there on what you should and shouldn't include. To make things even more complicated, a lot of resume advice still being passed around is based on outdated hiring practices. So, how necessary is it to add an address to your resume in 2023?
Should you add your address to your resume?
The short answer is: No, you don't need to add an address to your resume.
In today's workforce, most communication is done via email or phone. This makes the need for a full address outdated. Instead, you should list a general location on your resume.
If you're wondering what else, like your address, should be added or left off your resume, upload it to the tool below — it'll scan your resume and tell you what's missing and what needs to be included.
Listing an address on your resume: Pros & Cons
Pros
There are still some potential benefits to listing an address — or at least a general location — on your resume:
It's the workplace standard. If left off, it risks raising red flags. More traditional companies and older hiring managers in particular may expect to see it, so if applying to one of these companies, consider keeping your full address on your resume.
It's used by Applicant Tracking Systems (ATS). ATS filters use the listed location to filter out non-local applicants.
It affects the company. Even if a job is remote, some companies may still want employees to be available for in-person meetings or events. Different states also have different employment laws, which means companies may only be hiring applicants based in certain regions.
It shows that you're local. This can be matter to employers who are worried about the effects of a long commute, or where local knowledge is a plus.
Cons
On the flip side, here's why not to add your address to your resume:
It's outdated. Companies no longer need this information to contact you — your email and phone number are sufficient.
It's unnecessary. This is especially true if you're applying for remote positions. By not including your full address, you now have additional space to add in an extra line or two of information that highlights your skills.
Location bias. It's unlikely, but a full address creates the possibility for a hiring manager's potential bias against an area or zip code to hurt your chances of landing the job. It also helps to leave your location off your resume if you aren't local or want to avoid concerns about a long commute.
Privacy. If you have a reason to maintain your privacy, then feel free to leave your address off your resume.
Safety concerns. Once your resume is sent out, you lose control over who can and can't view it. This goes double for resumes posted publicly on job boards like Indeed, or if the job posting leaves you questioning its authenticity. If it seems sketchy, the last thing you want is your personal information falling into the wrong hands. Here are some tips on finding legitimate job board websites.
How to add your address to your resume
Formatting a resume is almost as important as the information you provide. Here's what you need to know:
Don't list your full address.
List your general location — city, state, or geographic region are all fine.
Include your location in your resume header along with relevant contact information such as phone number, email, and LinkedIn profile.
If you're planning on relocating, list your location as the city you're moving to.
If you're working remotely, list your home address or 'Remote.'
Keep your location updated on LinkedIn – especially if you're currently job searching.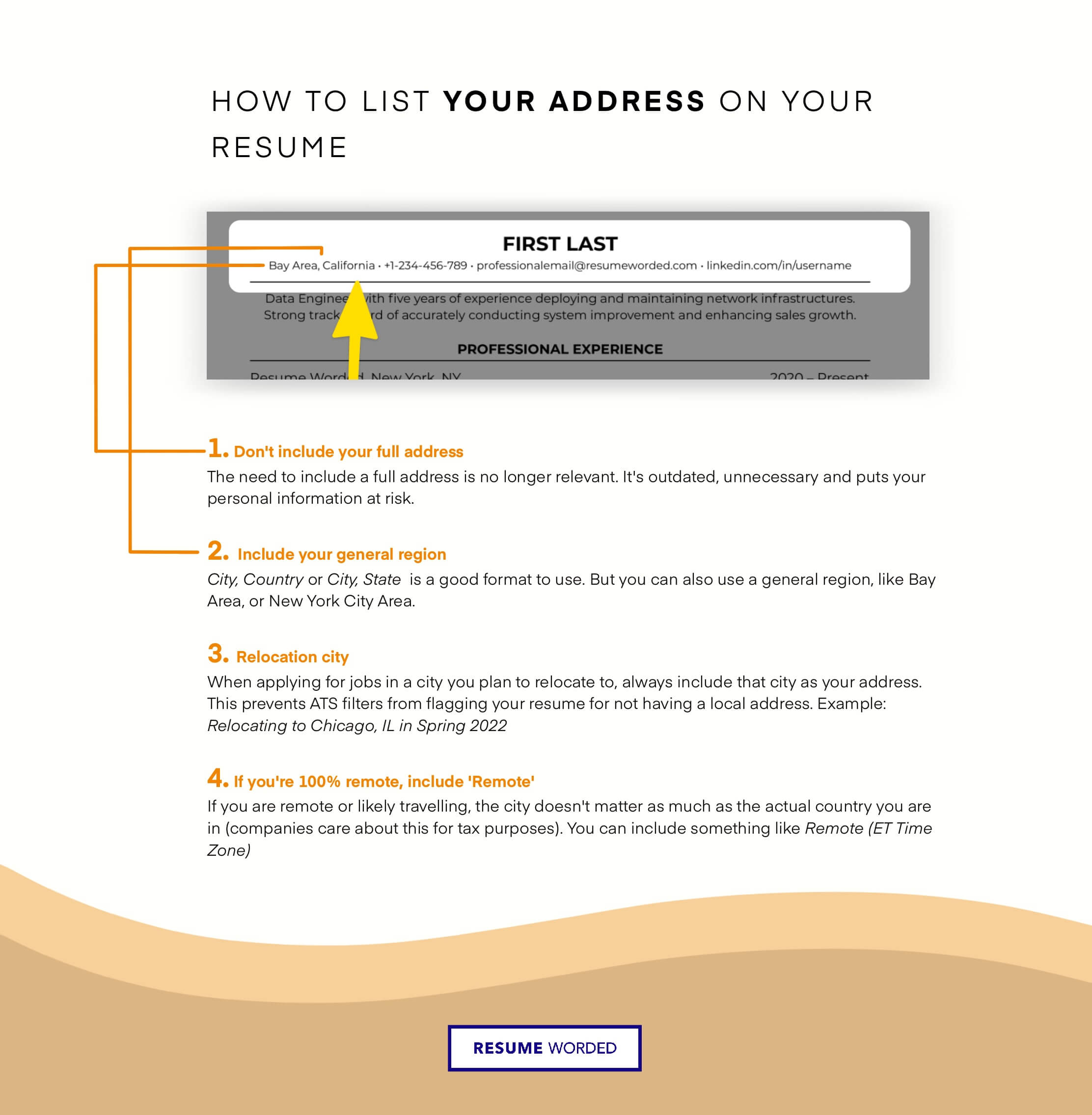 Tips for formatting your address
There are several variations of how you can format your address. Here are a few to help you get started.
City, state. This is the most common way of formatting an address on your resume.
San Francisco, CA
City, country. This format is also fine, especially if you're applying for jobs outside the United States.
Wilmington, USA
Geographic region. For jobs in the United States, you can place your general geographic region. This is less standard but works just fine.
Chicagoland Area
Zip Code or full address. The workforce might be trending away from this, but it is still perfectly normal to include it.
555 Main Street, Anywhere, AR 00000
How to list your address if you're relocating
When applying for jobs in a city you plan to relocate to, always include that city as your address. This prevents ATS filters from flagging your resume for not having a local address.
Option 1: Mention that you're relocating and include an expected timeframe.
Relocating to Chicago, IL in Spring 2023
Option 2: List your location as the city you're moving to without mentioning where you currently live.
Chicago, IL
How to list your address if you work remotely
Whether you need to list your location when you're working remotely will vary according to the company. If you're not sure, check the job listing — if a location is specified, or if there's a list of locations where employees should be based, always include your address.
To include your address: List the location where you live or are mostly based (your residential home for tax purposes).
New York, NY
To omit your address: If you travel a lot or otherwise prefer to leave your address off your resume, list 'Remote' along with your time zone.
Remote (ET time zone)
What other information to include in your resume header
Along with your address, there are a few other pieces of information you should include in your resume header.
Let's break down what to include, what is optional, what you should leave off.
Here's what to include:
Full Name
Phone Number
Email Address
These items are aimed at providing prospective employers with the best ways to contact you.
Here's what you can include, but don't have to:
LinkedIn Profile
Portfolio Or Professional Website
Job Title
While not necessary, these items allow prospective employers an additional look at any skills you might bring to the table.
Here's what to leave off:
Full Street Address
Personal Details– birth date, marital status, gender
Social Media Links– Twitter, Facebook
Photo
Multiple Phone Numbers Or Email Addresses
These items open the door to possible discrimination. In the case of multiple phone numbers or email addresses, it might cause confusion as to which is the best way to contact you.
How to list your location on LinkedIn
In 2023 and beyond, job seekers can expect to find more opportunities for remote work and job leads from LinkedIn. Keep the previous information in mind when searching for these roles or updating your LinkedIn profile.
Use the LinkedIn Optimization tool to ensure your location is up to date on the platform.
Key takeaways
In today's workforce, including your full address on your resume is no longer necessary. However, including a general location on your resume provides an added boost to your job search.
To further enhance your resume, check out the free tool, Score My Resume, which scans your resume and provides feedback on how to improve it.