The past two years have seen a surge in work from home positions. More employers than ever are offering fully remote or hybrid opportunities, including positions that were previously on-site. It's no surprise that job seekers are overwhelmingly looking for work from home jobs — so if that's you, know that you aren't alone.
But just because those jobs are out there, it doesn't mean they're easy to find. If you're looking to land the right work from home position, we've got the inside scoop on key skills, sample bullet points, and more tips on how to write the perfect work from home resume.
How to write a resume if you want a work from home job
Here's our step by step guide to landing your ideal work from home position:
Look for remote positions on job boards that cater specifically to people looking for work from home opportunities (see our list below).
Use filters on larger job sites to narrow your search down to companies or positions that allow remote work.
Highlight transferable work from home skills through your bullet point accomplishments.
Include specific technical skills in your skills section that will help you work from home.
Emphasize your ability to work from home effectively by including examples of past remote work accomplishments.
Specify in your resume header or summary that you're looking for remote work.
Find out how your resume scores on key work from home skills by uploading it to a free resume checker.
Be prepared to discuss what working from home would look like for you during the interview stage.
Get the details of any offer in writing — including specific conditions like working from home.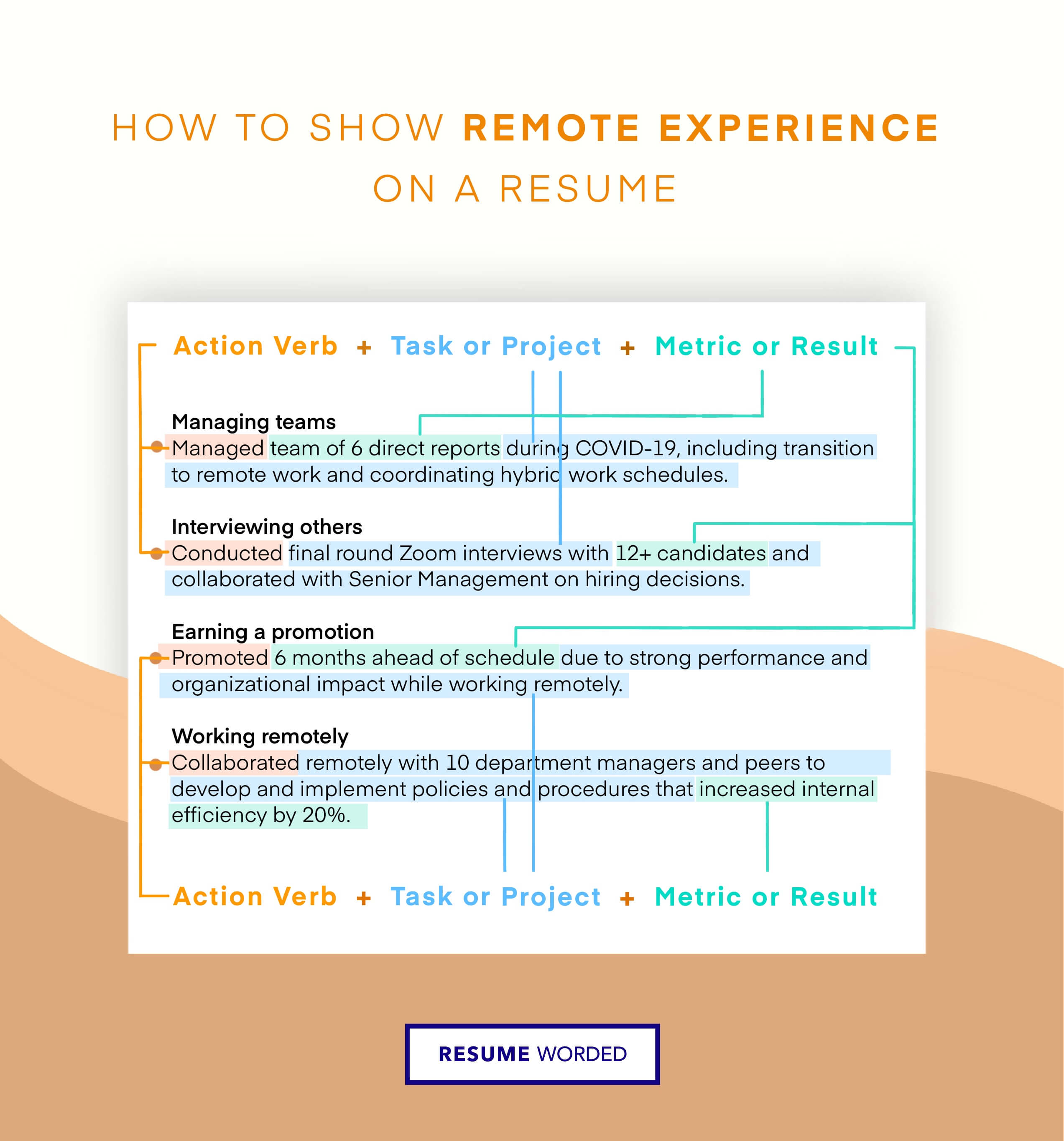 Sample work from home resume
Want to skip the fuss and dive right in? Here's a sample work from home resume that you can adapt as needed.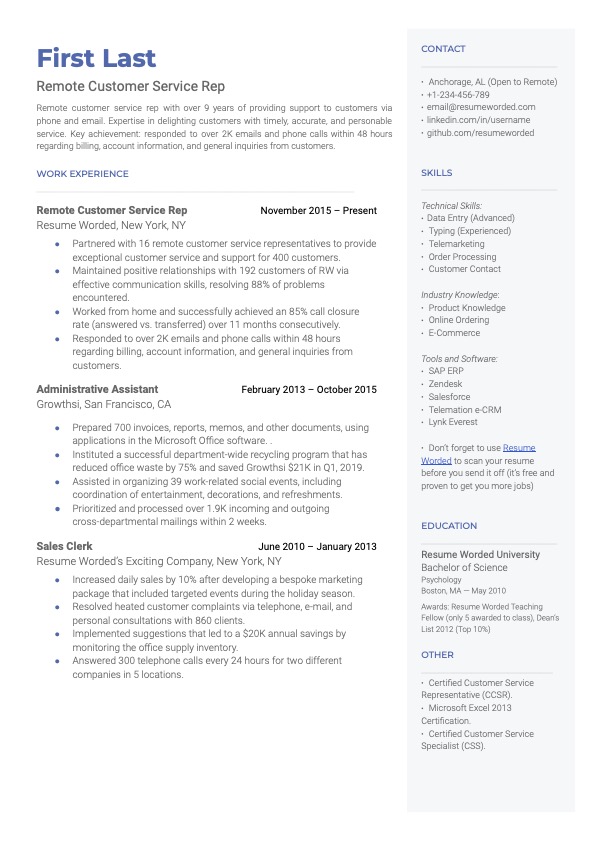 The key features of this resume are:
A modern, professional-looking layout
Basic contact information including your name, location, phone number, email, and LinkedIn
A resume title and summary stating that you're interested in remote positions
Focus on your relevant work experience and remote work accomplishments
Brief sections to list your skills, education, and other relevant qualifications
You can download this resume — and hundreds more — from our ATS resume templates page.
How to find a work from home job
The best work from home jobs
Some jobs are easier to do remotely than others. If you're just starting out (or looking to change careers), consider applying for jobs that lend themselves to working from home, like:
Online customer service
Telemarketing
Virtual assistant
Data entry
Audio transcription
Graphic design
Copywriting
Tech support
Digital marketing
Online tutoring or teaching English as a second language
Content creation
Remote job boards
While the larger job sites usually have options to filter for remote work, these aren't 100% reliable. For the biggest range of work from home options, search remote-focused job boards. Some of the best ones include:
Essential work from home resume skills
The types of skills recruiters are looking for in work from home job applicants can be divided into two types: soft skills and hard skills. Soft skills (or transferable skills) are personal qualities, while hard skills (or technical) skills are more objective things like software, languages, etc.
Soft skills for work from home jobs
Transferable skills are the deciding factor when it comes to succeeding in a work from home position. Your resume should emphasize soft skills like:
Flexibility and adaptability
Organization
Discipline
Multitasking
Project management
Scheduling
Resourcefulness
Decision making
Tech savviness
Ability to work independently
Since these are all soft skills, don't list them in your resume skills section. Instead, choose examples of accomplishments that illustrate these skills. Bonus points if you can point to previous examples of successfully working from home.
Hard skills for your work from home resume
Because of the nature of remote work, employers will be looking for candidates who are tech-savvy and can hit the ground running. Your resume skills section can be used to list technical skills like:
Zoom
Microsoft Teams
Slack
Asana
InVision
Trello
GitHub
Notion
Basecamp
Loom
Screen sharing software
Cloud storage
Other project management, digital collaboration, or workflow management tools
If you need help finding technical skills relevant to the remote job you're applying for, browse our database of resume hard skills & keywords or use the tool below.
More tips for landing a work from home job
Whether you're new to the workforce, changing careers, or looking to transition from in-office to remote work, here are some of the best tips for landing the perfect work from home position:
Browse remote job boards and apply for work from home positions.
Mention in your resume header or summary that you're looking to work remotely.
List previous remote work experience prominently in your bullet point accomplishments.
Discuss work from home options during the hiring process — and always get it in writing.
Make sure your resume is as polished as possible — appearing scrupulously professional can help reassure hiring managers that you'll put the "work" into work from home.
Apply for work from home positions
This is the most obvious one. You can focus your search on remote-only job boards (keep scrolling for links to some of our favorites) or use search filters on more general job sites to look for positions that allow remote work.
Mention remote work in your resume header
If you're also applying to office-based or hybrid positions but are open to working from home, you can explicitly mention it in your header or resume summary. This is optional — if you're only applying for remote positions, hiring managers will assume you're open to working from home even if you don't say so in your resume.
List work from home experience on a resume
Previous experience working from home isn't always a must-have for landing a remote position, but it's definitely a plus. If you're looking for remote work, listing past work from home jobs is a great way to signal that you can work effectively and get results even when you're not in the office.
We have a detailed guide on how to list remote work on a resume, including resume examples and tips for emphasizing remote work.
Discuss working from home during the hiring process
Having a direct conversation about working from home during an interview is a must, even if the position was advertised as remote-only. It's not unheard of for companies to change their minds about offering remote work, or for a hiring manager to disagree with overall company policy, so always confirm that you can work 100% from home if that's a deal breaker for you.
Feedback for the perfect work from home resume
If you want to find out how your resume scores on key work from home skills, upload it to the tool below — It'll scan your resume and let you know if you've shown enough relevant accomplishments and transferable skills.
Examples of work from home resume bullet points
Ready to write the resume that's going to land you your next work from home job? Here are some bullet point examples from real resumes that showcase essential work from home skills.
Handled 80+ calls daily while working remotely, with duties including signing up new customers, retrieving customer data, presenting product information, and canceling services.
The biggest hesitation most recruiters have with remote work is employee productivity. Put any lingering concerns to rest by including metrics that prove you can be productive while working from home.
Collaborated remotely with 10 department managers and peers to develop and implement policies and procedures that increased internal efficiency by 20%.
Remote work can mean missing out on essential face-to-face interaction. To counter this, include a bullet point about how you've managed to stay in touch while working from home.
Led application design sessions with client teams via Zoom on 20+ projects to develop functional and technical requirements.
If your job involves a lot of collaboration, point to accomplishments that show how you've effectively worked with clients or as part of a team by using remote collaboration tools like Zoom, Slack, or Teams.
Led digital initiatives, including implementation of e-mail platform and digital on-boarding to save $1M annually.
If you're applying for a job at a company that's looking to grow its remote capabilities, include accomplishments that demonstrate your ability to lead digital initiatives. For maximum impact, add metrics that show how effective these initiatives were in generating income or saving money.
Recognized in top 3% of company's workforce for use of Salesforce to track activities.
If you'll be using a specific tool or software, include it in your bullet point accomplishments as well as listing it in your skills section.
Managed team of 6 direct reports during COVID-19, including transition to remote work and coordinating hybrid work schedules.
If you'll be working in a more senior position where you'll be responsible for managing others, try to choose accomplishments that show your ability to lead a team — especially remotely.
Managed mixed teams of hybrid and fully remote employees dedicated to SEO marketing, data management, and content strategy; improved employee retention by 87%.
Really want to showcase effective leadership? Add metrics that can speak to employee satisfaction, productivity, or retention.