The term ATS gets thrown around a lot lately. Whether it's a new report finding that over 98% of Fortune 500 companies use ATS or advice on how to beat resume scanners, navigating the world of AI-powered resume technology can be pretty daunting. How much of it is true? Are there any companies that don't use ATS? And will your resume ever end up in the hands of a real person?
Keep reading for answers to all those questions, plus:
A quick breakdown of how applicant tracking systems work
Easy-to-follow advice on how to make your resume ATS-friendly
Examples of ATS-friendly resumes + free resume templates
A way to test your resume against applicant tracking systems for free
Let's start with a brief overview of what ATS are and how they work.
What is an ATS?
ATS stands for Applicant Tracking System(s). These are automated, AI-based resume screening programs that scan your resume for specific keywords and — in theory — immediately reject any resumes that don't match.
How do ATS work?
ATS aren't fully automated. They need to be programmed by a real person first — someone who decides which keywords are absolutely essential to the role. Those keywords are entered into the ATS, which then scans every resume to see if it appears.
Exactly how the software works will vary depending on exactly which ATS program is used — some of the most common ones include Workday, Taleo, SuccessFactors, IBM BrassRing, and iCIMS. Common features include:
Scanning job titles, resume sections, and bullet points for specific keywords
Binary filtering — for example, sorting resumes into "yes" or "no" piles
Scoring resumes by a percentage match
Ranking candidates according to how well their resume matches set criteria
Why do companies use ATS?
Employers use ATS because they save time. Instead of the hiring manager needing to read hundreds of resumes, they can use ATS to narrow down the field to only those candidates with the right qualifications, skills, or experience. Especially when there's high turnover or recruiters are already busy, companies that use ATS have decided that risking a few incorrect rejections is worth the amount of time and effort they save.
Why do you need an ATS-friendly resume?
Making sure your resume is ATS-friendly can prevent it from slipping through the cracks — which can happen even if you're perfectly qualified. ATS aren't 100% accurate — they may miss a keyword match if you used an abbreviation, acronym, or variant spelling. ATS can also have trouble reading certain types of resume layouts, fonts, and file formats, which we'll explain in more detail later.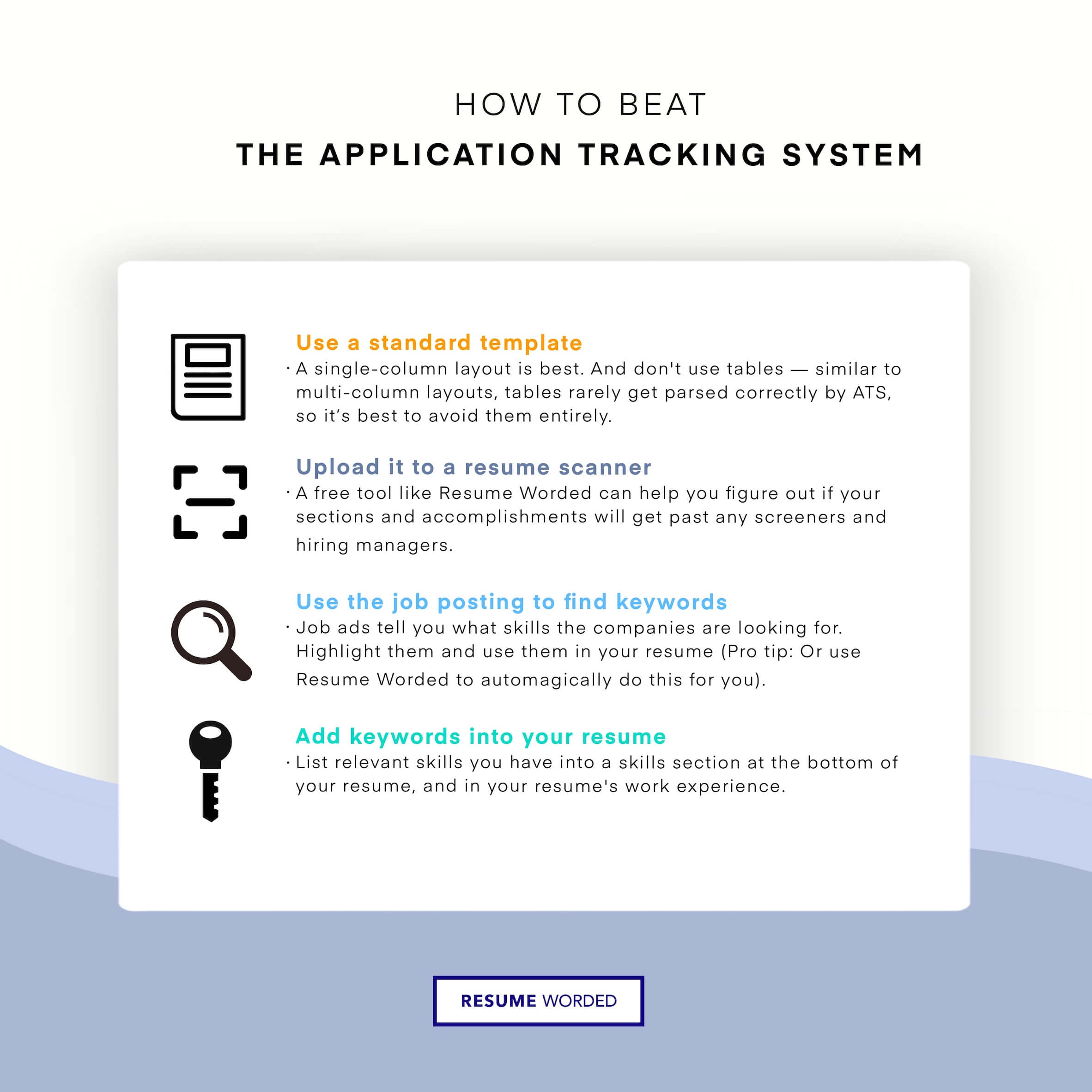 How to pass ATS
The good news is, you can use ATS to your advantage simply by optimizing your resume. Here's how:
Tailor your resume. This is always good advice, but it's essential if you want to bypass ATS. Use keywords from the "must haves" section of the job posting, search for essential skills for specific industries or job titles, and get feedback on how well your resume matches the job description with our Targeted Resume tool.
Spell out acronyms and abbreviations. Try to use the long-form version of keywords as well as common acronyms and abbreviations — for example, "R&D," "research and development," and "researcher."
Use keywords naturally. Never keyword stuff or use resume "hacks" like pasting the entire job description in white text. There's no point in getting your resume past the Applicant Tracking System only to get rejected by a real person because it sounds like gibberish.
Format your resume in reverse chronological order. This means your most recent job should always be at the top of your resume and older positions should be at the bottom. Never use a functional or skills-based resume to hide resume gaps or a lack of experience.
Choose a simple resume layout. Avoid fancy formatting, images, tables, infographics, and multi-column layouts. Keep scrolling for specific formatting tips and to see some examples of ATS-friendly resumes.
Use an applicant tracking system resume check. This doesn't have to mean spending hundreds on a professional resume service — check out our free resume checker, Score My Resume, to get a sneak peek of how ATS view your resume. (See if you can score over 80%, which is ideal for most applicant tracking systems.)
Examples of ATS-friendly resumes
Here's an example of a resume that's optimized for ATS:
This resume works for Applicant Tracking Systems because it:
Uses relevant keywords in the resume title, summary, and job titles. These will all help your resume get past applicant tracking systems — and impress the hiring manager afterward.
Has a simple but visually appealing layout. Clear section headings, line breaks, and bold job titles make it for ATS to find important information, and plenty of white space means that recruiters can easily skim it, too.
Uses a common, easy-to-read font (Montserrat). This is a default font, which means your formatting will remain intact no matter what program is used.
Focuses mainly on work experience, which is what ATS look at first. Other sections, like education, are much smaller and further down the page.
Includes numbers. Being explicit about how many people you led, how much time you saved, how much revenue you generated, etc. makes it easy for ATS and hiring managers to see what you accomplished at a glance.
Lists relevant hard skills. Choose no more than 10-15 specific tools, frameworks, software programs, programming languages, certifications, foreign languages, etc. and list them clearly at the end of your resume for an extra keyword boost. If you're not sure which hard skills and keywords to include, use the tool below to find relevant ones.
If you're worried about formatting a resume for ATS — or you just don't want to spend forever choosing the right font and margin size — you can download this template and dozens of others from our ATS resume templates page.
The best resume format for Applicant Tracking Systems
You want your resume to look good and stand out — but not at the risk of being rejected by ATS software. Here are some essential do's and don'ts of ATS-friendly resume formatting to keep in mind:
DO:
List your jobs in reserve chronological order with clear dates of employment
Include your actual job title(s)
If you've never held a job with the same title as the one you're applying to, include a resume title or clarify non-standard job titles in parentheses
Use standard section headings, like "Work Experience," Education," and "Skills."
Choose a simple, single-column resume layout.
Stick to a standard font, like Arial, Calibri, Georgia, or Verdana.
Trust the default settings for fonts, margins, line spacing, etc.
Create your resume in Microsoft Word or Google Docs
Save your resume as a PDF (unless the application instructions state otherwise)
DON'T:
Use a functional or skills-based resume
Change your job title to one that sounds better or is a closer match
Use creative section headings, like "My Background" or "All About Me."
Use a complicated multi-column layout — these can sometimes confuse ATS.
Include photos, images, graphics, tables, or downloaded fonts.
Experiment with the formatting. Too-big or too-small margins, font sizes, or line spacing can all interfere with how easily ATS — and human recruiters — can read your resume.
Use a fancy resume builder — these often export your resume in a way that ATS can't scan
Save your resume as a JPG or other image-based file format