The past couple of years have seen more changes in the job market than ever before. The result has been more opportunities than ever for a lot of job seekers — and, of course, the need to update your resume to take advantage of them. Luckily, that doesn't mean you need to start from scratch! In this guide, we've compiled a list of 22 actionable tips for writing a resume in 2022, including information on up-to-date trends and what hiring managers are really looking for.
The trend in 2022: Remote work
The past year has seen more positions than ever going fully remote. Companies have begun to embrace working from home on an unprecedented scale, with some giving up their physical offices entirely. So, what does that mean for you?
Resume tip: Search for remote work opportunities
For starters, it means that if you're looking for a remote or flexible position, you're not alone. For the first time in recent history, the balance of power has begun to shift in favor of job seekers, which means it's entirely possible to find an arrangement that works for you. Try searching on remote job boards like remoteok.com or remote.io, filtering for remote jobs on larger job search websites, or — if your position is highly in demand — negotiating for flexible working arrangements during the hiring process.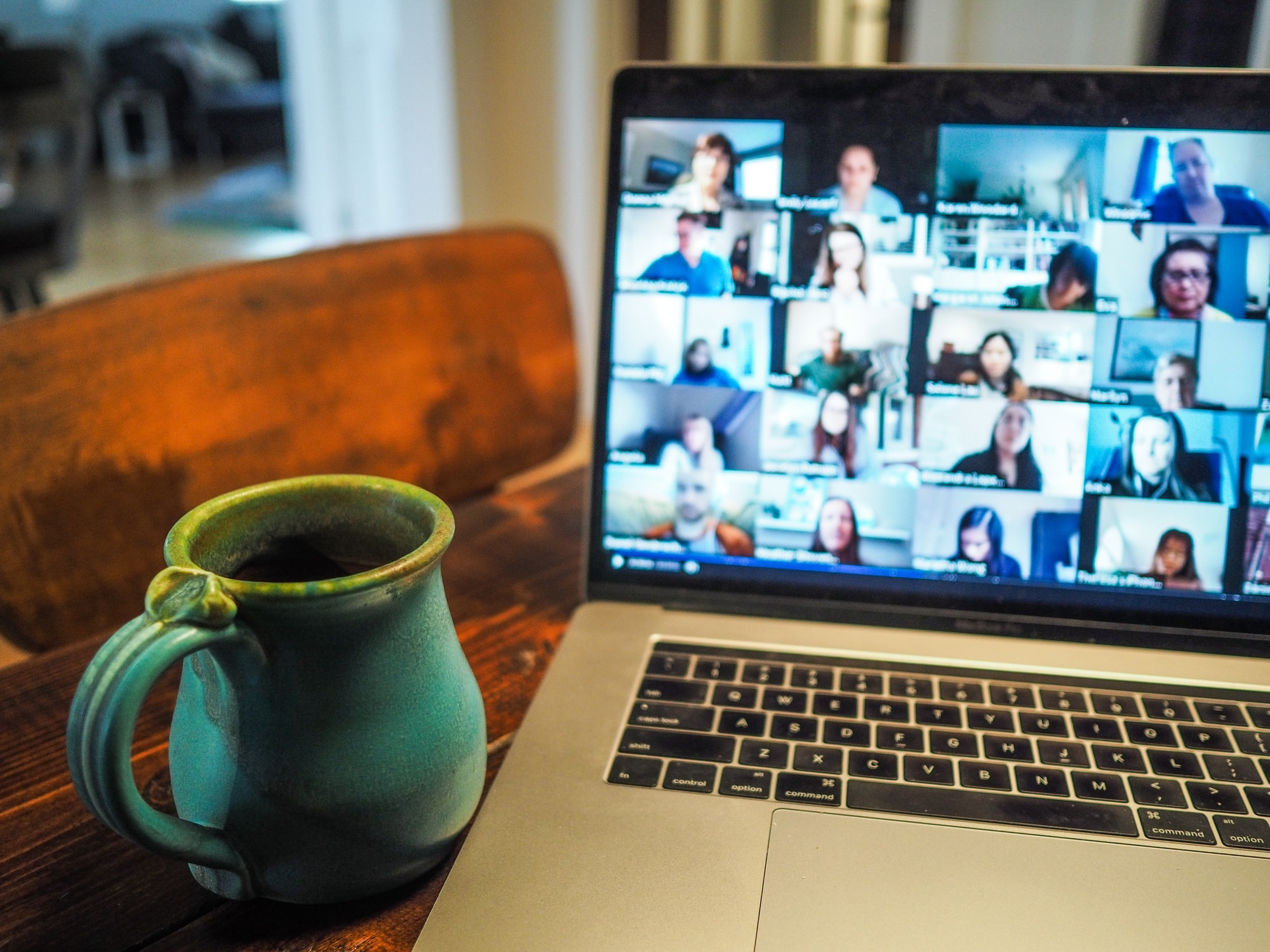 Resume tip: Highlight remote work accomplishments
The switch to remote work hasn't always gone smoothly. No longer able to rely on in-person management methods, some employers have struggled with the change — which means there's a real market for people with remote management experience. If you're applying for a company that offers remote work — whether your position is in-person or not — make sure to highlight accomplishments related to managing employees or teams remotely, since it's a skill set many employers are finding themselves desperately in need of.
Let's look at a few examples of resume bullet points that could highlight remote work accomplishments:
Managed a remote, 5-member cross-functional (product, engineering, sales, support) team and coordinated with six senior business partners toward the successful launch of an e-commerce platform
Identified, assessed and onboarded 12 mid-level remote employees in <6 months
Led over 12 software sales pilots remotely, generating $500K+ total revenue in license and consulting service fees in 2020-21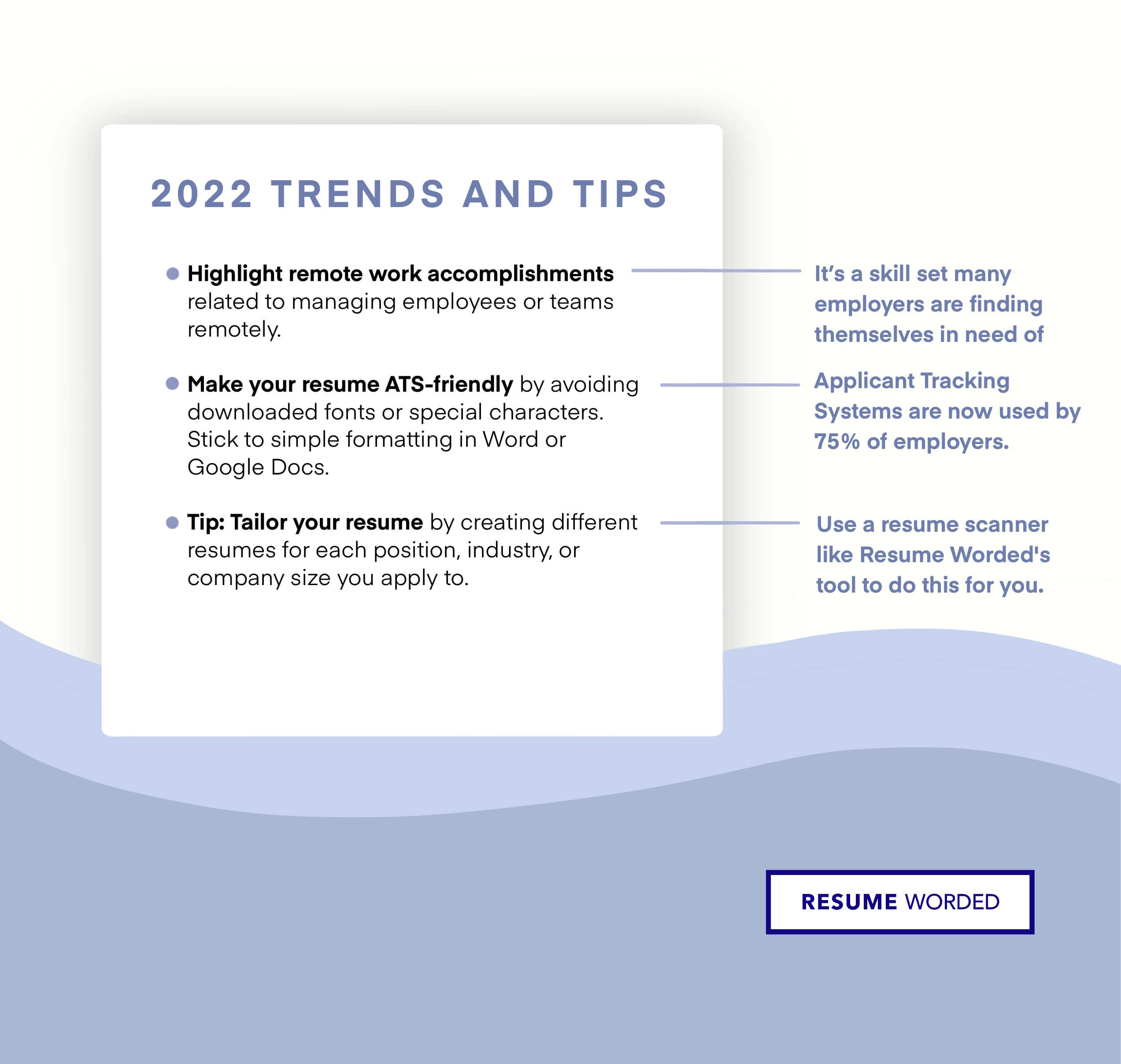 The trend in 2022: Applicant Tracking Systems
Applicant Tracking systems (ATS) are here to stay in 2022, with 75% of employers now using ATS to partially automate the hiring process. This means it's more important than ever in 2022 to make sure your resume is reader-friendly — whether that reader is a human or a machine.
Resume tip: Use relevant keywords
ATS are programmed to scan your resume for important keywords, so make sure they're in there! You can read the job ad carefully to point you in the right direction, browse for common skills and keywords by industry and job title, or use our job description keyword finder to automatically generate keywords based on the job posting.
Resume tip: Make your resume ATS-friendly
ATS aren't foolproof, which means there are some things you want to avoid. Don't use downloaded fonts or special characters, stick to simple formatting in Word or Google Docs (or download a free ATS-ready resume template), and always save your resume as a pdf unless the application instructions specify otherwise. For more detailed tips, read our guide on how to beat ATS.
Resume tip: Update your social media profiles
The newest trend in ATS software is the ability to automatically pull information from your online profiles and social media presence, including sites like LinkedIn, GitHub, and Twitter. To avoid conflicting information or red flags, make sure these profiles are up to date, that they broadly match the information in your resume, and that they don't contain any content that risks casting you in a bad light to a potential employer.
The trend in 2022: Targeted resumes
Gone are the days when you could have a single resume for every job you applied to. Now, the expectation is that you'll have tailored your resume to the specific job you're applying for.
Resume tip: Tailor your resume
What does that mean in practice? While your experience may remain the same no matter what job you're applying for, your resume shouldn't. This could mean anything from switching out what skills you list in your skills section to listing your accomplishments in a different order, or even leaving off jobs altogether if you're changing careers and they're no longer relevant. The easiest way to tailor your resume to a position is to use a resume keyword scanner to identify skills missing on your resume.
For even more tips, read our in-depth guide to writing a targeted resume.
Resume tip: Include a title and resume summary
A resume title that mirrors the exact title of the job you're applying for won't just help you get past ATS, it'll also signal to a hiring manager that you're a good fit for this job in particular. Including a resume summary is taking things one step further — while resume summaries aren't necessary in all situations, they're a good idea if you're changing careers or otherwise want to highlight something that isn't immediately obvious from the body of your resume.
Resume tip: Write a cover letter
Cover letters are becoming less common, but aren't going anywhere in 2022.
You should always write one if the job posting asks for it (for that matter, you should always follow the instructions in the job ad, regardless of whether you'd normally do those things), but including a cover letter is usually never a bad idea (that said, including a bad cover letter is a terrible idea — so make sure to always put effort into your letter!).
Worst case scenario, it doesn't matter one way or another; best case scenario, it convinces a recruiter to give you a shot when they might otherwise have thrown your resume in the trash pile. Not sure where to begin? We have sample cover letters to get you started.
The trend in 2022: Simple formatting
We've known for a while that recruiters only spend a few minutes (at best!) scanning your resume, which means that making your resume easy to skim should be one of your top priorities in 2022.
Resume tip: Use a chronological resume format
By now, hiring managers have seen every trick in the book, including the functional resume fad. Leaving important information — like dates or job titles — off your resume is never a good idea and is more likely to make recruiters wonder what you're trying to hide. Instead, list your jobs in reverse chronological order, with your current or most recent job at the top. If you have a compelling reason for it, you can separate your work history into a 'Relevant Experience' and 'Other Experience' section, but every job should have your job title, company, and dates of employment clearly listed.
In other words, your work experience section should almost always be at the top of your resume, and less important sections (like skills, projects, and other information) at the bottom. There are exceptions to this rule — if you're a current student or recent graduate, you can list your education section first, and if you're changing careers, you can prioritize relevant experience or more recent qualifications.
Resume tip: Use white space
Ever heard the expression "less is more"? It applies to your resume, too. White space, or negative space, refers to the parts of a page that aren't covered in text, and it's more important than you think. Limiting your resume to 1-2 pages, using standard margins and font sizes, and leaving extra space between different sections of your resume can all make your resume easier for recruiters to skim and help the most important information stand out.
Resume tip: Polish your resume
With so many options for spell checking your resume in 2022, there's no excuse for typos. Always thoroughly proofread your resume — rightly or not, even a single mistake could cause a recruiter to move on to other candidates. If you don't want to leave anything to chance, you can use a free resume checker to evaluate your resume and give you suggestions on areas you can improve before you hit "submit."
The trend in 2022: Focus on accomplishments
If you're still listing duties or responsibilities on your resume in 2022, it's time to put an end to that. Potential employers want to know what you're likely to achieve in the job they're hiring for, and the best way to do that is to look at what you've accomplished in similar roles in the past.
Resume tip: Use bullet points
The accomplishments you list under each job should always be in bullet point format — no exceptions. Choose accomplishments that reflect the duties mentioned in the job description, or use a resume bullet point builder to do it for you. Aim for 3-6 bullet points for more recent jobs, or 1-2 for older positions.
Resume tip: Start with an action verb
The most reliable way to keep your resume focused on accomplishments is to start every bullet point with an action verb. This keeps the spotlight firmly on what you did and helps frame your achievements in a positive, proactive light. Use our comprehensive action verb database to choose from 200+ action verbs broken down by category. Additionally, vary up your action verb use — use synonyms to the most common resume power verbs.
Also, remember to use the past tense in your action verbs. For example, use Managed instead of Manage or Manages.
Resume tip: Include metrics
Listing what you accomplished at previous jobs is good. Highlighting the end result or benefit to the company is even better. Using numbers or metrics to quantify your accomplishments makes it easier for recruiters to see what skills you're bringing to the table and visualize how you're likely to perform in the new role, bringing you one step closer to getting hired.
Find out if your resume highlights the right accomplishments
When it comes to listing past experience on your resume, one good tip is - focus on highlighting accomplishments and not just responsibilities. Find out if you've shown the right accomplishments and transferable skills by uploading your resume to the tool below. It'll let you know if you've chosen the right accomplishments, used enough numbers or metrics to quantify those accomplishments and also if you've chosen strong action verbs for your accomplishments.
The trend in 2022: Networking
Okay, so networking isn't exactly a new trend, but in 2022, it's more important than ever — here are networking tips for 2022. Even with hundreds of job boards available at your fingertips, sometimes it's the personal touch that can really push your application over the edge.
Resume tip: Follow up with the hiring manager
If you haven't heard back from a job application, it's time to follow up. Even a quick email can help establish that all-important personal connection and prevent your resume from slipping through the cracks. If you're not sure exactly how to go about it, check out our guide to following up on a job application, including email templates you can copy and paste.
Related: Banish Boring Subject Lines With These Key Email Tips
The trend in 2022: Never mind the buzzwords
It feels like just yesterday that candidates were being encouraged to add buzzwords to their resumes, but in 2022, the verdict is in, and buzzwords are out.
Resume tip: Avoid meaningless buzzwords
Here's a tip: Phrases like "hard worker" and "team player" will never impress a hiring manager. Why not, when these attributes are mentioned in nearly every job ad? They're overused, subjective, and entirely dependent on (often flawed) self-assessment, to name a few reasons.
In 2022, you can add the recent trend of buzzword-heavy job title to your list of things to avoid; if your official title is "Data Wizard," "Coding Ninja," or "Finance Rockstar," do everyone involved a favor and change it to a standard job title — like "Business Analyst" or "Software Developer" — on your resume instead.
Resume tip: Emphasize soft skills via your accomplishments
Soft skills are just below buzzwords when it comes to things not to list on your resume. Anyone can claim to be a great leader or have excellent communication skills — the trick is to prove it. The best way to do this is through your accomplishments; for example, by detailing the size of the teams you've led, or highlighting a conference you presented at or paper you wrote. To read more, check out our guide on how to include soft skills on your resume.
Resume tip: Use resume power words
Don't let your resume put the hiring manager to sleep! Even if most of your accomplishments have been variations on a theme, you can add a little variety to your resume by using synonyms for common resume power verbs.
The trend in 2022: The rise of technology
With the rise of remote work and other technology-dependent work solutions, technology has never been more important in the workplace. That means that employers are increasingly looking for candidates who are tech-savvy, even in roles or industries that aren't traditionally associated with technical skills.
Resume tip: Focus on hard skills
If you have hard skills that are directly relevant to the job you're applying for, list them! These can go in a separate skills section or in an additional section at the bottom of your resume. The same thing applies to in-demand hard skills that may be indirectly relevant, like data analysis if you're in a business, finance, or management role, or social media skills if your job involves outreach or communications.
Use the tool below to find out the hard skills and keywords recruiters in your industry look for in a resume.
Resume tip: Link to a GitHub profile or online portfolio
An even better way to demonstrate your skills is to let your work speak for itself. If you're applying for any kind of job where a portfolio may be relevant — including programming or software development, graphic design, writing, photography, or anything else where your work has a specific creative or technical output — linking to an online portfolio is often expected and always a good idea.
This doesn't have to take up a lot of space, either — you can include a short link in your resume header, or create a projects section on your resume to highlight relevant accomplishments. Learn how to include your Github on your resume.
The trend in 2022: Modern expectations
Not all resume tips are created equal. Some resume trends haven't been current in years — and some have never aligned with what hiring managers actually want to see. In 2022, it's time to stop chasing fads and stick to the classics.
Resume tip: Get rid of resume gimmicks
Here's a brief (but non-exhaustive) list of things recruiters don't want to see on your resume:
A functional resume format. There are better ways to make up for a less than ideal work history than leaving off dates and job titles. Instead, focus on accomplishments, highlight transferable skills, and make good use of a "Relevant Experience" section.
Fancy templates, graphics, or images of any kind — including photographs. Text-based resumes look more professional and are easier for ATS — and human recruiters — to read.
Resume objectives. A resume objectives typically focus on what you're looking for rather than on what you can bring to the role, which means it isn't adding anything to your resume. If you don't have enough experience for a normal resume summary, leave it off altogether.
A full street address. City, state, and/or country is just fine — there's no need to get into details.
Too many details about your education. Unless you're a fresh graduate, leave off your GPA, coursework, and graduation date.