Navigating the job market without professional experience can seem daunting, but you can still write a competitive resume with no work experience. The key is to present the experience you do have, and show a recruiter why it's relevant to them.
Remember, a lack of work experience doesn't mean a lack of skills or potential. Unpaid roles, student activities, internships, personal projects, and volunteer work can all provide substance for your resume, showing your potential to employers and highlighting your transferable skills.
In this guide, we'll take you through crafting a compelling resume without formal work experience, covering how to quantify your skills, focus on education, and fill your resume with competitive keywords.
How to write a resume with no work experience
If you're writing your resume but lack enough (or any) professional work experience, here's a quick step-by-step guide to help you get started:
Include any internships, extracurricular activities, freelance, and volunteer work to supplement your experience.
List your education section at the top of your resume.
Use numbers and metrics to quantify your skills and explain how your experience is relevant, even if it's in a different field.
Include a skills list of relevant keywords and competitive skills.
Include in-progress education, training and qualifications relevant to your desired field, and consider enrolling in online courses that match the job description.
Write a resume summary to highlight transferable skills and career goals.
Stick with a standard reverse chronological resume format. (Not sure what that means? Don't worry; we'll explain below.)
Run your resume through a free online resume checker for personalized advice on targeting your resume to your application.
Remember, just because you lack paid work experience doesn't mean you lack skills! All you need to do is learn how to highlight those skills in a way that will grab a recruiter's attention.
Here is an example of how you can create a well-rounded resume with limited paid experience: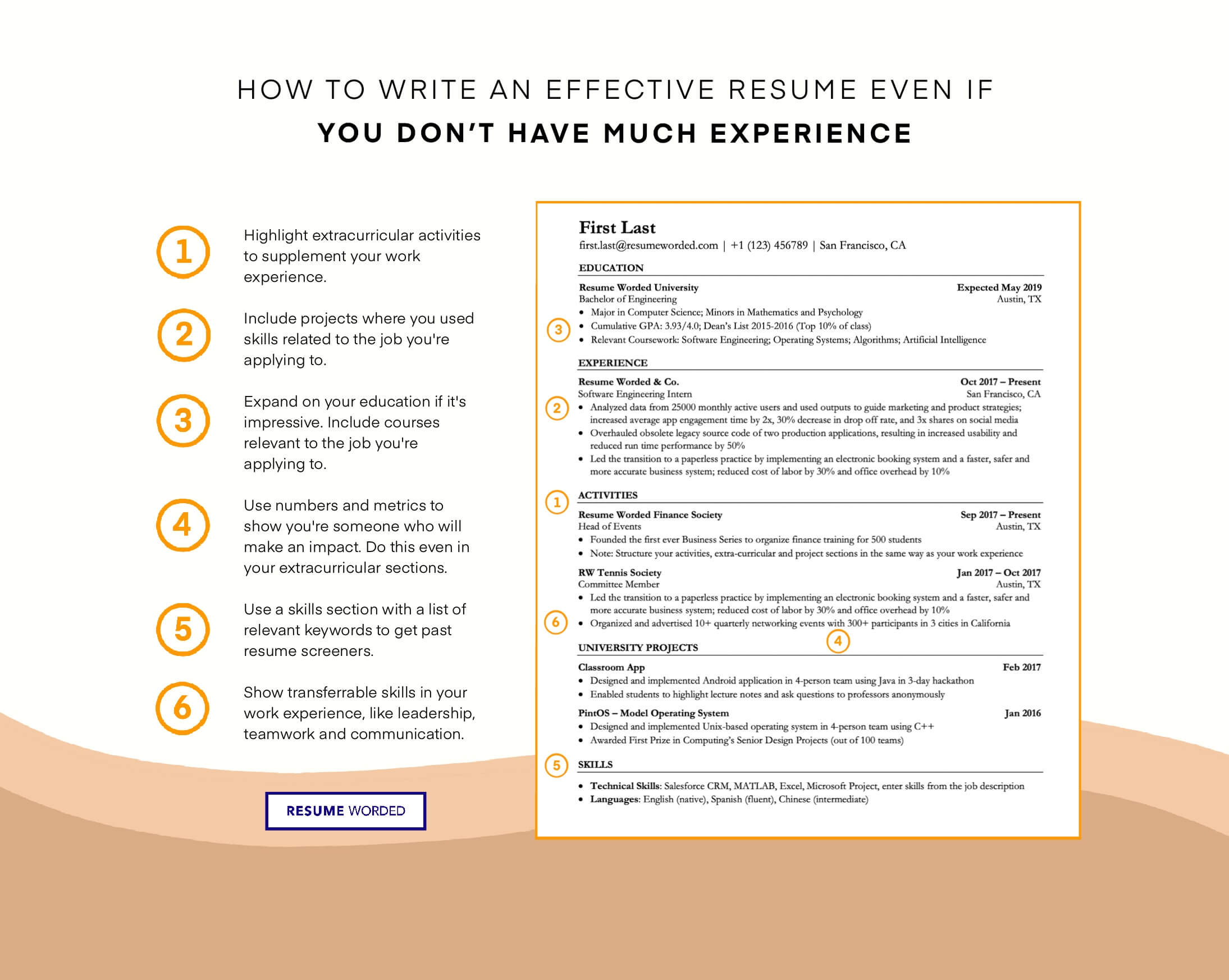 Top tips for creating a resume if you have no work experience
Here are 8 top tips for creating a professional-quality resume, despite having little to no work experience.
Highlight transferable experience
The experiences you highlight on your resume should be relevant and tailored to the job you are applying for, but that doesn't mean they need to be in the same industry. Many skills are transferable between jobs and industries; these are the ones you want to highlight.
Look carefully at the job description and consider what you've done previously that demonstrates those skills. Recruiters look for transferrable technical skills, as well as soft skills, so demonstrate these through any experience on your resume, paid or non-paid.
Focus on accomplishments
Once you have decided what experience to include on your resume (more on that in our sections below), remember to talk about your accomplishments, not your job duties. "Responsible for closing the store every night" is a duty — it tells recruiters what you were asked to do, but not what you actually did or how you're likely to perform in the job you're applying for. Narrow down the accomplishments most relevant to the skills listed in the job description and focus on those.
Include a resume summary
Adding this optional section at the top of your resume can benefit those with limited or no work experience. A resume summary outlines your essential skills, experience, and noteworthy accomplishments to highlight why you're a good fit for the job.
Use the job title of the job you're applying for, regardless of your past experience, and list 2-3 key skills that match the job description. Mention if you have relevant background experience in that field, paid or not, and highlight any standout accomplishments.
For example:

Quantify your accomplishments and skills
Including numbers and metrics can help any experience look more impressive. This is known as quantifying your resume; start with an action verb and include a metric or result that demonstrates your achievement.If you're having trouble coming up with metrics, here are some questions to consider:
How many people have you worked with? Instead of saying that you worked in a team, specify the size of the team.
How many people attended an event you organized? If it was for charity, how much money did you raise?
How many customers did you serve on an average day? How many sales did you make?
Here is an example of how to quantify a previous job on your resume:

Use the right keywords
Most resumes nowadays go through Applicant Tracking Systems (ATS), automated programs that scan your resume for certain keywords. This means you have to include the right words on your resume to make it past the filter.
Search our list of top resume skills and keywords to get an idea of the specific skills hiring managers are looking for. Being a match for the essential skills the job requires is much more important than having the perfect background or experience!
Keep your formatting simple
You don't need a fancy-looking resume to impress. In fact, going overboard with creative elements like downloaded fonts, colors, and images can actually do more harm than good. Stick with an easy-to-read font, clear section titles, and standard one or two-column format, or download a free resume template that does the work for you.
Use reverse chronological format
Reverse chronological format simply means that your most recent experience and qualifications are listed first. This is the most common format for modern resumes and is what most hiring managers are expecting. That applies to work experience, but also to your education, projects, and extracurricular activities.
Use a cover letter
You can get ahead of most other applicants simply by writing a cover letter. A cover letter is a great opportunity to talk about why you're interested in the job and what you would bring to the table, which, when you lack traditional work experience, may not always be obvious from your resume alone.
Pro-tip: Choosing the right examples
If you're not sure if you have chosen the right examples of your skills for your resume, upload it to the tool below to get a detailed review of your resume and personalized suggestions on how you can improve your word choice, brevity, impact and style, and if there are any critical keywords missing from your resume.
Professional resume template with no work experience
If you have little to no work experience, you can still write an effective resume with only unpaid experience (internships, online training, volunteer work, etc.) by highlighting your most impressive and quantifiable accomplishments, and accomplishments that showcase transferable skills.
Here is a professional resume template you can use to improve your existing resume or build one from scratch. You can download this template and more from our resume templates page.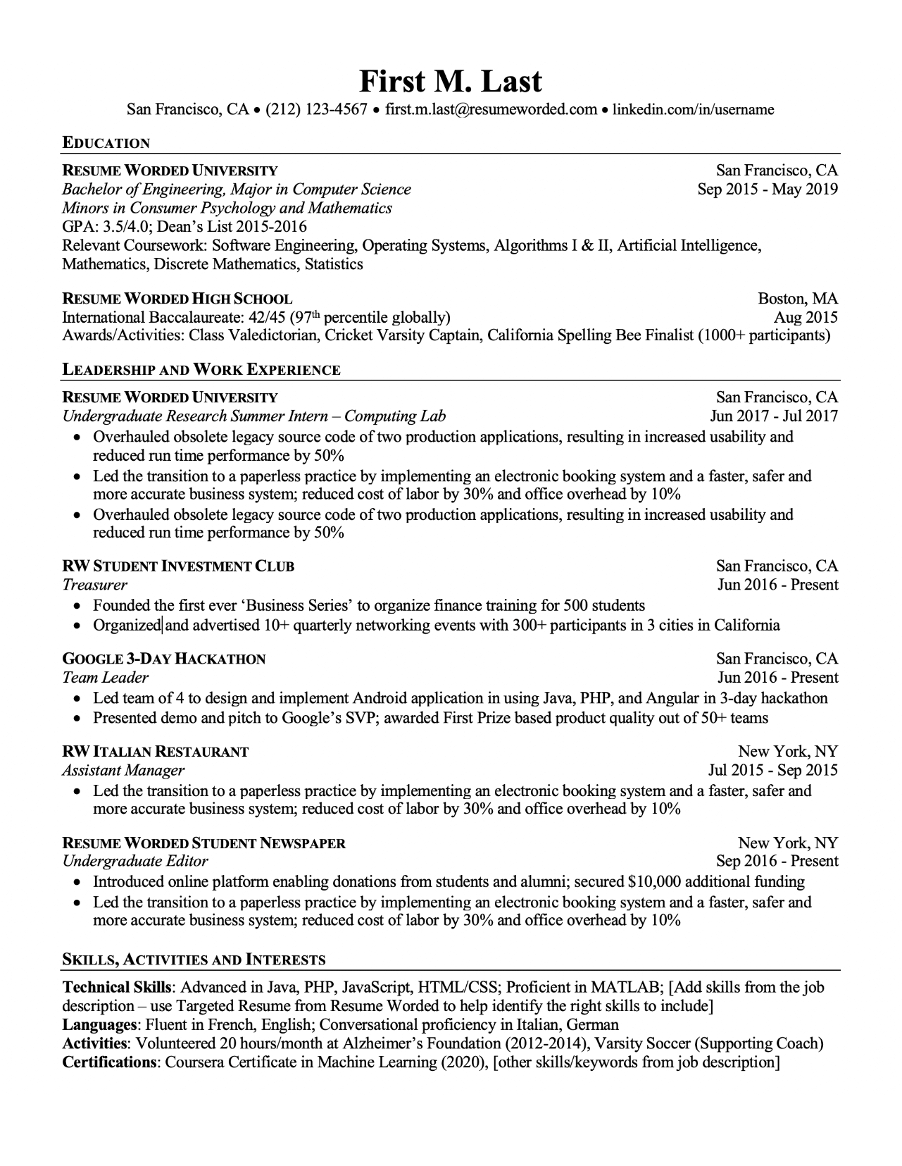 Pro tip: For students writing their first resume
As a student or recent graduate, you will likely have limited or no experience to fill your resume. But don't worry. This template is also for you!
Notice how this template lists extracurricular, volunteering and personal experiences as 'Leadership and Work Experience', and the resume starts with an Education section. This is a good approach to take if you're a student just getting started in your career.
You can download this template for free here
Writing a resume for a career change with no previous experience
Making a career shift without prior experience in your proposed field can seem daunting, but it's not impossible. Just like the template above, your resume should focus on transferable skills and competencies that could apply to your desired role and highlight relevant training and certificates. The goal is to convince potential employers that while you may lack direct experience, you have the aptitude and enthusiasm to excel in this new career path.
For more information, read this article on updating your resume for a career change in 2023.
Pro tip: Gaining industry-specific knowledge
Although you may not have direct experience in your new field, showing that you have done your homework about the industry can go a long way. This could include enrolling in online training, such as Google Career Certificates or Coursera online courses, attending seminars or workshops, or self-study. Make sure to mention these in your education or training section to show your initiative and commitment to learning about the new field.
How to write each section of your resume when you have no previous experience
There are important key sections that should be part of every resume, such as education and qualifications, work experience, hard skills and a resume summary. But don't worry if you don't think you have anything to write.
Below, we will explain how to tackle each section of your resume if you have little to no work experience, including formatting options, what to include and the best way to showcase your skills.
Education and qualifications
If you're new to the workforce or are changing careers, your education and training are likely the most recent and most relevant experience you have. That means you can list your education section at the top of your resume, which takes some of the focus away from a limited work history.
Capitalize on this by elaborating on your academic achievements. Anything from relevant coursework to study abroad can be listed in your education section.
If you're a current student or recent graduate
If you're a current student or recent graduate, you can also list your education section at the top of your resume above your work experience. The more recently you graduated, the more detailed you can make this section.
Include the name and location of your school, university or college, your field of study and your graduation date (or expected date if you're yet to graduate). You can also include relevant honors or awards, and significant coursework.
Here is an example of how this would look on your resume, using the template above:

If you didn't complete your degree
If you didn't complete your degree, that's not a problem. You should still list an unfinished degree on your resume a) if it's relevant, or b) until you have more work experience.
Include the name and location of your university, the field of your degree and the dates you attended school. You can also include the number of course hours completed.
Work experience
This is the dreaded section for most people. How are you supposed to write a work experience section when you don't have any previous paid experience? You need experience to get a job, but you need a job to get experience!
The most important thing to remember is that experience doesn't need to be formal or paid to be considered experience. Work experience can include volunteering, freelance work, internships, part-time jobs, extracurricular activities, or personal projects. These all demonstrate transferable skills that hiring managers are looking for.
Internships
Internships and student placements are ideal experiences for your resume since they're still professional settings. You can list internships under your experience section, especially if you don't have other paid experience.
Include the name of the company, the dates of employment and your specific job title, and list your experience in 3-6 bullet points describing your duties or accomplishments.
For example:

Volunteer work
Volunteer work is another excellent substitute for paid experience. Just like an internship, volunteering can be listed in your experience section or a separate volunteer work section.
Include the organization's name, the dates you volunteered and your role within the company. List 1-2 accomplishments in bullet point format, and include accomplishments to demonstrate your skills.
For example:

Extracurricular activities and projects
Extracurricular activities or personal projects are great ways to demonstrate relevant skills, especially when you don't have traditional paid experience. Both can showcase leadership, teamwork, or other valuable attributes, even if they are not specifically relevant to the job you're applying for.
Think about the skills you demonstrated in your activities and frame those skills as accomplishments. List the name of the activity or project, your role, and then 1-2 bullet points detailing your accomplishments. Remember to start each point with a strong action verb and highlight your essential skills and achievements.
For an extracurricular activity, your entry might look something like this:

For personal or community projects, ensure to include the focus of the project and your specific role. Here's an example:

Freelance work
If you're still struggling to think of things to include on your resume, consider gaining additional experience by starting up a side project, like running a blog or picking up freelance work.
Include the name of the company you worked for, your role, your date of employment and the projects you completed.
Skills
Work experience or no, you should still include a skills section on your resume. This doesn't mean you need to list every skill you possess, just those most relevant to the job you're applying for.
Look for the skills listed in the job description and list those if you have them. If you're not sure what skills hiring managers are looking for, you can use Targeted Resume Tool and our skills and keyword finder to look for relevant skills to include.
How to list hard skills
Your skills section should only include hard skills. In other words, things you can prove and quantify, like proficiency with a software program or technical process. Good skills to list could include:
Software programs
Programming languages
Hardware
Certifications
Design skills
Research
Data analysis
Specific types of writing, like proposal writing or SEO
If you have some experience with a skill but are not yet proficient, you can still include it on your resume. Consider arranging your skills by proficiency to show the skills you are currently improving.
How to show soft skills
Soft skills, like communication, leadership, and initiative, are great skills to have, but simply listing them isn't going to impress a recruiter. Instead, consider a time you demonstrated those skills and include them in your bullet point accomplishments.
If you're unsure which skills to include in your skills section, use the tool below to get a list of skills and keywords relevant to the job you're applying for.
Additional sections
When you're just starting out, anything that gives hiring managers a better sense of who you are and what you're capable of could be worth including.
Here are some examples of additional sections you could include on your resume:
Certifications and Courses: If you've taken additional courses or certificates that are relevant to the job you're applying for, this is the place to include them. For instance, if you're applying for a digital marketing role, you might list a Google Career Certificate or a course in SEO.
Languages: Proficiency in foreign languages can be a significant asset in many roles. Whether you're applying for a job at a multinational company or a position that involves communication with diverse populations, list your language skills here. Ensure to mention your level of proficiency (beginner, intermediate, advanced, or fluent).
Professional Associations or Memberships: If you belong to any professional groups or organizations related to your field, mentioning them can demonstrate your commitment to your industry.
Remember, when including additional sections, the qualities or skills you're trying to highlight should be directly relevant to the job, even if the experience itself isn't.
Common mistakes to avoid when writing a resume with no experience
When creating a resume with no work experience, it's easy to fall into certain pitfalls. Avoid these common mistakes to write a strong and impactful resume:
Over-inflating your experience
While it's important to highlight your skills and activities, remember to remain honest and genuine. Overinflating your experience can lead to awkward situations during interviews and may raise doubts about your credibility. If you've been involved in student activities or volunteer work, these are great to include, but don't make them sound like full-time professional roles unless they were.
Not tailoring your resume
Many job seekers make the mistake of sending the same generic resume to every job they apply for. Tailor your resume for each specific job posting by highlighting the skills and experiences most relevant to that position. This shows employers you've put thought into how you would fit in the role and makes your application stand out.
Overusing buzzwords or vague language
One of the common pitfalls in resume writing is the use of overused or vague language. Phrases like "hard-working," "team player," and "detail-oriented" are often overused and do not provide concrete evidence of these traits. Instead, demonstrate these skills through specific accomplishments or responsibilities from your past experiences.
Including too much irrelevant information
When writing a resume with limited experience, it can be tempting to include everything you have ever done. While it might be tempting to include all your experiences and accomplishments, it's important to remember that recruiters often have a large number of resumes to go through, so your resume should be as concise as possible.
Only include the experiences and skills that can be related to the job you are applying for, and leave out information that does not directly support your candidacy for the specific role.
Forgetting to proofread
This may seem minor, but a resume riddled with spelling and grammatical errors can create a negative impression. Always proofread your resume multiple times, and consider having someone else look it over too.
FAQ
Is it worth applying for jobs that require experience even if I don't have any?
Yes, it's always worth applying for jobs that require experience, even if you don't have any. Job requirements are often a 'wishlist' from employers, and not having every requirement doesn't disqualify you. It's more about how you can convey your transferable skills, whether it's from your education, volunteer work, or extracurricular activities.
Are there any potential red flags to employers if a resume has no paid work experience?
While a resume with no paid work experience may initially raise questions for employers, it's not an insurmountable hurdle. The key is in how you present your other experiences and skills. Employers understand that everyone starts somewhere, and they are more interested in your potential, adaptability, and willingness to learn.
How should I handle gaps in my resume due to a lack of work experience?
When you have little to no work experience, it's normal to have gaps in your resume. Instead of worrying about these gaps, focus on activities you undertook during these periods. You can include volunteer work, courses, personal projects, or relevant hobbies.
If the gap is due to education or training, that information should be clearly stated in your education section. Remember, employers are more interested in seeing a continuous journey of learning and development rather than a timeline filled solely with traditional employment.