How to optimize your LinkedIn headline if you're a student
An optimized LinkedIn headline can increase the number of views to your profile significantly. More views to your profile by the right people (e.g. hiring managers and recruiters) often means more opportunities, whether those are internships or interviews. Updating your LinkedIn headline takes two minutes, but could have a dramatic impact on your LinkedIn network.

Before we dive into a few examples of what a good student LinkedIn headline looks like, let's see what a weak LinkedIn headline might look like.

This headline, 'Student at ABC University', is poor and not optimized for LinkedIn. You might notice that this is also what LinkedIn will set as your default headline if you haven't already changed it. It is a poor headline for two main reasons:


1) It does not contain any keywords that potential recruiters and hiring managers are searching for. This means you'll show up less to hiring managers and recruiters who are looking to hire you.

2) It does not stand out from other profiles in search results. If your profile showed up in a recruiter's search results, there is nothing to differentiate you from the thousands of other 'Students at [University]' profiles! The default headline is simply not catchy enough and gives a recruiter no reason to click into your profile or contact you.
A great example of student's LinkedIn headline
Let's now look at what makes up a good student LinkedIn headline. Here's an example of a student's headline.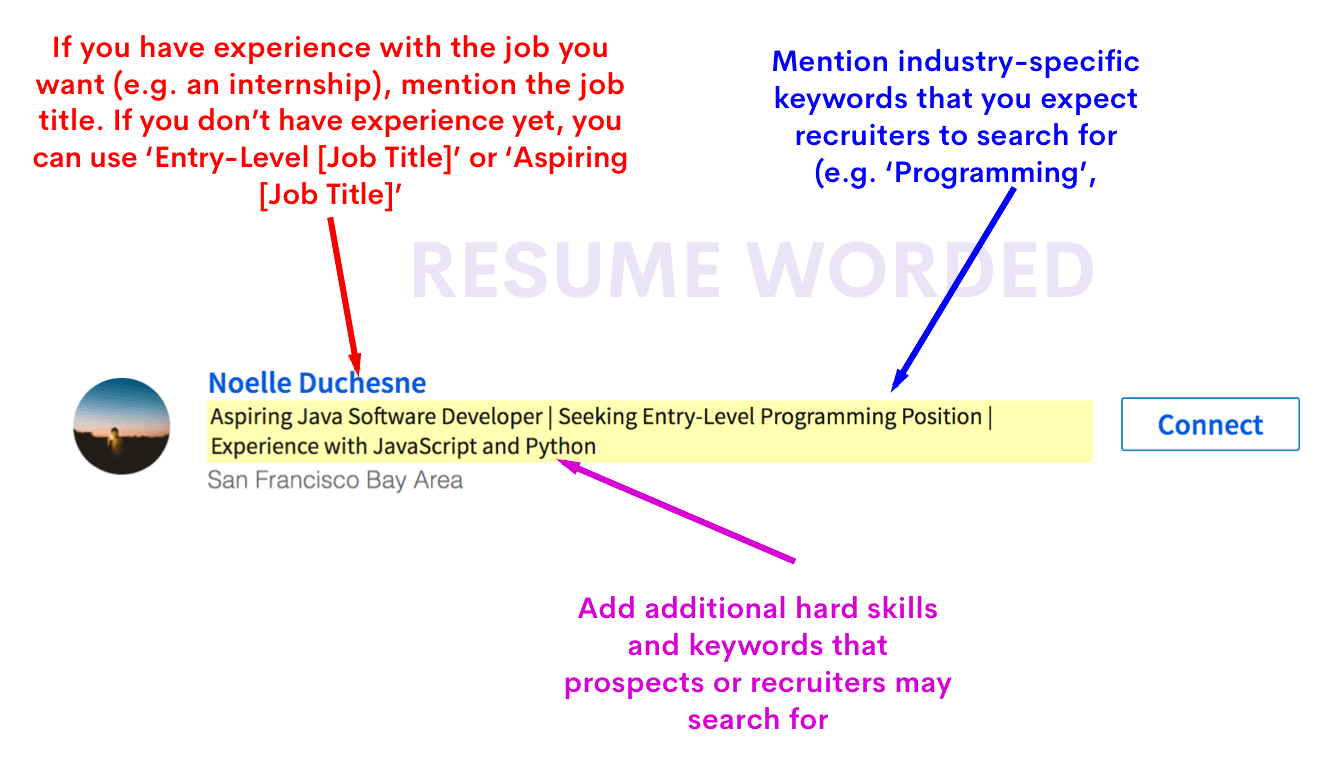 Unlike the previous headline, the headline above ('Aspiring Java Software Developer | Seeking Entry-Level Programming Position | Experience with JavaScript and Python') is an example of a great LinkedIn headline. Let's break down why.

The first reason is because it stands out from all the other students in the search results, thus resulting in a higher amount of clicks. A higher number of clicks results in an increased number of connections, a bigger network and recruiters contacting you for more opportunities.

If you're a student or you've just graduated, be specific about the role you want in your headline. It's a wasted opportunity to say, "Student" or "XYZ University Student", since recruiters and hiring managers are not searching for those terms. Instead, they're searching for terms such as "entry-level software developer". You want to be sure you end up in search results when they search for those terms.

The key takeaway here is to use keywords from the job you want. If you don't have the skills needed for the job you want, you should strive to get the right skills through university courses, extra-curriculars, internships or projects.