Transitioning from the military to civilian life isn't always easy — especially when you're looking for a job. In this guide, we'll cover some of the best tips for including military experience on your resume, including how to translate military experience into recruiter-friendly achievements and real military resume examples.
Translating your military experience: A step-by-step guide
Here's how to land a job by including military experience on your resume:
Use a standard resume format. You can download one of our ready-made resume templates to get started quickly.
Translate your military branch and job title to a civilian-friendly version (scroll down for our handy translation guide).
Consolidate related experience under a single job heading instead of listing each posting separately.
Stick to the highlights. Only list skills and accomplishments that are relevant to the job you're applying for — no matter how impressive your other accomplishments may be.
Include your military training and education — but skip the military honors and awards.
Add a resume summary to highlight your military service and explain how your background is relevant.
Ask a non-military friend or contact to read your resume and make sure they understand it. Alternatively, use a free resume scanner to quickly skim your resume for any military jargon you may have missed.
Here's an infographic that summarizes a few key details — we'll dive into each item in the rest of the article.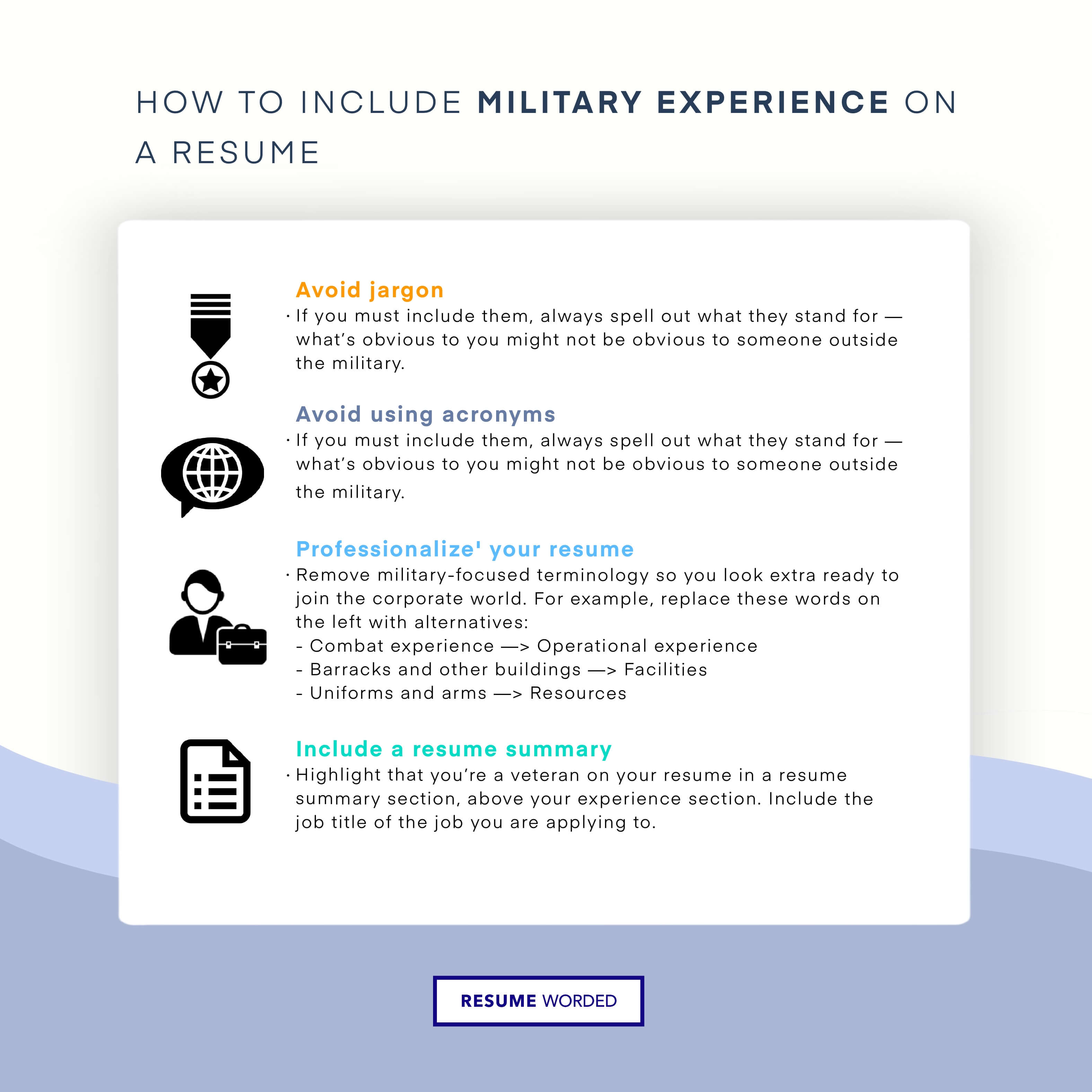 Military resume do's and don'ts
When including military service on a resume, it's more important to be understood than to be completely accurate. This might mean leaving out details that might confuse someone who isn't familiar with the military, or using approximate civilian-friendly terms to describe your experience.
Listing military contact details
DO: List basic contact details for your military branch (U.S. Army, Navy, Air Force, Marines, etc.). A general address and phone number is perfectly fine. You can search the National Personnel Records Center to find the relevant contact details for your base.
DON'T: Give a direct line to your division — instead, list the general address for your military branch and a phone number for headquarters or human resources command. By listing the general contact details for your military branch, anyone performing a background or reference check can be directed to the appropriate channels, even if your supervisor has since moved on.
Resume example:
San Antonio, TX | 1-800-555-0000
Explaining how your military background is relevant
DO: If you want to highlight that you're a veteran on your resume, consider including a resume summary above your experience section. Use your target job title in your summary, too – it may feel odd at first, but it helps.
Resume example:
Business development manager with 10+ years of leadership experience across Army operations, Fortune 500 companies and startups. Proven experience in [x, y, and z]. [Add 1-3 examples of your most relevant or impressive accomplishments.]
Writing a resume-friendly military work history
DO: If you moved around a lot or changed job titles but kept mostly the same responsibilities, you can list these positions under a single all-encompassing job title. If you've taken on higher responsibilities over time, you could even frame that as a promotion.
DON'T: List every single posting as a separate job. This may come across to civilian recruiters like job hopping, which isn't accurate. Remember that a resume isn't an official legal document — it's okay to skip the details for the sake of clarity.
Resume example:
UNITED STATES AIR FORCE
Information Assurance Manager / Operational Analyst (2009-2013)
Find out if you have translated your military experience into recruiter-friendly accomplishments
DO: Get another pair of eyes to look over your resume before you submit it. A quick way to find out if you have translated your military experience into recruiter-friendly accomplishments is to upload your resume to the tool below — it'll scan it and let you know if you have showcased the right military experience and skills that highlight your transferable skills.
Translating education, training, and awards
DO: Include relevant military education and training on your resume. Like your work experience, it's okay to translate this into a more generic, civilian-friendly version.
DON'T: Include details of specific military honors and awards. If you truly believe they're relevant to the job you're applying for, translate them in a way that demonstrates their relevance.
Resume example:
EDUCATION
United States Military Academy, West Point, NY
Bachelor of Science in Aeronautical Engineering
Avoiding military jargon
DO: Use civilian-friendly terms on your resume, even if those aren't 100% accurate. While certain terms may appear obvious to you, they're less likely to make sense to a hiring manager. It's always better to explain your experience and accomplishments in plain language using simple everyday terms.
DON'T: Use military jargon. This includes military codes, acronyms, awards, and details of combat experience. If you must include acronyms, always spell out what they stand for — what's obvious to you might not be obvious to someone outside the military.
Resume examples:
Not sure what's too complicated for a civilian resume? Here's a handy cheat sheet of simple changes you can make:
Chief Petty Officer -> Team Leader
Commander —> Director or senior manager
Subordinates —> Employees, coworkers, or direct reports
Regulations —> Guidance, policy, or instructions
Commanding —> Leading or managing
Reconnaissance —> Data collection and analysis
Combat experience —> Operational experience
Duty assignment or deployment —> Business travel
Barracks and other buildings —> Facilities
Uniforms and arms —> Resources
If you're ready to start updating your resume, scroll down for examples of civilian-friendly job titles and accomplishments you can include.
Examples of military resumes
Here's an example of what your resume could look like, including a civilian-friendly job title and accomplishments:

Here are some more examples you can use, covering some of the more common roles you may have held and the skills you should highlight.
Technical roles
If you previously held a technical role, you're well-positioned to parlay your skills and experience into a civilian career. List your specific technical skills in a separate skills list and showcase how you used them in your accomplishment bullet points.
Job titles:
Financial Operations Technician
Engineering Specialist
Healthcare Specialist
Bullet point examples:
Identified and supported Information Assurance (IA) accreditation and security issues, ensuring compliance with all IA policies, guidance, and training.
Prepared, verified, and audited transactions for over 10,000 military and civilian employees.
Designed and improved service and maintenance routine to reduce incidence of breakdowns by 80%.
Conducted routine maintenance and repairs for equipment valued at over $200,000 with 0% loss.
Some of the most common industries ex-military job seekers go into are government jobs, defense contracting and IT  - to get a list of hard skills for the specific job you want, you can search for jobs like computer engineer below to find relevant skills.
Leadership roles
Whether you managed an administrative team or led troops into combat, leadership experience is something well worth highlighting on your resume.
Job titles:
Team Leader
Senior Advisor
Technical Manager
Bullet point examples:
Managed 6 pharmacy technicians and 2 staff pharmacists in daily operations, allocating resources and directing workflow to maximize efficiency while maintaining quality across processes.
Managed distribution and registration of military shipments valued at over $1M, including updates and agent communication.
Led team of 25 employees, including tracking performance and overseeing daily responsibilities.
Training and communication
Communication skills are relevant to pretty much any role you apply for. Use numbers and metrics to quantify your success in communicating or training others.
Job titles:
Personnel Supervisor
Instructor
Communications Specialist
Bullet point examples:
Trained a total of 75+ new hires and achieved a 98% overall pass rate.
Key player in success of high-profile joint training exercise spanning 4000+ personnel, providing critical voice and data communications and training participants in use of single channel ground and airborne radio systems.
Assigned and organized 15 field activities to optimize resources efficiently through strong written and oral communication.
Project management
Project management in the military isn't all that different to corporate life. Use your bullet points to highlight important soft skills like time management and organization.
Job titles:
Project Manager
Supply Manager
Logistics Manager
Bullet point examples:
Directed complex pharmacy projects spanning 8 months, building cross-functional teams to integrate new processes, such as inventory and vendor technology integration, meeting all deadlines and budget requirements.
Established and implemented departmental policies, goals, objectives, and procedures, conferring with board members, organization officials, and staff members as necessary.
Collaborated with developers and product management team to assess project outcomes and prioritize future features.