Having a board membership, or serving on a board of directors for an organization can be a very prestigious role — but does it belong on your resume?
The answer, like with most things that aren't directly work-related, is maybe. Here's the lowdown on why to include board membership on your resume, when to leave it off, and how to craft worthwhile board membership accomplishments. And let's clear things up here — if your board membership is work-related, it should be on your resume (we'll show you how to add it into your resume too).
Short on time? Skip straight to:
How to add board membership to a resume
Choose where on your resume to include it — we discuss the best options in more depth below.
Make a short list of accomplishments from your time on the board. If you contributed to results in a meaningful way, include those, too.
Think about the transferable skills you most want to emphasize (like leadership, teamwork, or communication) and expand those into bullet points.
Add any technical skills, qualifications, or other volunteer experience you gained during your time on the board.
Run your resume through an ATS resume checker for more tips and personalized recommendations.
Why you should include board membership on a resume
Sure, board membership sounds good, but what does it actually prove? Including board membership on your resume can:
Demonstrate expertise in your field
Showcase leadership and other soft skills
Emphasize dedication to a cause
Demonstrate expertise in your field
If you're applying for high-level positions, board membership can be a great way of showcasing industry-specific expertise, highlighting executive job titles, and establishing your credibility. If you're applying for positions on other boards, it's also a good idea to show that you have actual experience with board membership.
Showcase soft skills
Every job wants people with great communication, teamwork, and leadership skills, but listing these in a cover letter or skills section is an instant red flag for hiring managers. Board membership requires all these skills and more, so use your bullet points to illustrate accomplishments where you used these skills.
I'd recommend uploading your resume to the tool below— it'll tell you if you've shown the right soft skills that recruiters look for in corporate and volunteer board members.
Emphasize dedication to a cause
If you're applying for positions with charity or nonprofit organizations, having genuine investment in a specific cause or sector or the community can give you a huge head start. Like other volunteering roles, it also demonstrates positive attributes like compassion, drive, and willingness to get involved.
Where to include board membership on a resume
Board membership can belong in a few different sections of your resume, including:
A community involvement section
An additional information section
Your work experience section
A dedicated board membership section
Scroll down to learn more about each of these options, including when you should choose each one and examples of how to do it well.
In a community involvement section
When: If you were on the board of a charity or nonprofit organization.
How: Title the section 'Volunteering or 'Community Involvement' and include it underneath your work experience section. List the name of the company, your role, and the dates you served. You can also list 1-2 significant accomplishments, especially if they're relevant to the position you're applying for.
Example:
Try to include hard skills and keywords that are relevant to the position you're applying for. To find the right ones, search for the job you're applying for and you'll get a list of relevant skills
In an additional information section
When: If the organization isn't directly relevant to your current role or industry but you'd still like to include it.
How: Title the section 'Other' or 'Additional Information.' Create a subheading like 'Volunteering' or 'Board Membership' if you like, and briefly include the name of the organization and what you did.
Example:
In your work experience section
When: If you were heavily involved in your work with the board and you weren't otherwise employed during this period.
How: List board membership like you would any other work experience, with the name of the organization, location, dates, your job title, and a handful of accomplishments in bullet points.
Example:
In a board membership section
When: If you've served on multiple boards, or if you're crafting a resume specifically to apply for positions on other boards.
How: Create a section titled 'Board Membership.' In reverse chronological order, list the name of each organization, dates, and your title(s). Depending on how much other information is in your resume, you may want to include bullet point accomplishments for each position or even include this section at the top of your resume.
Example:
Board of directors resume template
Want to skip straight over the finer details so you can focus on the big picture? Why not start with a ready-made resume template like this one: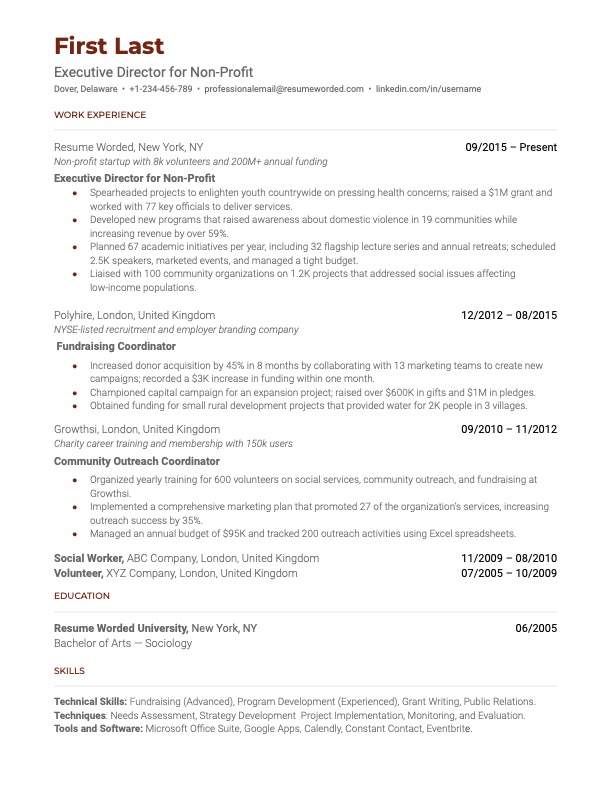 You can download this resume — and others — from our ATS resume templates page.
Examples of board member accomplishments
Corporate board membership
If you have a corporate board membership, you should probably include it on your resume.  Here's what that might look like on your resume:
Executive Corp
Board Member, May 2017 — December 2020
- Collaborated with CEO and upper management to establish strategic goals to grow as a global company in the next 3 years.
- Led shareholder communications by hosting quarterly Zoom meetings and coordinating monthly status reports
- Orchestrated an organizational restructure, resulting in a reduction of labor costs of $200K.
- Created a unique year-round adopt-a-school recruitment program which grew market share from 5% to 10%.
Nonprofit board membership
If you have a board seat as part of a nonprofit or organization, it could be a good idea to include it on your resume if you don't have enough work experience.
City Charity Org
Board Member, November 2019 — Present
- Directed the Annual Giving Fundraising Campaign. Total annual dollars raised grew from $200k to $350k.
- Increased membership by 5%, serving 7,500 youth and 1,500 volunteers in 220 community-based programs.
- Took weekly meeting minutes and ensured distribution to all stakeholders.
Board membership job titles
Not sure what job title to use? Here are some ideas:
If you had a specific title — for example, President, Treasurer, or Secretary — use it. This is especially true of leadership positions, which look good on a resume no matter what job you're applying for next.
If you didn't have a specific title, use a job title like 'Board member' or 'Volunteer.'
FAQs
What is board membership?
A board of directors — also known as an advisory board, board of trustees, or executive board — is a committee elected to provide strategic guidance and high-level oversights to organizations. These can include charity or volunteer organizations, nonprofits, businesses, and government agencies.
Some boards meet regularly, while others may only hold meetings once or twice a year. The extent of board involvement in day to day functions depends on the specific organization, but is typically fairly low. Board membership can be paid or voluntary.
Do you need to give details about the organization?
That depends on how relevant it is to the job you're currently applying for. If it's highly relevant, you might want to mention it in a resume summary or cover letter, including details about your specific role. Otherwise, simply including the name of the organization and whether the board was profit or nonprofit is sufficient.
When shouldn't you include board membership on a resume?
You should leave board membership off your resume if:
It isn't relevant to your current field or industry.
You can demonstrate your skills with more relevant work experience
You weren't heavily involved in the board and didn't have substantive participation
Your resume is already overly long or detailed
You're applying for much lower-level positions and it could make you appear overqualified
Your involvement could be contentious — for example, you sat on the board of a religious or political organization unrelated to your current role