If you have your sights set on upper management and you've done an Executive MBA, you might be wondering how to include it on your resume.
Do you include your Executive MBA in your Education section? And if so, what details should you include? Let's dig into what recruiters and hiring managers want to see in this article.
Where to put an Executive MBA on a resume
There are a few different places you can mention an Executive MBA on your resume:
In your education section (preferred)
In your executive summary
In your areas of expertise
Scroll down for more details and Executive MBA resume examples.
How to list an Executive MBA in your education section
The education section of your resume is the ideal place to list your MBA. This should be a short section at the bottom of your resume, since you'll want to prioritize relevant work experience.
If you're changing careers
If you're changing careers or otherwise lack significant management experience, you can include a little more detail in your education section and pin it to the top of your resume, above your work experience.
If your Executive MBA is still in progress
It's fine to list an incomplete degree on your resume, including an Executive MBA. Simply list it as above with an expected graduation date (it's okay if this changes or is just an estimate).

Further reading: What an Executive Needs To Include in Their Resume's Work Experience
Executive MBA resume example
Here's an example of what an Executive MBA should look like on your resume: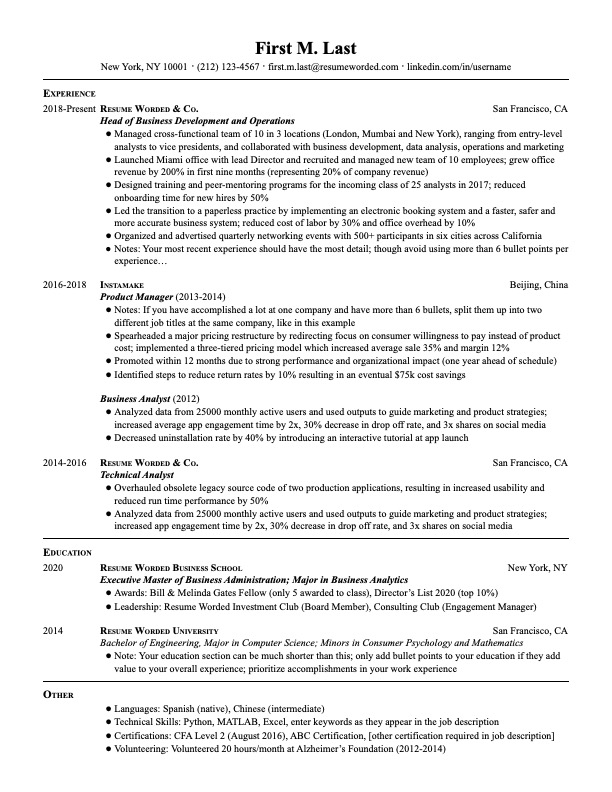 You can download this resume template — and others — at our ATS resume templates page.
What to include in an Executive MBA resume
As in the template above, it's okay to list more than the name of the degree and the institution where you studied. You may also want to list:
Honors and awards
Grants, scholarships, and fellowships
High GPA or GMAT score
Other significant accomplishments
Listing Executive MBA accomplishments in your education section
If you have any notable accomplishments as part of your Executive MBA, you can include these briefly in your education section. Depending on the extent of your professional experience and the amount of time since you graduated, you may only want to take up 1-2 lines with your Executive MBA.
Listing Executive MBA extracurriculars in other sections of your resume
If you completed any significant projects or other training programs as part of your Executive MBA, you can list these in a skills or additional information section at the bottom of your resume.
Further reading: The Must-Haves When Writing Your Education on Your Resume
How to format an Executive MBA on your resume
Here's a quick guide to the correct Executive MBA resume format:
We'd generally recommend listing your Executive MBA as is on your resume; it doesn't make too much of a difference, but try to avoid listing your degree as  just MBA (without the 'Executive'), or it may look a little strange that you have work experience (since regular MBAs are full-time programs), and that you're a senior level employee doing a regular MBA.
You can use the term MBA instead of Master of Business Administration when talking about your degree on your resume or cover letter. It's a widely understood acronym, which means you don't need to spell it out.
You should write Executive MBA rather than listing it as an EMBA.
Including full stops between the letters is optional — either MBA or M.B.A. is fine.
Key tips for Executive MBA resumes
Highlight career progression
Your career progression and professional management experience will hold more weight than a degree — even one from a prestigious institution. Prioritize higher-level accomplishments like running a department, owning a project, or leading a team. You should also highlight promotions, emphasize progression in your job titles, and structure your work experience section to tell a story of steady career growth.
Further reading: For more tips, read our guide on how to show a promotion on a resume.
Quantify your accomplishments
Not all experience is created equal. Leading a team or project is great, but leading a four-person team is very different from leading a team of hundreds across three different locations. Include numbers and concrete metrics in your resume bullet points to let recruiters know the content of your experience and make your accomplishments stand out.
Further reading: Get more details on how to quantify your resume, including 50+ resume examples.
Focus on leadership experience
This doesn't just mean work experience — though that should be the main focus of your resume. You can also demonstrate your leadership capabilities by including board memberships, speaking engagements, publications, awards, and other career highlights.
Further reading: To find out how you score in this key area, upload your resume to a free resume review for actionable feedback on how to emphasize leadership on your resume.
Find out if your resume emphasizes your leadership experience
Executive and senior-level resumes are expected to show more management skills, leadership skills and experience compared to that of junior-level job seekers. A good way to find out if your resume shows enough of these skills is to upload your resume to the tool below – it'll scan your resume and tell you if you've shown the right skills and experience fit for senior-level and executive roles.
Other places to list your Executive MBA
Adding MBA after your name
Whether you should list MBA after your name is entirely up to you. As a terminal degree, it is appropriate to list MBA after your name (unlike, say, a bachelor's degree). While it's ultimately a personal decision, it's common to list MBA after your name:
On your business card
On LinkedIn
If you've been invited to speak at an event
On the other hand, you should avoid listing "Your Name, MBA":
In your resume header
In your email signature (unless it's standard in your company or field)
Referencing an Executive MBA in your resume summary
If you're applying to senior management positions, your resume format will be a little different. It can be longer — two pages is standard — and can optionally feature a more detailed executive summary.
This can list several bullet points with your top accomplishments, including an Executive MBA.
Including an Executive MBA in your areas of expertise
Another way an executive resume differs from an entry-level or mid-level resume is an areas of expertise section. This isn't just another word for a skills section — it should focus on broad competencies rather than specific technical skills. This section can go at the top of your resume, underneath your executive summary.
If you're unsure of what to add to your area of expertise, use the tool below to search for the role you're applying to. It'll tell you which skills are relevant to the job you're applying to. The tool also gives you the option of uploading your resume – it'll quickly scan it and tell you which senior-level skills are missing from your resume.
Frequently asked questions
What does EMBA stand for?
EMBA stands for Executive Master of Business Administration.
The Executive MBA (or EMBA) is ideal for working professionals, especially those who are already in management positions. It can be a fast track to more senior positions — if you leverage it correctly.
What's the difference between an MBA and an Executive MBA?
Unlike a full-time MBA, an Executive MBA is a part-time program designed to be completed alongside full-time employment, and is generally aimed at more senior-level employees who can't leave work completely.
Executive MBA programs usually feature flexible scheduling, including night and weekend classes, to allow candidates to keep working while they pursue their degree.
Executive MBA programs are often fast-tracked, meaning they take less time to complete than a traditional MBA.
Can I list an MBA on my resume if I haven't completed it yet?
If you're a current MBA candidate, you can still list an unfinished Executive MBA on your resume. Simply include it in your education section as normal and put an expected graduation date.
If you've been accepted to an Executive MBA program but haven't started it yet, leave it off your resume until you officially begin the program — simply being accepted isn't resume-worthy by itself.
How long should I keep an Executive MBA on my resume?
Additional information — like test scores and GPA — should only be kept on your resume for a short time, but the Executive MBA itself can stay on your resume permanently (unless you're applying for a job where it would make you look wildly overqualified or otherwise not a great fit — in that case, feel free to omit it).
Is it worthwhile to pursue an Executive MBA?
A good Executive MBA program can:
Position you for a promotion within your company
Land a higher-paying job
Prepare you for senior executive positions
Provide networking opportunities with fellow professionals
Sharpen your management skills
Look good on a resume
An Executive MBA doesn't come with a guarantee. Consider the time investment and financial cost before enrolling in an Executive MBA program.