"I have strong decision making skills …"
Are you starting to tune out already? Because a hiring manager probably is.
When it comes to your resume, recruiters want to see facts — even when it comes to soft skills like decision making. How do you do that without falling back on meaningless buzzwords and biased opinions? By showing a) what decisions you've made, b) how you made them, and c) the end result.
Let's start with a quick guide before we get into some more concrete examples.
How to say you're good at making decisions
Follow these steps to instantly highlight decision making skills on your resume:
Have a look at the duties mentioned in the job description. What kinds of decisions will you be making? These could be anything from large-scale, company-wide decisions to seemingly minor day-to-day choices.
For every type of decision you'll need to make, think of a time when you did something similar in the past.
Turn that example into an accomplishment-focused bullet point by describing exactly what you did, starting with a strong action verb.
Include the results of your actions in clear numbers or metrics. This doesn't have to be exact — your best guess is appropriate here.
Upload your resume to Score My Resume for instant feedback and personalized tips for improvement.

How to show decision making skills on a resume
There's a right answer to this one, and it is: In your work experience section. Soft skills like decision making should never go in your regular skills section — instead, you should choose accomplishments that show how you've used those skills in a professional setting.
Do:
Choose examples that show how your decisions directly affected the company
Focus on how you acted on those decisions
Show the impact of your decisions by including clear metrics
Don't:
Make subjective statements like "showed strong decision making skills"
Rely on unnecessary adjectives like "decisively"
Start every bullet point with the same action verb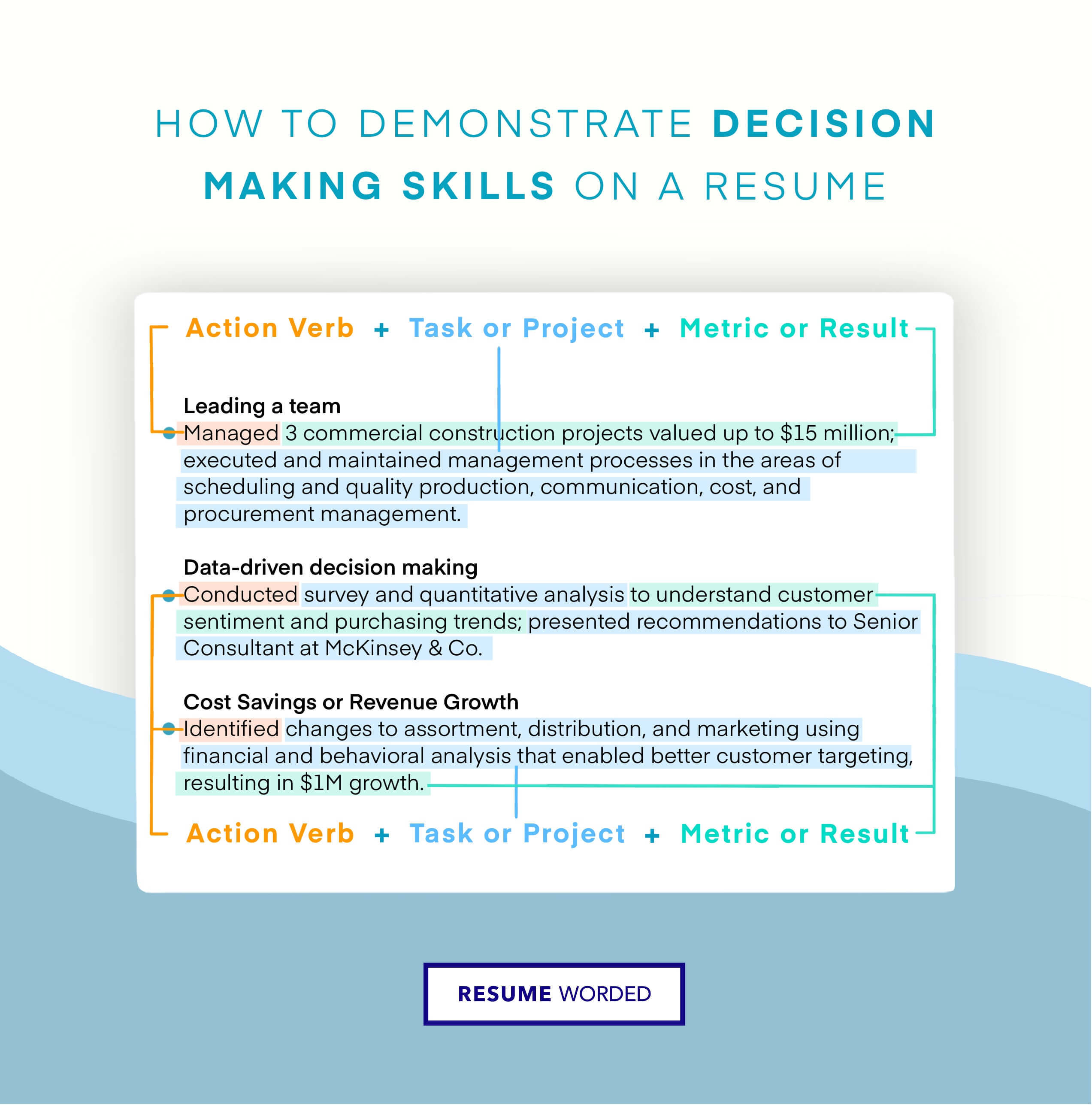 Here's an example how to demonstrate decision making skills in the work experience section of your resume:

Find out if your resume highlights decision making skills
To highlight decision making skills on a resume, you should choose accomplishments that show how you've used these skills in the past and show the results of your decision making by including clear numbers or metrics. Upload your resume to the tool below to get a confidential resume review with a detailed analysis of your decision making skills and other soft skills.
Decision making skills to highlight on a resume
Acting decisively is an asset to most businesses, but it isn't the be-all and end-all of good decision making. To emphasize that you can make quick, well thought out decisions that will benefit the company, you should also be highlighting related soft skills like:
Critical thinking
Mediation
Deductive reasoning
Data analysis
On the topic of skills, you should also try to include hard skills on your resume. Use the tool below to get a list of hard skills relevant to the job you're applying for.
Synonyms for decision making on a resume
The last thing you want is for your resume to start getting repetitive — there's no faster way to get a recruiter to stop paying attention. Instead of starting every bullet point with "decided," try using these action verbs instead:
Assigned
Coordinated
Finalized
Delegated
Prioritized
Guided
Evaluated
Assessed
Directed
Reinforced
Eliminated
Investigated
Improved
Controlled
Bullet point examples
Now it's time to start writing your own bullet points. In case you're in need of a little inspiration, here are some examples of decision making skills on a resume that you can use as a starting point:
Identified changes to assortment, distribution, and marketing using financial and behavioral analysis that enabled better customer targeting, resulting in $1M growth.
The best bullet point accomplishments are specific about what you did and what the result was. Include metrics like cost savings or revenue growth to show the real impact of your decisions.
Managed 3 commercial construction projects valued up to $15 million; executed and maintained management processes in the areas of scheduling and quality production, communication, cost, and procurement management.
If you'll be leading a team or department, include metrics that describe the types of decisions you've made as well as the scope of those decisions.
Conducted survey and quantitative analysis to understand customer sentiment and purchasing trends; presented recommendations to Senior Consultant at McKinsey & Co.
Decision making is a valuable skill at all levels. For an entry-level role, include accomplishments that show your ability to collect information and use that to make decisions (or even recommendations).
Developed and executed all global marketing strategies and activities for the $2B company including a 3-5 year strategic plan.
If you're applying for high-level roles, that means bigger decisions and higher stakes. Choose accomplishments that show your ability to make long-term decisions that affect the entire company.