Coding bootcamps are a great way of kickstarting a career in tech. Not only can you learn essential skills for a new career, they also look great on a resume — right?
Right … if you list them properly. Keep reading as we walk you through how to do exactly that.
The complete guide to listing a bootcamp on your resume
There are a few places on your resume where you can put a coding bootcamp:
In your education section
In a separate projects section
In an additional information section
In your resume summary
Here's how — and when — to use each of those options.
How to list a bootcamp in the education section of your resume
If your bootcamp program was significant — at least 6 months long — it can go in your education section. If you lack relevant experience, like if you're a recent graduate or are changing careers, your education can go above your work experience section at the top of your resume.
List your qualifications in reverse chronological order, with the most recent first. Include the name of the school or program, location, dates (if it was recent), and a short description of what you accomplished.
Here's an example you can copy and paste:
Fullstack Academy | Software Engineering Program | New York (Nov 2021 - Present)
Immersive training program with an emphasis on Fullstack Web Development
And here's what it should look like on your resume:
Here's a second example:
How to list a bootcamp in your resume projects section
Listing a bootcamp on your resume should involve a two-part approach for the best results:
Putting the qualification itself in your education section
Highlighting selected projects to show what you can actually do
Don't overload your resume by listing too many projects. It's better to stick to a small number of projects that best represent your skills and are relevant to the specific job you're applying for. This should include a technical project you did as part of your bootcamp program — ideally, your capstone project.
Here's an example of a separate projects section on a resume:
Use keywords that represent your technical skill sets — not only will it make you stand out to recruiters, it's also the best way of ensuring your resume makes it past Applicant Tracking Systems (ATS). Including a short (1-2 sentence) blurb explaining the scope and intent of the project can also help provide additional context.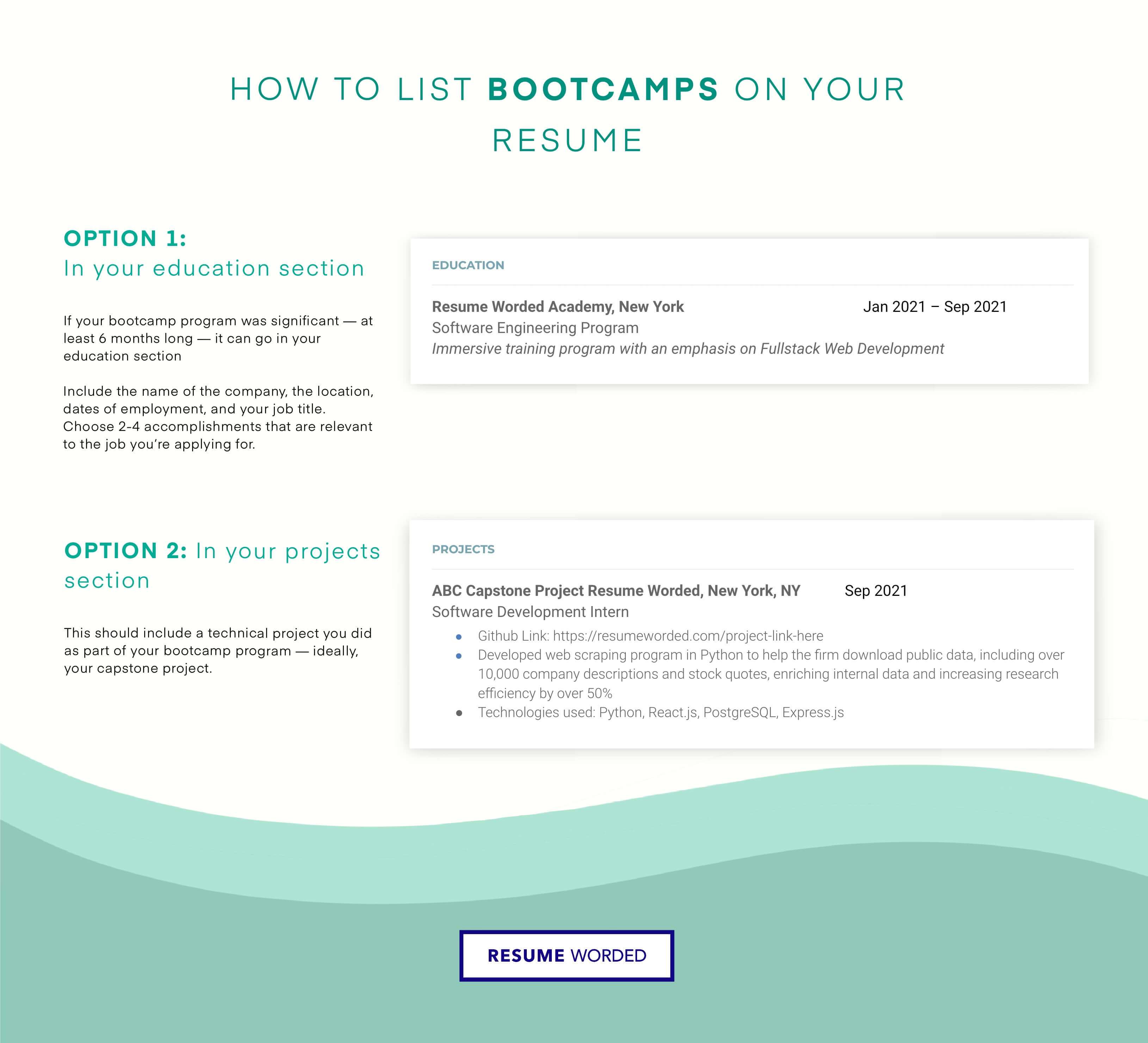 How to list a bootcamp in an additional resume section
If you don't want to include a bootcamp in your education section, you could list it briefly in a 'qualifications' or 'additional information' section instead. This might be a good idea if:
You completed a short online bootcamp (3 months or less)
You have more relevant work experience but still want to demonstrate the skills you learned
You aren't applying for software engineering or other technology-centric roles and want to deprioritize your bootcamp
If you choose this option, keep the relevant section short and include it at the bottom of your resume. Here's an example of what it could look like:
How to list a bootcamp in your resume summary
If you're changing careers, you should consider including a short career change resume summary to quickly contextualize your previous work experience and highlight your most relevant accomplishments and transferable skills. This should go right at the top of your resume, below your contact information but above your work experience and education.
Here's an example of a resume summary for someone who is looking to pivot to a software engineering role after completing a coding bootcamp:
Ex-Sales Manager transitioning into a Software Development role after completing Resume Worded Software Development Bootcamp. Hands-on project experience building both the front-end and back-end of web apps using React JS, ExpressJS and other frameworks.
Still need more examples? Here's a second example of a resume summary of someone who completed a data science bootcamp and wants to break into the data science industry.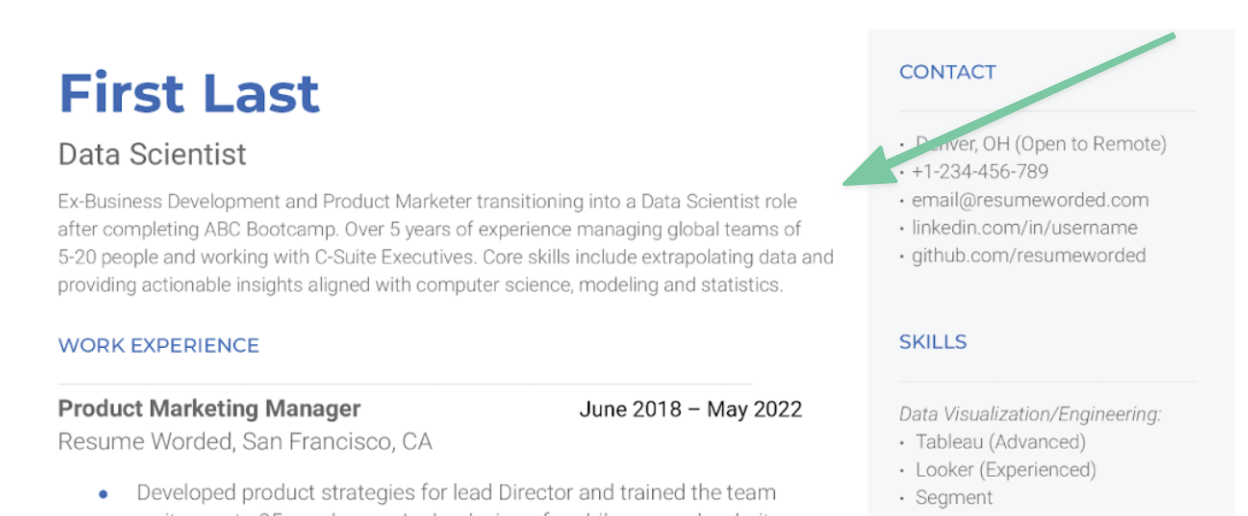 If you want to find out if you have chosen the appropriate section of your resume to include your bootcamp experience and accomplishments, upload your resume to the tool below — it'll let you know if you have listed bootcamp properly on your resume.
If/then: When to put a bootcamp on your resume
Now that you know how to list a bootcamp on a resume — should you?
The short answer is yes. If you're applying for a software engineering or other technical role, a bootcamp and related projects are a great way of showing off your skills.
You should mention a bootcamp on your resume if:
You don't have a lot of practical coding experience.
You're changing careers.
You did impressive work as part of a bootcamp that you want to showcase.
You should take a bootcamp off your resume if:
You don't have impressive project examples. Listing a bootcamp by itself is worth very little, and may actually raise a red flag with recruiters if you say you completed a bootcamp but don't list any projects.
It was a very short course or you left early — if you joined for a month or didn't complete the entire course, it's better to leave it off entirely.
You have a lot of experience. Work experience always trumps bootcamp experience or personal projects. Mid level or senior software engineer resumes will generally have outgrown the need to list a bootcamp and can be replaced by examples of work-related accomplishments.
You completed it a long time ago — more recent accomplishments are almost always more relevant.
Other essential software engineer resume tips
Putting together a software engineering resume? Here's what else you should include.
Technical skills
Technical skills are the bread and butter of any software engineer resume. Look for any languages, frameworks, or methodologies mentioned in the job description and make sure you include them somewhere in your resume — these are essential keywords for getting you past ATS.
Here's an example of how to list programming languages and other technical skills in your skills section :
If you want to find skills related to the technical role you're applying for, use the tool below to get a list of relevant keywords and technical skills.
Transferable skills
Unlike hard skills, you can highlight related soft skills — things like problem solving, critical thinking, teamwork and attention to detail — in your accomplishment bullet points. Never list these as 'skills' in your skills section — hiring managers want to see proof that you actually have these qualities.
GitHub profile
If you're applying for a technical role, you should link to your GitHub profile on your resume. This can go in your resume header or your projects section.
For a more detailed overview, check out our complete guide to putting GitHub on your resume.
Other trainings and workshops
If you've completed other relevant trainings, workshops, or short courses, you can list these alongside a bootcamp in a qualifications or other section of your resume. Narrow it down to a short list of the most relevant courses — remember, never list anything on your resume that doesn't improve your candidacy.
Coding bootcamp resume example
Learned everything you need? Once you're ready to put it all together, here's a sample resume that shows you how to list your bootcamp experience.
You can find this and other ATS-ready resume templates in our engineering resume guide, featuring 50+ engineering resume examples available in Google Docs or as PDF.