Being good under pressure can mean a lot of different things. Are you flexible at work? Can handle an unexpected time crunch? Always stay calm under fire? Whatever your strengths, they can be invaluable in pretty much any line of work.
These types of skills are usually called soft skills or transferable skills — because, well, they transfer easily to any type of role. While this is a huge plus, it also has its downsides — most significantly, that you should never just come out and list them as skills on your resume. Here's what to do instead.
How to say you're good under pressure (without saying it)
Read through the job description carefully. What kind of pressure will you be dealing with in the role? What are the top skills you'll need to be successful?
Now, consider your own strengths. Do you thrive when given a seemingly impossible deadline, or are you better at organizing people in an emergency? Try to think about what makes you a good fit for this specific position.
Brainstorm times when you've demonstrated those qualities at work. Try to match these to the job description — one example per key skill or responsibility is ideal.
Write these examples down in bullet points. To focus on accomplishments, not responsibilities, always start with a strong action verb.
Increase the impact of your bullet points by quantifying your accomplishments with hard numbers and metrics.
Get instant feedback from an ATS resume scanner that can help you tighten up your soft skills and identify and missing keywords.
Let's take a look at an example of a few bullet points: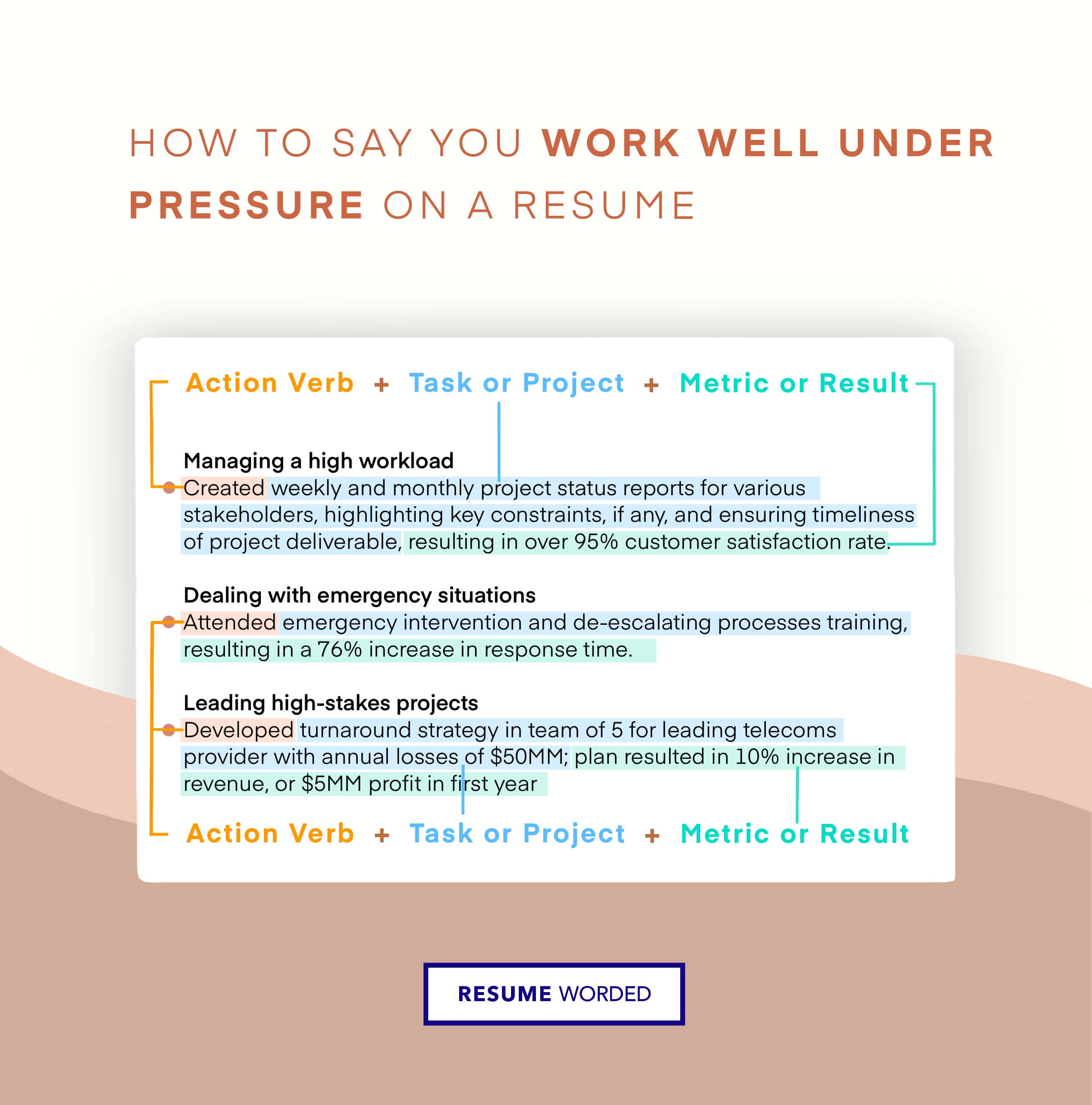 How to list the ability to work under pressure on your resume
Never list soft skills — including working well under pressure — in your skills section. Instead, use your work experience accomplishments to show recruiters exactly how you've used these skills.
In your work experience section
The trick to saying you're good under pressure on your resume is easy. Pick a time when you had to work under pressure, write down what you did and what the result was, and list it in bullet point format underneath your job title. For example:
Growthsi, San Francisco, CA, 2013 – 2015
Customer Service Assistant
-  Exhibited a sense of urgency as well as exceptional problem solving and active listening skills to meet the needs of over 250 customers and achieved 100% customer satisfaction.
And here's an example of what it should look like on your resume:
So, now that you know how to highlight your ability to work under pressure, what specific skills should you be focusing on?
Find out if your resume shows your ability to work under pressure
A good way to find out if your resume highlights your ability to work under pressure is to upload it to the tool below — it'll scan your resume and let you know if you have shown soft skills such as working well under pressure, multitasking and teamwork the right way.
Resume skills for working under pressure
The ability to work well under pressure involves a number of different skill sets. Here's what being able to work under pressure really means — and what qualities hiring managers are likely to be looking for in your resume.
Dealing with emergencies
Handling high-pressure situations
Meeting deadlines
Producing work with quick turnaround times
Adjusting to changing requirements
Accepting situations outside your control
Overcoming issues and solving problems
Dealing with difficult personalities
Pitching in extra during busy seasons or when you're short-staffed
Restructuring on the fly
Flexibility
Like working well under pressure, these are all soft skills — so don't list "multitasking" or "teamwork" in your skills section. In addition to focusing on your accomplishments, consider using clever synonyms to send the right message.
You should not list soft skills like the ability to work under pressure or adaptability in your skills section. Instead, try to list related hard skills. Use the tool below to find hard skills and keywords relevant to your specific field and role.
Synonyms for being good under pressure
If you can't say "Works well under pressure …" then what can you say? Try these action verb synonyms to get the point across instead:
Accelerated
Resolved
Overcame
Transformed
Expedited
Revitalized
Initiated
Streamlined
Consolidated
Innovated
Devised
Restructured
Modernized
Simplified
Revamped
Examples of working well under pressure for your resume
Ready to begin? Here are some examples of accomplishments that show an ability to work well under pressure — feel free to modify these for your own resume.
Managing a high workload
Created weekly and monthly project status reports for various stakeholders, highlighting key constraints, if any, and ensuring timeliness of project deliverable, resulting in over 95% customer satisfaction rate.
If you're walking into a position where you know you'll be handling a heavy workload and high expectations, choose accomplishments that show your ability to juggle multiple tasks and conflicting priorities.
Leading high-stakes projects
Executed turnaround of near bankrupt $100M multi-national company; grew revenues to $200M in 3 years.
Can you deliver results when the pressure is on? Then demonstrate that through accomplishments that emphasize the high-stakes nature of your work.
Dealing with emergency situations
Attended emergency intervention and de-escalating processes training, resulting in a 76% increase in response time.
In some jobs, you'll be under near-constant pressure. If this sounds like you, include accomplishments that show your ability to stay calm and get things done even during an emergency.
Adapting to ever-changing circumstances
Maintained flexibility to adapt to changes in organization and accounting, acquiring a 95% performance rate.
Some companies are more organized than others. If you know in advance that you're applying for a role where there's a lot of upheaval, choose accomplishments that emphasize your flexibility, adaptability, and willingness to roll with the punches.