Did you know there's more than one way to upload your resume to LinkedIn? What seems like it should be as easy as pushing a button becomes a little more complicated when you consider the different ways you may want your resume to be visible — do you want to use it to directly apply for jobs? Share it with your network? Allow recruiters to view and download it? Have multiple copies that you can tailor?
If this seems like a lot of options to sort through, don't worry. We're about to break down the four different ways to upload your resume to LinkedIn, including screenshots and easy to follow guides for each one.
4 ways to upload your resume to LinkedIn
You can upload your resume to LinkedIn by:
Adding your resume directly to your profile
Attaching your resume when applying for a job
Saving copies of your resume for future job applications
Creating your resume from scratch on LinkedIn
Keep scrolling for a detailed rundown of each of these options, including step by step instructions and a visual guide.
Add your resume to your LinkedIn profile
The easiest way to add your resume to LinkedIn is to upload it directly to your profile. This allows you to share it with your network or even make it available for recruiters to download.
Go to your profile and click "Add profile section."
From the "Recommended" section, choose "Add featured."
Click the + button and select "Add media."
Navigate to your saved resume file and hit "Upload."
TIP: Save your resume as a PDF to preserve the formatting and prevent other people from editing it.
Pros: Lets you display your resume on your LinkedIn profile for easy sharing.
Cons: Resumes uploaded directly to your LinkedIn profile can't be used when applying for jobs.
If you're more of a visual learner, here's a screenshot guide:
Attach your resume to a job application on LinkedIn
If you're applying for jobs directly on LinkedIn, you'll have a chance to attach a copy of your resume. While this is optional, you should always do it unless the job posting states otherwise.
Once you've found a job you want to apply for, click on the job title.
Scroll down and choose "Easy apply." (If you see "Apply" instead, that's an external link that will take you away from LinkedIn.)
Check that your contact information is correct and hit "Next."
Choose "Upload your resume."
Once you're finished, hit "Submit application" to apply for the job.
TIP: Upload your resume the first time around — you won't be able to reopen your application to add it later if you change your mind.
Pros: Sends your resume directly to the hiring manager.
Cons: You can't edit resumes uploaded this way, so make sure you've skimmed it for errors before you hit "send."
Here's the visual guide:
Save multiple copies of your resume on LinkedIn
If uploading your resume every time you apply for a job sounds like a lot of effort, you might want to upload multiple copies of your resume in advance.
Go to the job application settings page.
Choose "Upload resume."
Repeat this step to upload multiple resumes to LinkedIn.
Click the "…" icon to download your resume or delete older versions that you no longer want.
TIP: LinkedIn will automatically save the last four copies of your resume that you used to apply for jobs.
Pros: You can upload multiple copies of your resume tailored to different roles or industries.
Cons: Having multiple resumes can get confusing, so make sure you label them clearly.
Here's the screenshot version: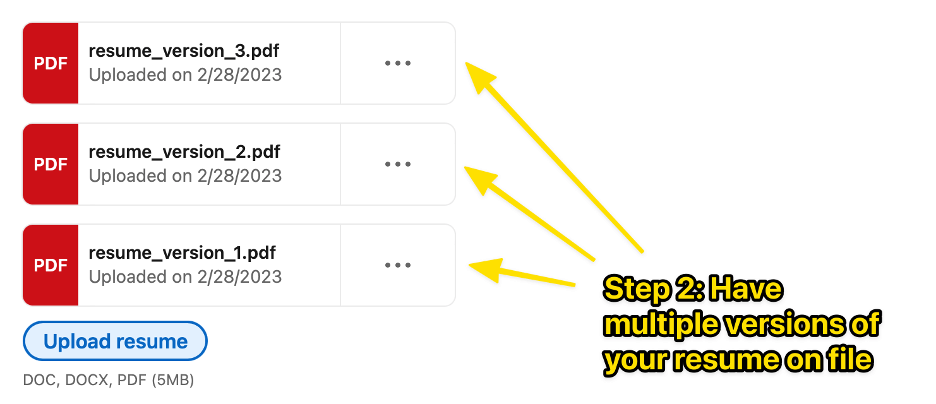 Create a resume with LinkedIn resume builder
If your LinkedIn profile is more up to date than your resume, you can use LinkedIn's built-in resume builder to create a new resume — without needing to upload anything.
Go to the "Jobs" section at the top of your LinkedIn homepage.
Click on the "Resume builder" option.
Choose whether you want to upload a premade resume or autofill your LinkedIn profile information.
Click the icons next to each section to add or edit your information.
TIP: Click "Download as PDF" to download a copy of your resume that you can use to apply for jobs on or off LinkedIn.
Pros: Can automatically fill information from your LinkedIn profile.
Cons: You may have to spend a lot of time in the editing phase if you plan to use this resume outside of LinkedIn.
Here are some screenshots to help: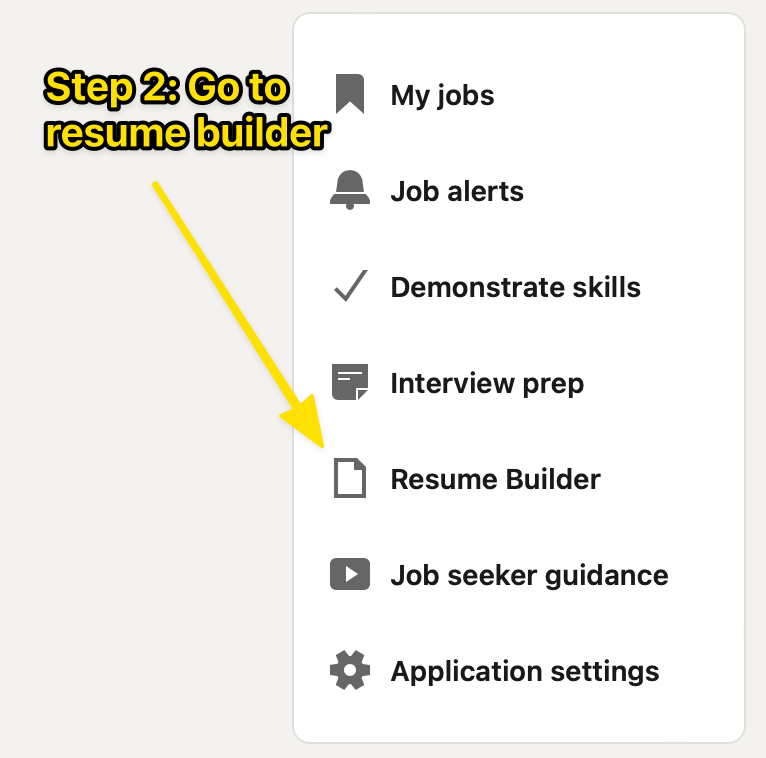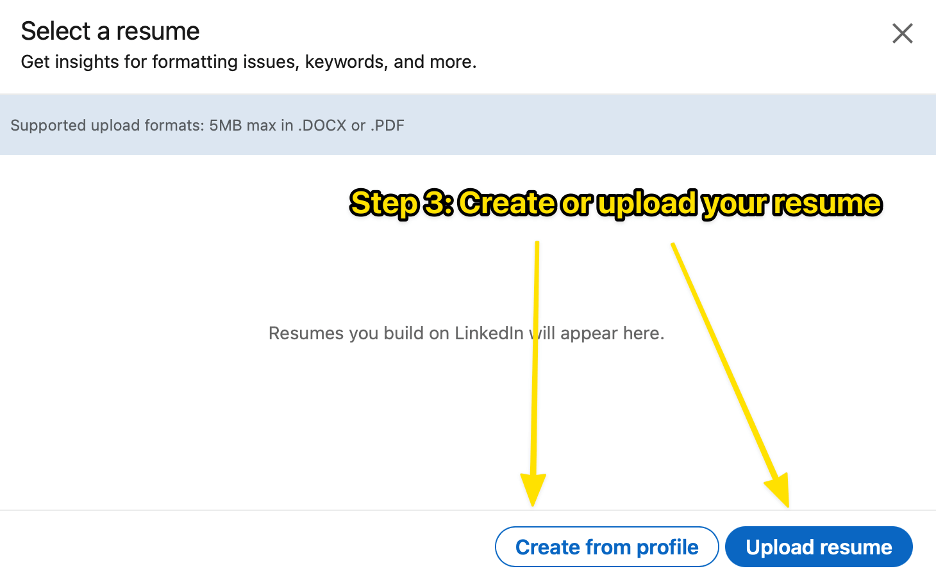 Tips for uploading your resume to LinkedIn in 2023
Now that you're an expert on uploading your resume to LinkedIn, here are some essential tips to keep in mind.
Use LinkedIn Review to identify gaps in your LinkedIn profile and get personalized tips on how to improve your visibility.
Score My Resume can help you perfect your resume before you upload it by suggesting bullet points, keywords, and action verbs.
Make sure your profile matches your resume (especially the dates of employment). Most ATS scanners will pull information from your LinkedIn profile and flag any discrepancies.
To save time, you can copy information directly from your resume to your LinkedIn profile (and vice versa), though you'll want to customize sections like your profile header and summary.
Are recruiters and job seekers still using LinkedIn in 2023? Yes! Even though LinkedIn is nearly 20 years old, the platform has 875 million users in 2023 and is used by an estimated 77% of recruiters.