Recruiters are busy, and they might receive hundreds of applications for one position in a single day. Studies have shown that employers spend an average of 7.4 seconds reviewing a resume before tossing it in the "yes" or "no" pile, and with such a slim margin, it's important to have a resume that grips the reader from the start. One great way to draw in a recruiter is through an opening statement on your resume.
What is a resume opening statement?
An opening statement is a short paragraph at the beginning of the resume that gives the employer a snapshot of what you can bring to the table, and why you are the best choice for hire. It's essentially your elevator pitch — the first impression you make in an interview when the recruiter says, "So, tell us about yourself." Broadly speaking, there are 3 types of resume opening statements:
Resume offering statement
Types of opening statements
Here's a breakdown of the different types of resume opening statements, including the pros and cons of each one:
Resume summary
A resume summary statement is a quick overview of your background where you can highlight key skills and experience. This is the most common type of resume opening statement — essentially, it's a type of brand statement, like an abridged cover letter. Here's an example:
Example:
Experienced web developer with a background in X, Y, Z programs, winning awards in CSS Design (2019) and Apple Design Awards (2020), and most recently reduced bus for XYZ by 25%.
Pro: Allows you to quickly highlight key skills and experience relevant to the job you're applying for.
Con: Doesn't add anything of value if your resume is otherwise self-explanatory, so make sure your opening statement adds something that's not otherwise
How to write your resume opening statement
Here's an example of an opening statement with specific things you should try to include.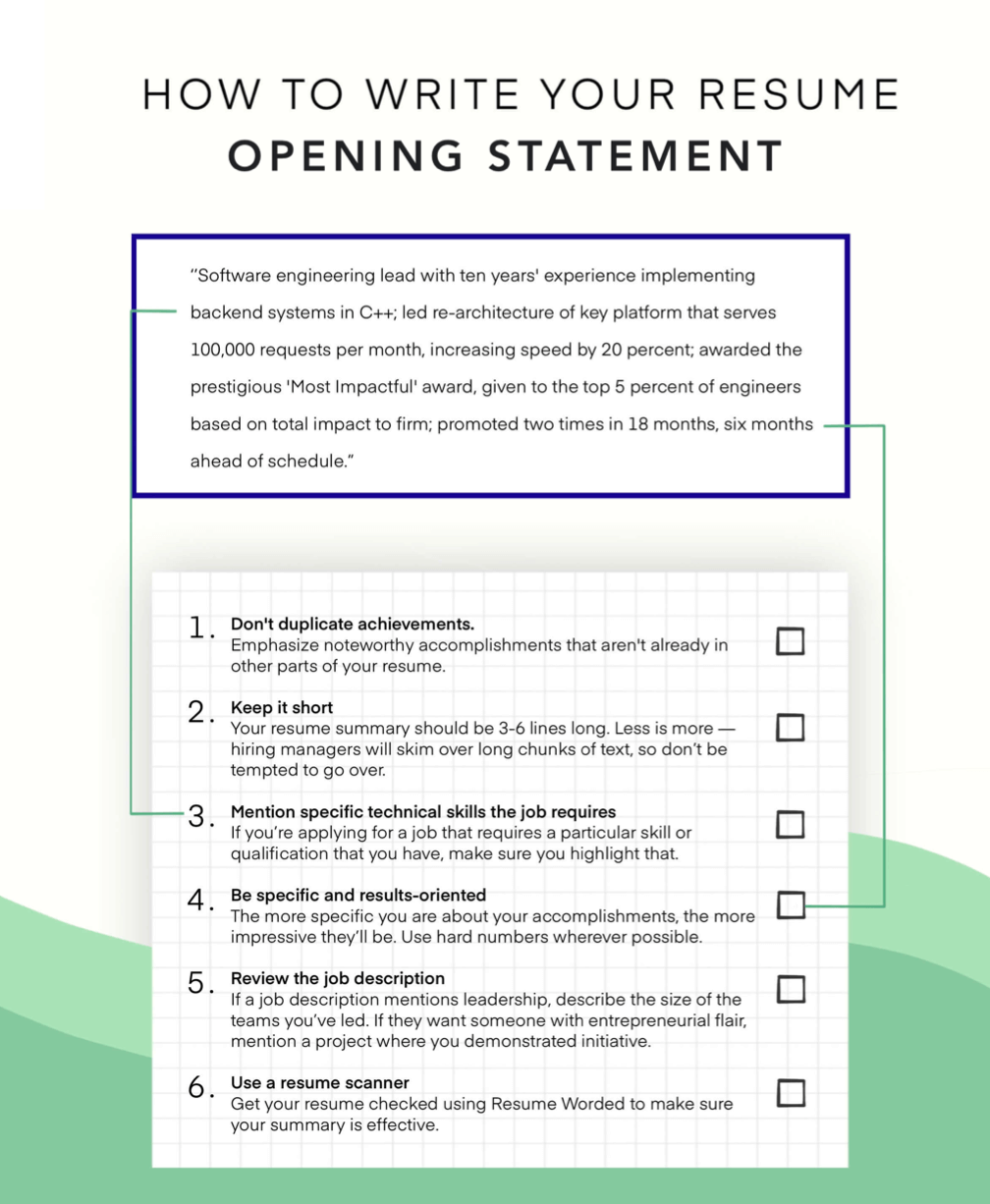 Other types of opening statements (what not to do)
There are two other types of statements that were popular a few decades ago — an objective and an offering statement. We've just included them here for completeness and to show you the formats you should not be using.
Resume objective: This style of opening statement is generally used to show recruiters your enthusiasm for the role. An example might sound like this:

Example: Searching for dynamic marketing position in a fast-paced, modern company where I can utilize my organizational, creative, and project management skills to drive growth in digital markets.

Objective-style opening statements typically include statements such as: "Looking for a position where I can grow and gain experience in XYZ" or "Looking for a job where I can use my skills to help a company meet targets and increase revenue."  

Objective opening statements are outdated and unnecessary, so don't include this on your resume.

Resume offering statement: A resume offering is kind of like a sales pitch, focusing on the value you can bring to an employer. Unlike a standard resume summary, an offering statement focuses on what you will do, not on what you have done. It might look something like this:

Example: I will increase engagement on your company's social media channels by developing a strong brand voice and reaching out to key influencers within the [industry] sphere.
How to write a resume opening statement
Title your opening statement (optional).
Lead with the job title. If you're applying for Marketing Director roles, that's how you should describe yourself.
Describe the scope of your experience.
Mention 2-3 key skills or accomplishments that match the job description.
Include metrics to quantify your achievements.
Include any specific highlights from your resume that show why you'd be a great fit for the position.
Run your resume through a free resume checker to see how well your summary scores.
An opening statement template
Here's a template you can use for your resume opening statement:
[Executive] with experience leading [industry] businesses [describe size of businesses]. [Describe impactful element of role, with specific numbers]. Proven experience [mention 2-3 skills that are relevant to the job]. [Optional: Describe relevant educational certification/accomplishment, or one significant accomplishment in the format of Action Verb + Accomplishment + Metric].
Resume opening statement examples
Here are some more examples of resume opening statements to get you started:
Example 1: Experienced / Senior-Level Job Seeker
Human Resources Manager with 15 years' experience in human capital management, talent acquisition, and workforce administration, handling diverse employment processes for small to large companies. Saved over 50% of overall recruiting costs by structuring and implementing standardized policies in hiring and recruitment, compensation structures, benefits, and incentives. Proficient in delivering services in line with EEO, IRS, and labor laws.
Example 2: Mid-Level Job seeker
Data Entry Specialist with five years' experience utilizing manual and digital skills to enter texts and numerical data from source documents into databases, spreadsheets, and word processing programs. Implemented regular quality control checks to analyze data and make corrections in real time-, enhanced data entry accuracy by 77%. Achieved $6,500 cost-savings in company expenditures by identifying consolidation opportunities during company bookkeeping.
Example 3: Senior-Level Job seeker
Marketing Executive with ten years' experience working at Fortune 500 companies. Results include:
• Designed, executed, and optimized digital marketing campaign on Google's AdWords for $20B CPG company, yielding 20% ROI improvements
• Optimized budget allocation of marketing spend of $10MM for technology startup
An effective resume opening statement needs to highlight your key skills, quantifiable achievements and any other experience/accomplishment that shows recruiters why you're the best person for the job. A good way to find out if your resume does just that is to upload it to the tool below — it'll give you a detailed analysis of your opening statement and suggestions for improvements.
When is an opening statement appropriate?
You might be asking yourself, "Does my resume need an opening statement?" and the answer is: Maybe. If you have 6 years of receptionist experience and you're applying for another run-of-the-mill receptionist role, then your resume will speak for itself, and an opening statement runs the risk of taking up unnecessary space.
However, if you have 6 years of receptionist experience and you're applying for a hotel manager position, then an opening statement is a great opportunity to sell yourself on this change of direction.
So, who should definitely include an opening statement on their resume? Let's take a look.
You're changing careers
Like our receptionist-turned-manager above, changing jobs is one of the key moments when having an opening statement would be advantageous. This is the moment to explain how your past experiences—albeit in a different field—have actually given you the necessary skills to succeed in this new position.
Here's an example of a career changer resume summary:
Ex-Head Receptionist for XYZ Firm transitioning into Hotel Manager position. Previous experience in managing a team, organizing and overseeing large company events including planning menus and contacting caterers, handling finances and administrative records, and ensuring health and safety standards remain up-to-date.
Here's how an opening statement might look on your resume - it uses another example:
More information: Resume summary advice for career-changers
The employer is looking for a specific skill
Sometimes a job will require a very technical or unique skill which you possess, but which might not come out otherwise in your resume. This can include something like speaking a foreign language, or having a certain type of driving license, or being proficient in a certain type of machinery or computer program. Here's an example:
Native Turkish speaker with experience working in Marketing for an international company. Available to travel and work remotely. Valid Turkish and USA passport.
By including this skill in the opening statement of your resume, you are ensuring that the recruiter will see it immediately, and know that you are the perfect fit for the position. If there are certain keywords that the job description requires that you haven't included anywhere else in your resume, feel free to include them in your opening statement.
If you're not sure which keywords and technical skills are relevant to the job you're applying for, use the skills search tool below to find the right ones.
More information: How to ensure your resume gets past automated resume screeners
You have many, many years of experience
If your resume spans 20 years and seems to go on forever, then this is your opportunity to distill everything into a bite-sized paragraph, to keep the recruiter from missing something important. You want to bring forward your best accomplishments and key experiences, especially in relation to the job description. Don't assume that something buried in your job description from three years ago is going to jump out at the reader—make it front and center like this:
Stagehand with 15+ years experience, especially familiar with setting up pyro-technics while complying with industry-specific health and safety guidelines. Accomplishments include:
-  Set up X that led to Y result …
- Earned expedited promotion in less than 2 years
And here's how an opening statement for someone with a lot of experience might look on a resume:
To highlight recent accomplishments in a relevant field
An opening statement is a great moment to draw the recruiter's attention to how something you personally accomplished has already benefited a previous employer or client. This can include Awards and Certifications, statistics on workflow improvement, recognition inside the workforce, or other impressive accomplishments. Here's an example:
Engaging customer service representative, recently named Top Agent at XYZ for three consecutive months. Led in-house employee training on Customer Engagement leading to a 60% decrease in negative customer reviews.
This is another example of a resume opening statement.
When don't you need an opening statement?
Your career trajectory is self-explanatory
Most job seekers don't need to include an opening statement on their resume. If your work experience and educational background is in line with the kind of jobs you're now applying for, or if you're already in a similar role, your work history and accomplishments likely speak for themselves.
You're a student or recent graduate
As a student or recent grad, you're unlikely to have enough experience on your resume to warrant summarizing. Instead, make sure your education is listed front and center, along with industry-specific internships or other jobs showing your talents and abilities.
Additional tips for your resume's opening statement
1. Use the same words as in the job description
If you feel a little lost wondering what skills, qualities, or experiences to put in your opening statement, here's some good news: the recruiter has done this work for you. If the job description says they're looking for someone with an XYZ certification or experience with specific hard skills,  then don't hesitate to put those words into your opening statement verbatim.
Online systems filtering resumes will often be scanning for wording which matches the job description, and this will keep your resume from slipping through the cracks. Find out what keywords to include on your resume with the Job Description Keyword Finder.
2. Eliminate buzzwords and vague terminology
Yes, we all know that you are "passionate about e-commerce," but save that for your cover letter. Mention instead the statistics on how greatly you've improved sales for your clients, or draw attention to the way you've integrated a client's social media platforms to their web-shops, to drive in traffic. We know you're enthusiastic and hard-working, but this isn't the place for it, and employers will generally skim over these empty and lackluster descriptions.
This is also called quantifying your resume, and if there's one article you should read before you send off your resume, it's that one.
3. Be concise.
Don't list 10 relevant awards you won going back to a university competition in 2001 — pick one or two which are the most impressive. Make a list of all your relevant experiences and skills and then whittle it down to the very best, and let those shine.
4. Title your resume's opening statement (optional)
In general, if your opening statement is located at the top of your resume, then you don't necessarily need to spell out what it is we're looking at—it's pretty clear. However, you definitely can add a title if you like, something like:
Profile, Professional Profile, Professional Statement
Introduction, Summary, About
Personal Statement, Personal Profile
5. Check your spelling
It goes without saying, but check and check again for any spelling or grammatical errors. Proofread it, proofread it again, get your mom, dad, or grandma to proofread it, read it aloud to your cat, and then run it through a spellchecker or online grammar resource if you're still worried. This is your first impression to a potential employer, and you want to show them that you're competent!
6. Get your resume's opening statement checked
Once you've added an opening statement to your resume, it's time to see how well you've done. Head over to our free resume scanner, which evaluates your resume against key criteria, and see in real time how likely your resume is to catch an employer's attention.
Resume opening statements: A crash course in jargon
If you've been looking for advice on how to write a resume opening statement — or summary — chances are you've run into a lot of unfamiliar phrases. Here's a brief explainer:
A resume profile or resume summary statement are different names for a resume summary and are often used interchangeably.
An executive resume summary or career highlights section are usually targeted toward people with an extensive career history or who are applying for high-level positions. These might include slightly more detail about your work experience, for example, standout accomplishments from early in your career that might otherwise not belong on a resume.
A resume objective or career objective is an alternative to a resume summary. Objectives are generally considered outdated compared to resume summaries but can be useful in very limited circumstances (often for people very early in their careers or without any relevant experience).