Graduating with a double major is no small feat. Double-majoring in college or university is an impressive accomplishment that signals to others your strong work ethic, dedication to excellence, and commitment to going above and beyond — so you want to make sure the way it's detailed on your resume does it justice.
In this article, we provide tips and pointers on how to list a double major on your resume so that it can attract the attention of prospective employers.
Should you include a double major?
Yes! If you completed a double major, definitely include it in your resume — and this goes double (no pun intended) if the job you're applying for seeks expertise from both your majors.
Here are step-by-step instructions on how to list your double major on your resume, along with dos, don'ts, and things to watch out for.
How to list a double major on your resume
Create a separate section in your resume exclusively for your educational qualifications.
In this section, list your education in reverse chronological order, with your most recent degree at the top.
On a single line, list the school you attended and your graduation date (or expected graduation date, for current studies) in bold font.
Below that line, include your degree (e.g. Bachelor of Engineering) and your  majors.
You can list any minors alongside your majors, as long as they're relevant to the job that you're applying for.
If you have a dual degree and not just a double major, you should list both degrees on separate lines. More on the different between double majors and dual degrees below!
Listing a double major in your education section
Create an education section
No need to get fancy with this — simply title it "Education" so it stands out and recruiters can find it easily.

In most cases, your education section should go below your work experience. The exception to this is if you're still a student or have graduated very recently. If this is the case, and your education is your most relevant experience, you can put it at the top of your resume instead.
Use reverse chronological order
You should always use reverse chronological order for entries on your resume, which means that your most recent accomplishments are always at the top.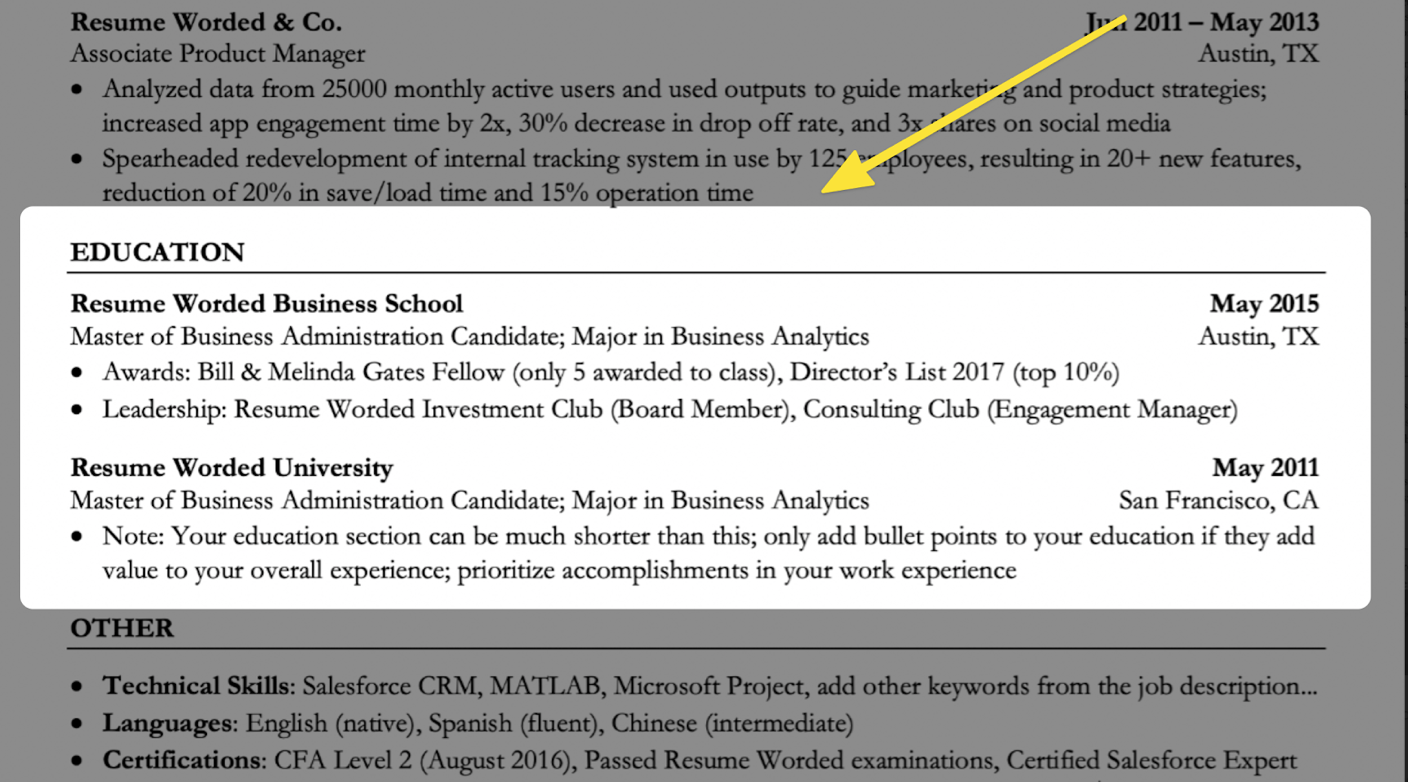 Alternatively, if you have multiple degrees, you can begin by listing your highest credential first — if it's more relevant to the job you're applying for.
List a graduation date
This is optional — if you graduated 8+ years ago, feel free to leave it off. If you haven't graduated yet, put an expected graduation date instead, e.g. "Expected May 2023."

Be explicit about your double major
A double major is a good thing, so don't be afraid to call attention to it! You can list your majors on a separate line with their own subheading, for example:
Double major: Computer Science and Electrical Engineering

List any relevant minors
Minors are optional on a resume — basically, like anything else, include them if they're relevant and leave them off if they aren't. Double minors follow the same rule as double majors — put the most relevant minor first. You can list these on the same line as your majors (if they fit) or on a separate line below.

Include triple majors
List a triple major like you would a double major — on a single line below the line specifying your degree, except prefaced by "Triple Major:" instead of "Double Major". For example:
Triple Major: Computer Science, Electrical Engineering, and Data Science
I'd recommend uploading your resume to the tool below to find out if your education section highlights relevant majors, minors, dual degrees and other educational qualifications. It'll also let you know if any of these should be removed from your resume.
Double major do's and don'ts
Do list the most relevant major first. If they're both equally relevant, list your primary major first.
Don't list your degree twice when showcasing a double major, since that implies that they are two separate degrees.
Do list any relevant minors, including a double minor.
Don't make your education section bigger than it needs to be, especially if you've been in the workforce for a few years.
Do briefly include relevant information, like academic awards and honors.
How to list a double major on LinkedIn
List your double major on LinkedIn by following these steps:
Navigate to your Education section on LinkedIn, then click the pencil icon to the right of your existing listings.
In the dialogue box that appears, navigate to the "Field of Study" field, then enter both your majors, separated either by a comma or the word "and".
Frequently asked questions
What is the difference between a dual degree and a double major?
A double major is a single degree in two areas of concentration (e.g., a Bachelor of Engineering with a double major in Aerospace Engineering and Civil Engineering). A dual degree is two separate degrees in two distinct fields (e.g., a Bachelor of Science in Psychology and a Bachelor of Arts in Studio Art).

A dual degree typically takes longer than a single degree, even with a double major, though it can be quicker than studying both degrees separately. You can find more information on dual degrees here.
What else should I include in my education section?
List coursework only if you're a recent graduate. You can remove that section once you've secured full-time post-graduate employment.
Definitely list academic awards, honors, publications, or certifications — as long as they're relevant to the position you're applying for. For example, if you co-authored a paper published in a top microbiology journal, you should absolutely list that on your resume for any applications you send out to research and development-related positions.
How do I know if my double major is relevant?
Your resume should be tailored to the job you're applying to. By targeting your resume and sending modified versions to each prospective employer, you improve your chances of landing an interview at all of them.
We know that this can seem like a big ask — and that's why we're here to help!
Resume Worded's Targeted Resume service analyzes the job description of the positions you're applying to and identifies the keywords, skills, and other important details recruiters, hiring managers, and their applicant tracking systems (ATS) look for behind the scenes when they screen applicants.
That way, you can write a bespoke resume that gets past recruiters' first line of defence — without all the hassle.
You can also use the tool below to get a list of hard skills and relevant keywords to include in your skills section.