Pretty much every company uses some kind of recruitment software to speed up their hiring. In fact, over ninety percent of resumes are discarded before they reach a hiring manager or a recruiter!
You're probably thinking this is incredibly unfair to you. And it is. After all, you've spent many days and hours crafting the perfect resume that carefully demonstrates your accomplishment and the company that you're applying to doesn't even bother reading it!
But, before we get our pitchforks out, let's see why companies use recruitment software.
A recent study by Glassdoor found that for every job posting a company puts out, a company receives over 250 resumes. Additionally, companies typically hire for more than one role at a time.  That's several hundreds of resumes to go through.
More often than not, many of those resumes are under qualified. Specifically, this would mean they have no relevant experience. For example, imagine I'm hiring for Java Software Developer. If I want someone to hit the ground running, I probably want to make sure they have at least some Java experience before I hire them.
ATS, or applicant tracking systems, helps companies filter out resumes that don't seem to have relevant experience. They do this by looking for specific keywords on your resume - in the case of the last example, if a resume doesn't have the word 'Java' on it, it is immediately discarded.
It goes without saying that companies miss out on some high quality hires by using ATS scanners.
Similar to the last example, let's say we have an incredible candidate who knows Java but forgot to include that keyword on his resume. The ATS would filter him out and the company would miss out on them!
The reason why companies use ATS anyway is because the benefit they gain in terms of speeding up their hiring processes, outweighs the cost of losing a potentially good candidate. After all, it is pretty rare that a candidate won't include an important keyword like Java (but it does happen).
Fortunately for you, I'd hate for your resume to be rejected by a computer! That's the main reason why we've created AI-powered tools that act how an ATS resume scanner would. There are two tools that you will find useful:
1. Is my resume read correctly?
If your resume isn't read correctly, or you're using a template that is not processed correctly by ATS, it will likely end up being discarded by ATS. This is why we suggest sticking to standard designs, fonts and styles and avoiding the use of images, tables and graphs.
Our free resume scanner evaluates your resume for a number of key criteria recruiters and hiring managers find important. It was built with ATS's in mind and is a powerful ATS resume test. If it is scanned correctly by our platform, you can be confident it will also be processed correctly by applicant tracking systems.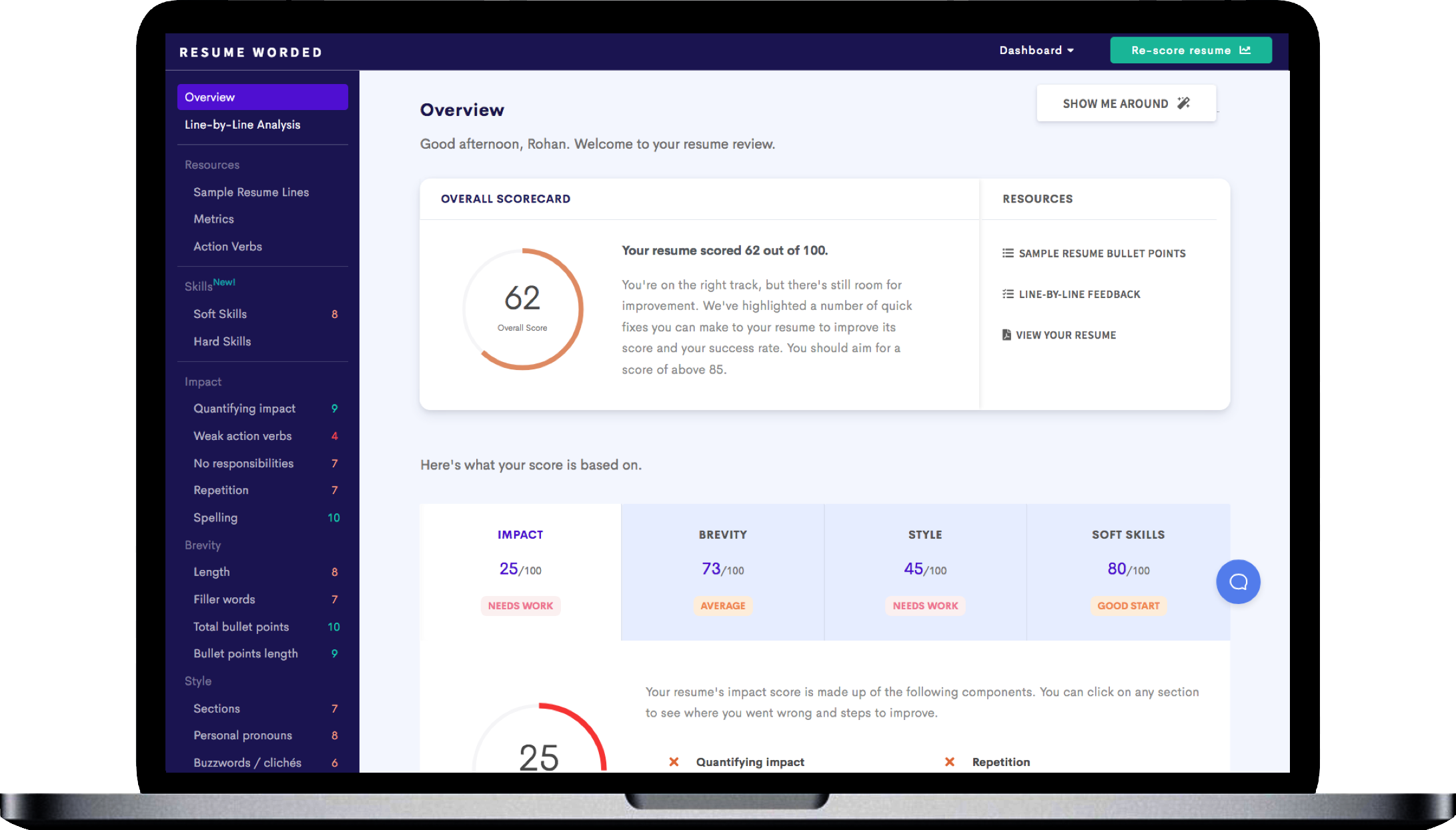 Get your free ATS resume scan here.
2. Does my resume have the right keywords?
Once you're sure your resume is read correctly, you now need to confirm that it has the right keywords that hiring managers are going to be looking for.
We have a tool for that too: Targeted Resume!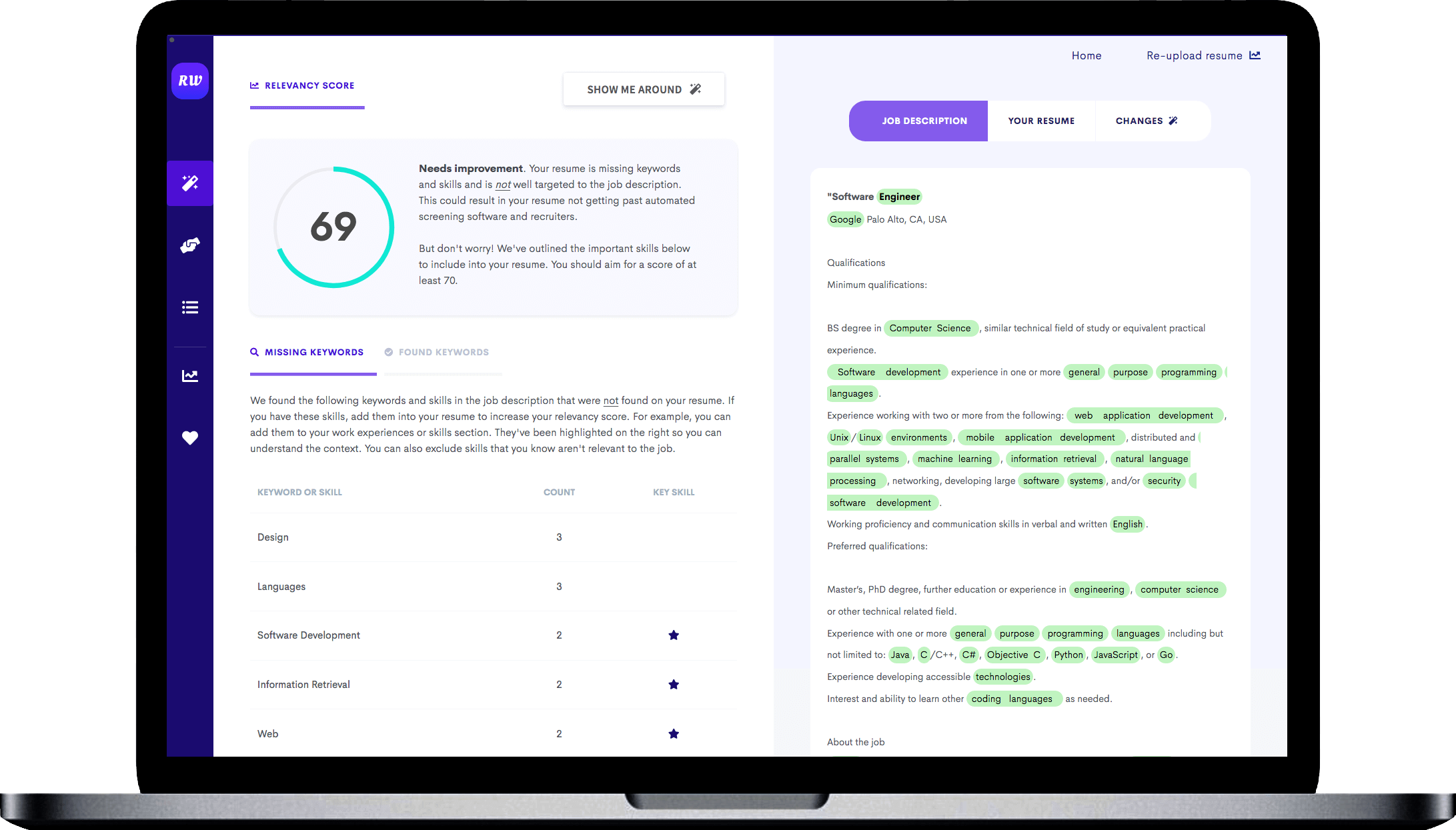 Targeted Resume analyzes the job description you're applying to, and highlights the most important keywords that your resume is missing. These are keywords that applicant tracking systems and resume scanners are likely to be looking for.
You'll then be able to add these keywords into your resume and improve your resume's relevancy. This increases the chances that your resume will pass the ATS resume test!
I hope these tools help you out on your job search. We offer free versions of both tools to make sure everyone is able to get value out of them.
If you have any questions or need further help, feel free to get in touch with us!